Who says camping has to be uncomfortable? Glamping in Virginia offers the best of both worlds: nature and luxury.
Whether you're looking for a cozy cabin or a spacious yurt, there's something perfect waiting for you.
With all the incredible scenery and wildlife around you, it'll feel like you're miles away from civilization – even though cities like Charlottesville and Richmond are just a short drive away.
So forget about roughing it – glamping is the way to go!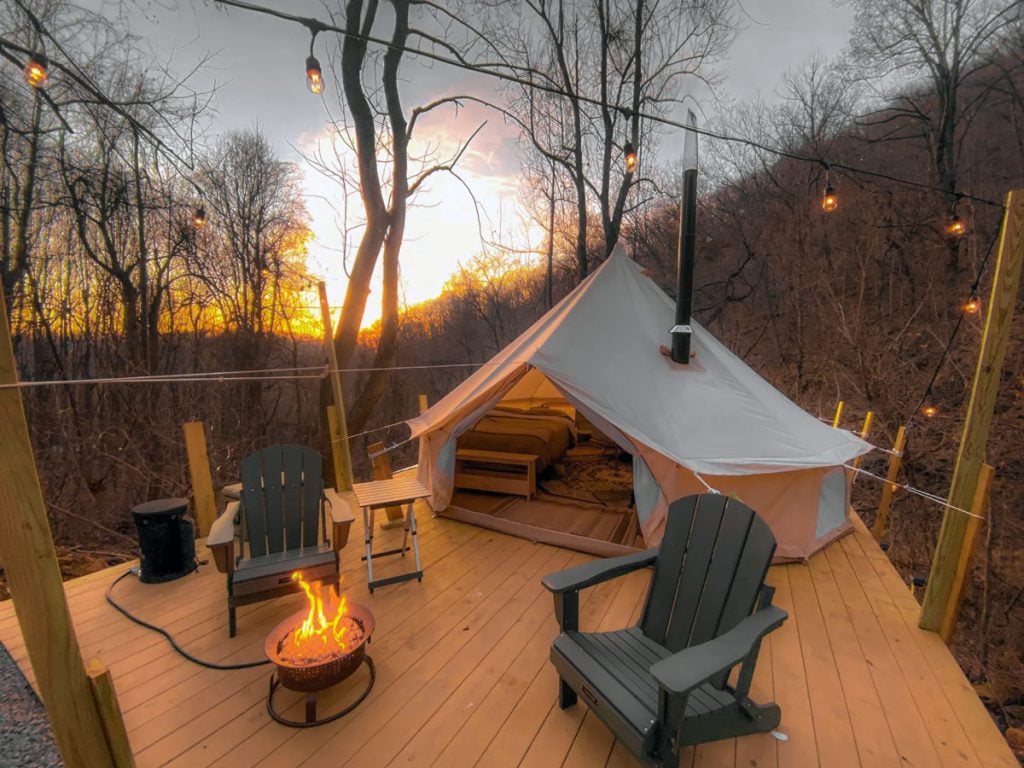 Floating high up in the treetops only 10 minutes outside the entrance of Shenandoah National Park is a comfortable bell tent that is perfect for glamping.
The cozy 4-season canvas tent comes equipped with a power station for charging electronics, a butane cooktop and kitchen essentials, plus a composting toilet and hot shower!
It's everything you need after a long day of exploring the National Park.
SPECIAL OFFER

Camping & Glamping Rentals
Discover and book unique accommodations including tent camping, RV parks, cabins, treehouses, yurts, and glamping sites.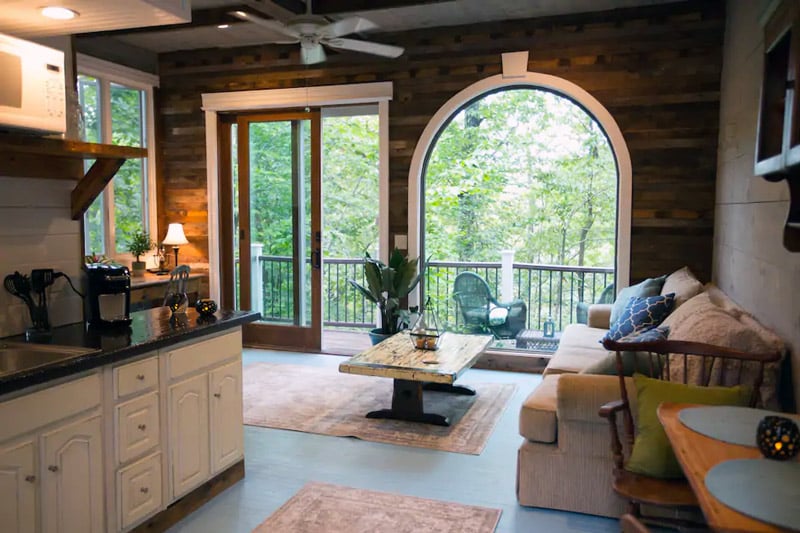 The Tranquil Treehouse Cottage is nestled on a hillside in Waterford, Virginia near a tributary of the Potomac River.
This cozy cabin is extremely private with trees all around which is perfect for glamping. It has a kitchen, living room, bathroom, and a lofted sleeping area with a King-size bed. There are indoor and outdoor showers.
The windows and the deck look out onto miles of forest land and wildlife. The Tranquil Treehouse is a perfect place for a couple's getaway in Waterford, Virginia.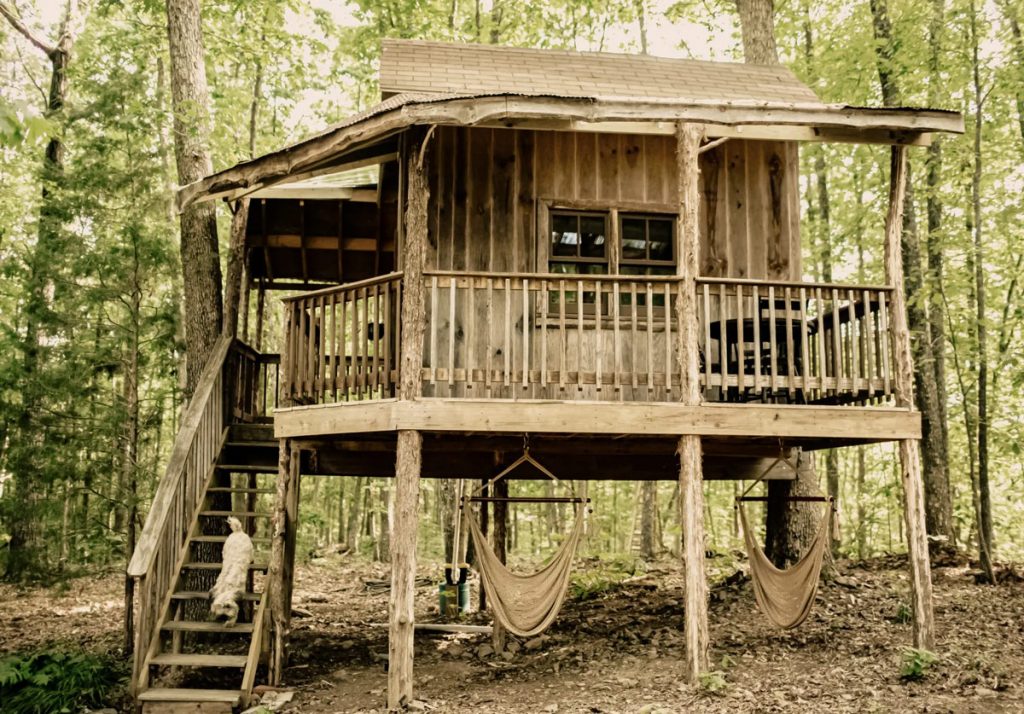 Located on a beautiful 15-acre farm, this Virginia treehouse makes for the perfect staycation. You'll find lots of privacy between the large, shady oak trees. And there's plenty of room to roam in the woods.
This Treehouse on HeartRock gives you a truly off-grid glamping experience. The property has minimal amenities so it will feel more like a camping trip than a tiny home. But that's the best way to connect with nature!
During the day, you can explore the James River State Park which is only about 8 miles away. Then at night, you can cozy up next to a campfire, and sleep beneath millions of stars.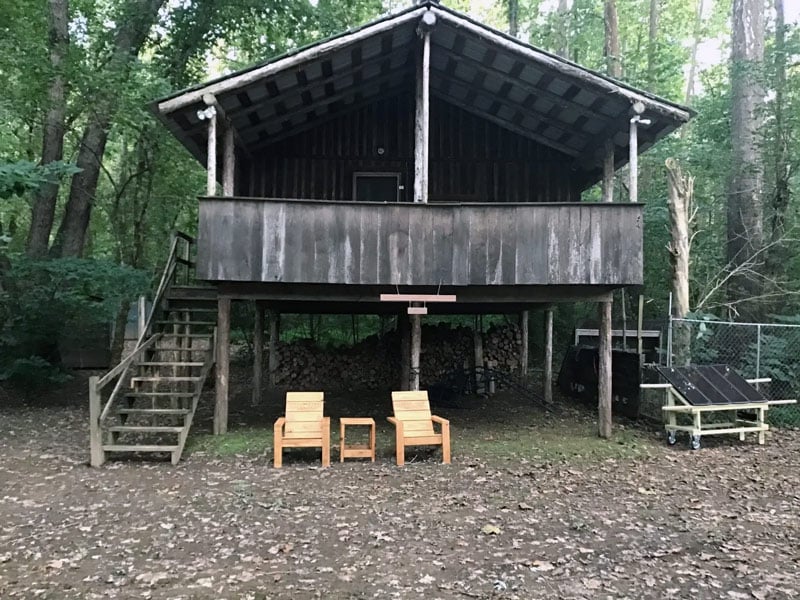 If you're looking for a rustic camping experience with opportunities to paddle, fish, and relax alongside the lake, then look no further than this treehouse cabin rental on Warren Ferry Landing.
It is located just steps away from the James River and has over 400 feet of frontage so you can launch your canoe from onsite. After your fishing trip, prepare a meal over an open campfire and relax on some comfortable outdoor chairs beneath the stars.
This is the ultimate glamping getaway in Virginia.
If you need to run into town for some additional snacks, the cabin is only 8 miles from Scottsville.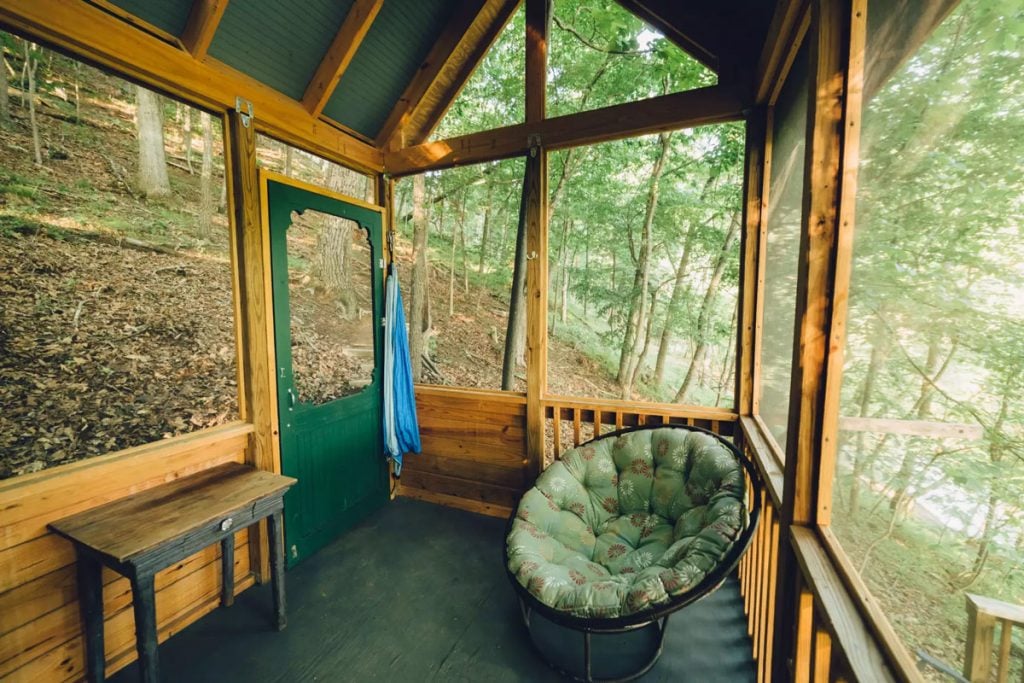 This treehouse cabin near the charming town of Woodstock, Virginia gives you the opportunity to go glamping and reconnect with nature.
The cottage sits perched on a hillside overlooking the North Fork of the Shenandoah River. Guests get river access for fishing, swimming, and paddling (canoes and kayaks are provided!)
There are also hundreds of miles of hiking trails right outside your doorstep. And it's a short drive away from breweries, wineries, and concerts in the nearby town of Woodstock.
At the end of the day, a fully screened-in cabin is the perfect way to avoid the bugs while watching a breathtaking sunset.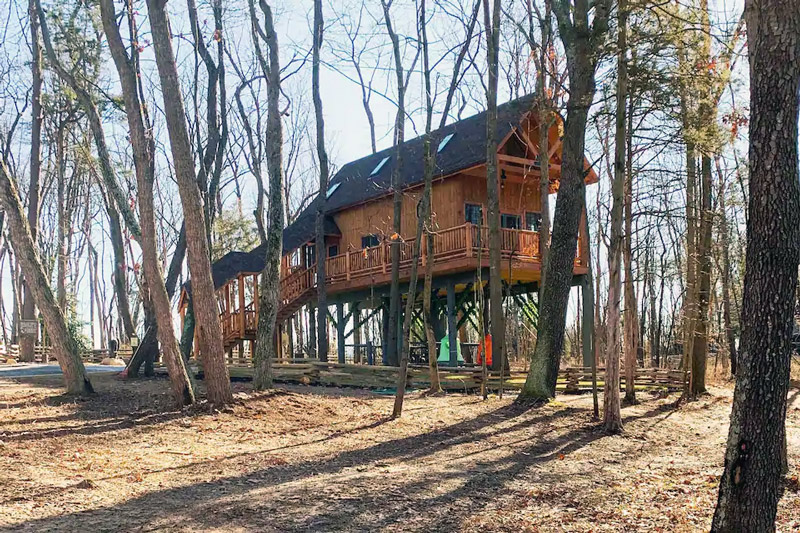 The Eagles's Nest Treehouse in Shenandoah, Virginia is 17 feet high.
This cozy A-frame cabin features windows with extraordinary views, wood floors, and sleeping space with plenty of room for glamping with up to four guests.
This 900 square foot treehouse has its own kitchenette, hot tub, screened porch, and outside decks and all of it overlooks the beautiful Shenandoah Valley in Virginia.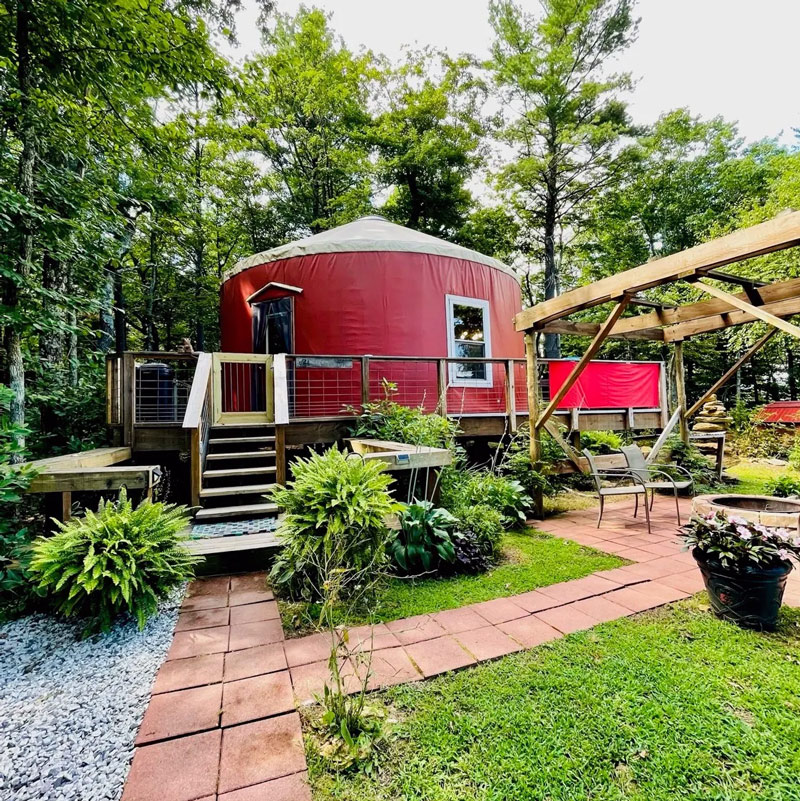 If you're someone who wants to go glamping in a little bit of luxury, then look no further than this comfortable camping yurt alongside the blue ridge parkway. Located on a private property with all of the luxurious amenities you need, it's location can't be beat.
Inside, you'll find a large walk-in shower, toilet, gas fireplace, and even a washer and dryer! Not to mention the private patio and hot tub that is perfectly situated beneath the stars.
The yurt is one mile from the well known hike, Devils den, where there is a cave at the bottom of the hike.
The famous flat mountain biking/hiking New River Trail is 15 minutes away, and boast long span bridges, train tunnels, creeks and rivers all along the groomed trail, and of course Creek Bottom Brewery within walking distance of the trail head.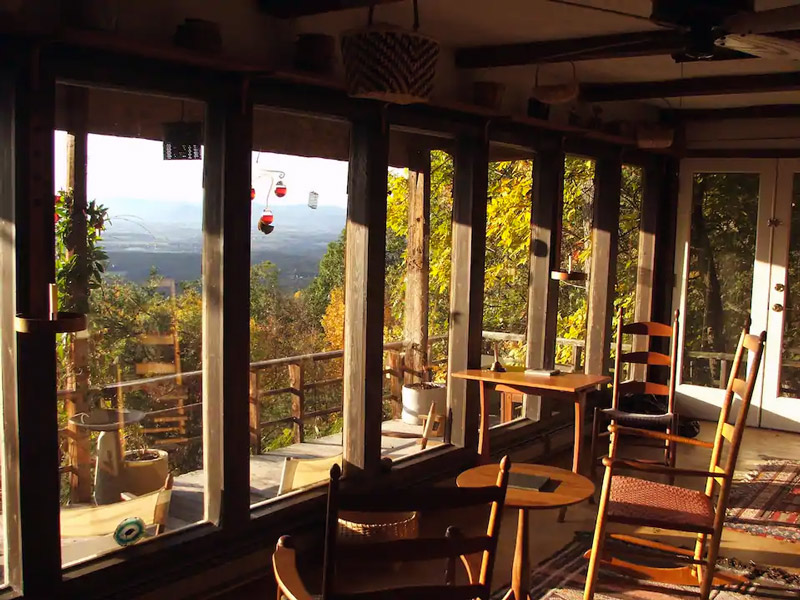 Get ready for the perfect glamping experience. You'll wake up to unbelievable sunrise views from the Massanutten Rustic Cabin in Luray, Virginia.
It's worth it to climb all the steps to get to this retreat because of the tremendous views. This treehouse comes with two bedrooms and sleeping space for as many as six guests.
It has a woodstove for chillier days or nights, a towel warmer for when you step out of the bath, and a fully equipped kitchen for cooking special meals.
This treehouse is away from it all but close to trails in Luray, Virginia.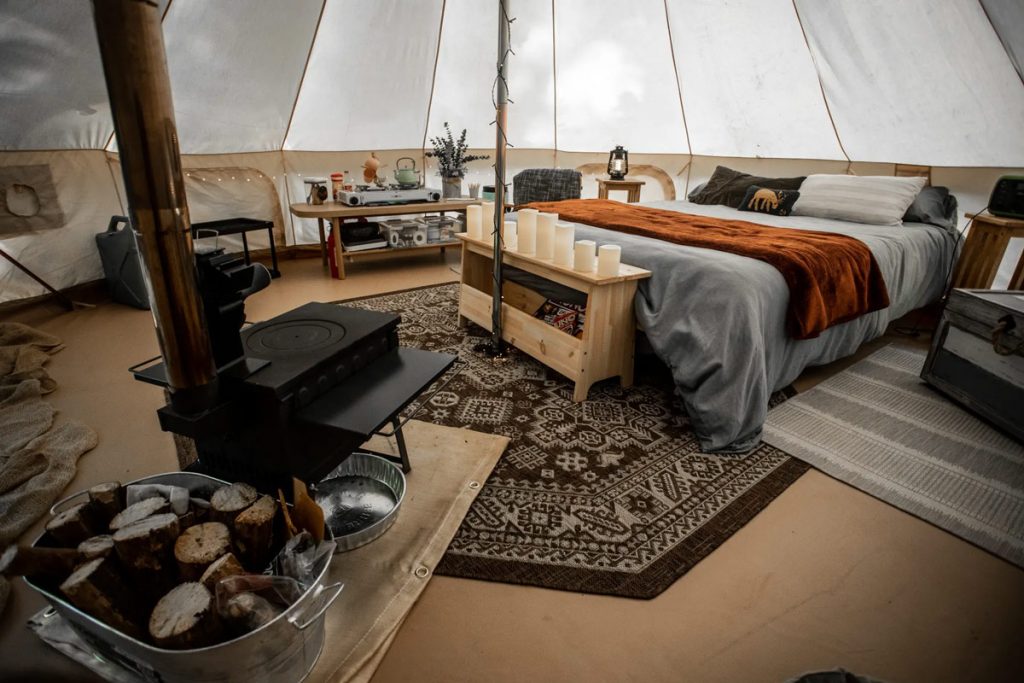 Only 10 minutes outside of the picturesque Shenandoah National Park rests a comfortable glamping tent high up amongst the trees.
This yurt camping tent is conveniently located outside miles of hiking trails and comes equipped with a hot shower, composting toilet, power station for charging electronics, and plenty of kitchen essentials.
This rental is a great way to get out and experience nature without sacrificing all the comforts of home. Spend your day exploring the park, then relax beneath the stars on a wooden patio raised above the ground.
SPECIAL OFFER

Camping & Glamping Rentals
Discover and book unique accommodations including tent camping, RV parks, cabins, treehouses, yurts, and glamping sites.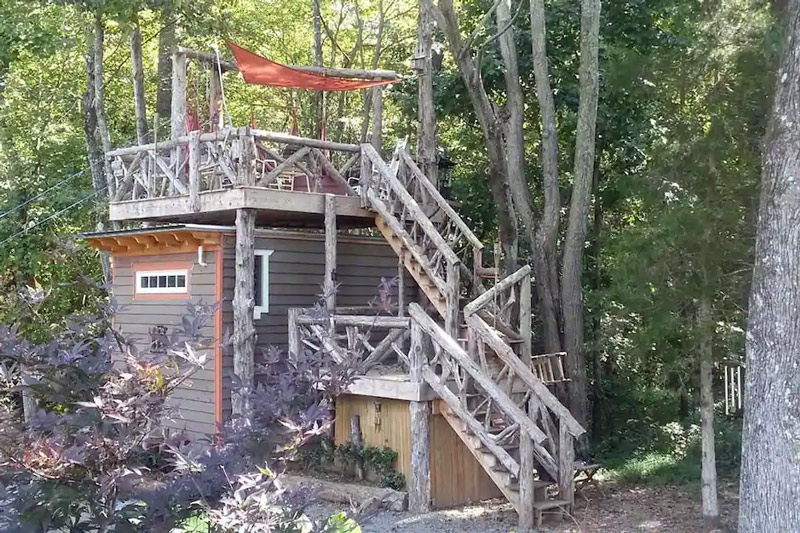 You are closer to the sunsets and all of the stars when you visit the Mountain Time Enchanted Tree Cottage in Charlottesville, Virginia.
This treehouse is a cozy spot for two people to enjoy some rest and relaxation while glamping. This treehouse has a kitchenette and a lofted bedroom and nothing but trees as far as the eye can see.
While Mountain Time treehouse is tucked away in a secluded space, it is six short miles to all that Charlottesville, Virginia has to offer.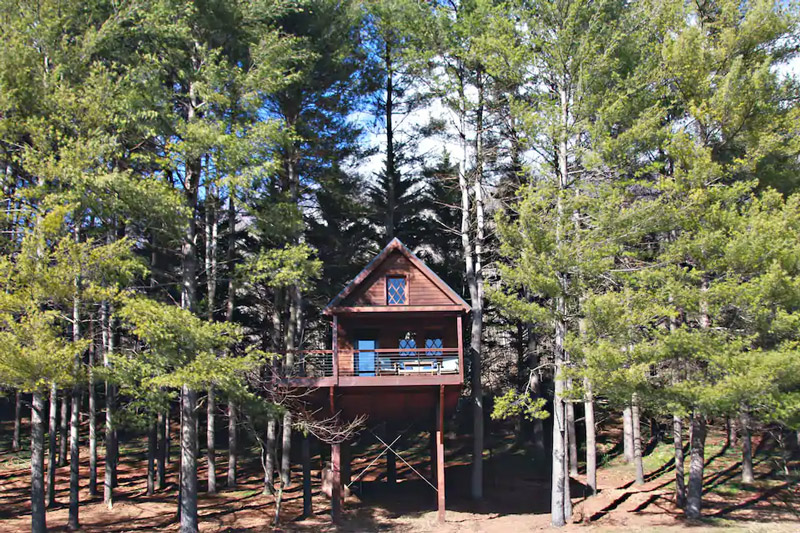 Known as the Joshua Tree House in Bridgewater, the cabin rises 16 feet high toward the sky.
This charming glamping treehouse has cozy wood floors, shiplap on the walls, a marble surround in the shower, a gas fireplace, and a spiral staircase made of marble that winds its way up to the lofted sleeping quarters.
The outside deck offers great views and a hot tub for relaxing. This treehouse is located just sixteen feet from a river.
You can use the hammocks, the firepit, or even the complimentary kayaks as you enjoy the beautiful views in Bridgewater, Virginia.
The Best Glamping In Virginia
If you're looking for a glamping getaway that will transport you to another world, we've got just the spot.
Our top glamping and treehouse cabin rentals in Virginia will have you feeling like you're miles away from civilization, even if you're only a few hours away from home.
So pack your bags and get ready for some rest and relaxation in nature!
Want to explore the other states? Check out these other glamping guides as well: