Located just 60 minutes outside of Seattle Washington, Olympic National Park has plenty of things to do that you won't find anywhere else. A mix of rainforests, rocky beaches, mountainous overlooks and wild coastlines make this place a must-see travel destination.
In this article we're going to cover the top 10 things to do in Olympic National Park and tips for making the most out of your visit.
Olympic National Park Top 10
Drive To Hurricane Ridge
Explore The Hoh Rainforest
Go Tidepooling At Hole-In-The-Wall
Take A Hike In Sol Duc Valley
Paddle In Lake Crescent
Go Whale Watching Along The Coastline
See Massive Trees In The Quinault Rainforest
Drive the Olympic Loop
Explore Kalaloch And Ruby Beach
Feel The Mist Of Marymere Falls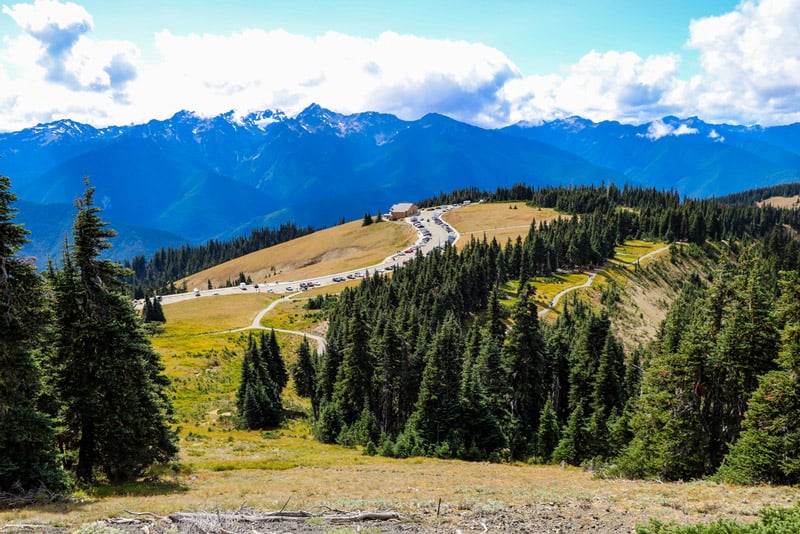 Drive Up Hurricane Ridge
If you're looking for the most picturesque views of the pacific coast mountains, nothing beats driving to the top of Hurricane Ridge. The high alpine zone is easily accessible by car from Port Angeles.
On top of Hurricane Ridge you'll find a visitor center, gift shop, and multiple hiking trails. In the spring and summer, colorful wildflowers bloom atop the hillside and clear skies allow you to see mountaintops for miles.
The Hurricane Hill Hike is a favorite among travelers looking for panoramic views of the Olympic Range, Puget Sound, and Vancouver Island. It's a moderate hike that stretches 1.2 miles in one-direction. Shorter hikes include the Cirque Rim and High Ridge Trail.
When hiking on Hurricane Hill you'll want to bring some waterproof shoes; many of these trails get muddy! The best time of year to keep your feet dry is between July and October when all of the spring snows have melted.
Between mid-December and March, Hurricane Ridge transforms into a gorgeous winter wonderland offering downhill skiing, snowboarding, snowshoeing, and tubing. The park has it's own ski lifts that service everything from bunny hills to double-black diamond runs.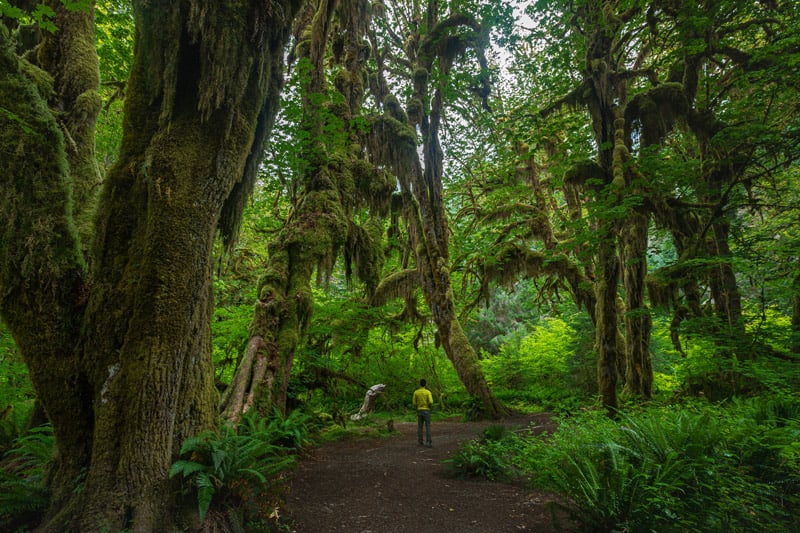 Explore the Hoh Rainforest
The Hoh Rainforest is a must-see for anyone traveling from afar. It's one of the only rainforests in the lower 48 states.
The temperate rainforest receives an impressive 140 to 170 inches of rain per year which allows lush trees and mosses to flourish.
Two great hiking trails are short, and perfect for families visiting the area for the first time. The Hall of Mosses Trail is the most iconic. It's less than 1-mile long and loops you through an outstanding old-growth forest. The Spruce Nature Trail is slightly longer (1.2 miles) but it has minimal elevation gain so it's perfect for a leisurely stroll.
For adventurers who want to take a longer route, the Hoh River Trail is a popular out-and-back hike that leads 18.5 miles in one-direction.
Each of these trails feature dense undergrowth, thick canopies, and unique flora. One thing that is immediately noticeable when hiking through the rainforest is how quiet the whole area can be. The trees do an excellent job of blocking sound and making you feel like you have the place to yourself.
The rainforest also has fairly mild temperatures year-round. It rarely gets warmer than 80 degrees in the summer and below mid-20s in the winter.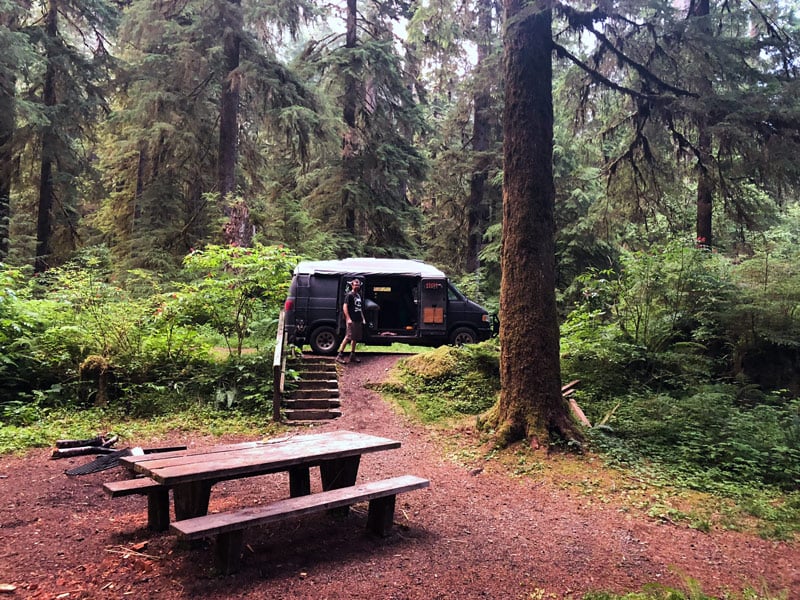 Camping
Camping in the rainforest is a unique experience that you'll never forget. The Hoh Campground has 78 sites available for both tents and RV campers. You'll find vault toilets and potable water in the area to make your stay more comfortable.
The Hoh Campground is one of the quietest and most secluded places to stay in Olympic National Park.
If you choose to spend the night in the rainforest, be prepared for some precipitation! It's guaranteed you'll wake up to a tent drenched in dew.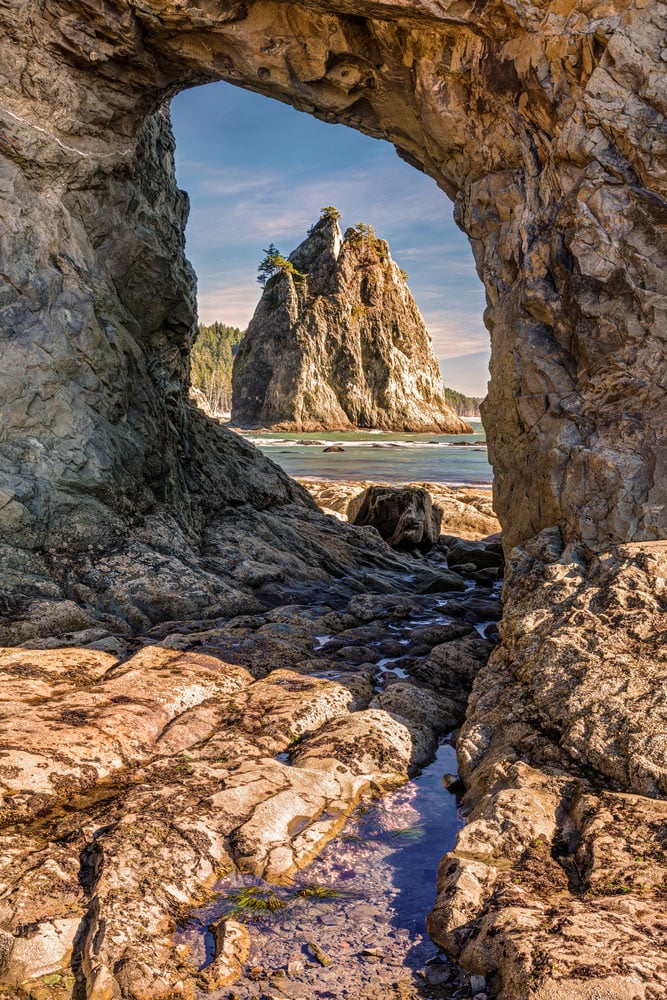 Go Tidepooling At Hole-In-The-Wall
If you've never been to a tidepool, Olympic National Park offers a variety of areas where you can try this activity for the first time.
Tidepooling is simply going out to see plant and animal life in low tide areas during daylight.
Find a clear pool and gaze under the water. Hermit crabs and seaweed will immediately stand out, but if you look closely, you'll start to see interesting creatures such as urchins, top snails, and smaller anemones.
Hole-in-the-Wall is one of the must-visited tidepools in Olympic National Park because of it's unique archway right next to the sea. To get there, you'll need to hike 1.5 miles north of the Rialto Beach Trailhead.
PLAN YOUR TRIP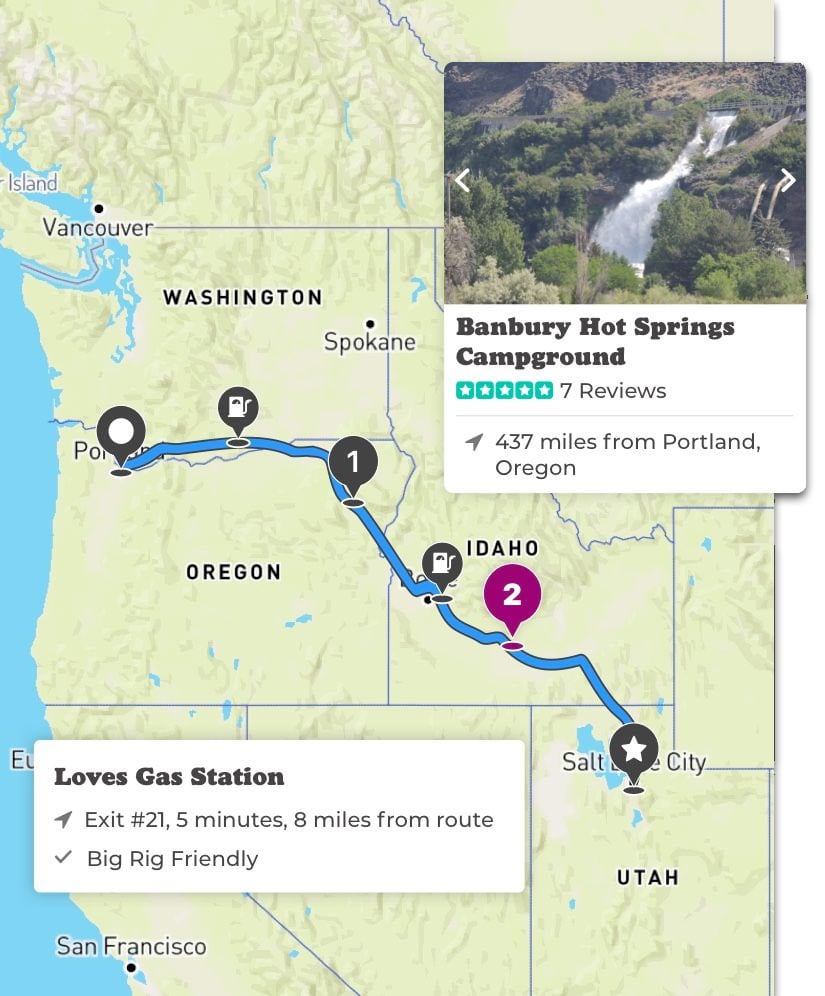 The Dyrt Road Trip Planner
This is our favorite app for planning! Map your road trip from point-to-point.
Find free campsites. Add stops, track milage, and gas prices.
Then save your maps offline use.
The best time to go tidepooling is about 30 minutes before the lowest tide. Always be on the lookout for the returning tide and "sneaker waves".
Some rocks can be deceptively slippery, so make sure to test for this before stepping on them. What's more, make sure that you're wearing sturdy shoes that have good grip.
If you're going with children, keep them close and avoid going out to areas with too many rocks.
If you don't want to hike too far, there are plenty of other tidepools to explore in Olympic National Park including Third Beach, Ruby Beach, and Second Beach. Many other coastal wilderness locations are prime locations for tidepooling as well.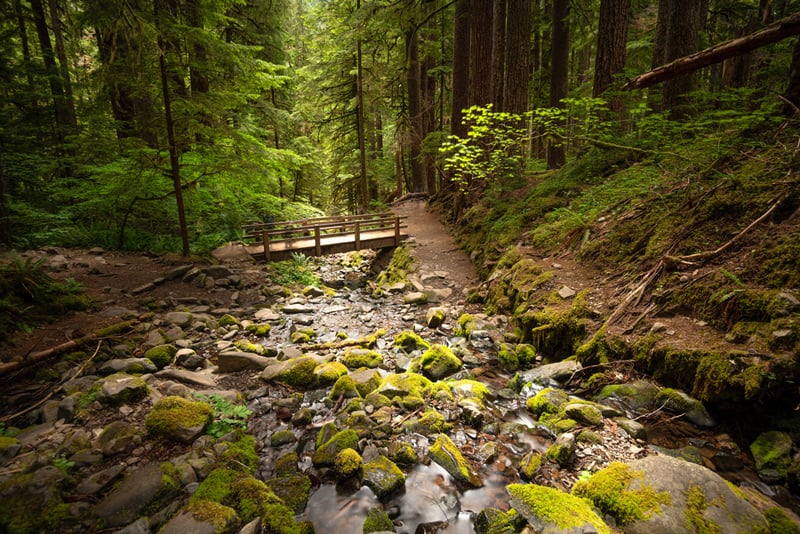 Take A Hike In Sol Duc Valley
The Sol Duc Valley is one of the most spectacular sections of Olympic National Park. The area has a variety of hiking trails ranging from just under a mile to multi-day hikes.
The first stop that anyone should take when visiting the valley is the Sol Duc Falls Overlook. This is a 50-foot waterfall that cascades into a slot canyon below. Sol Duc Falls is located just a few minutes from the parking lot so it's an easy hike that's perfect for kids or tired travelers. On sunny days you can see rainbows rising out of the mist.
The Lover's Lane Loop and the Hike to Mink Lake will each take about 3-4 hours to complete. These trails wind through moss-covered old-growth forests, fern groves, and waterfalls. You'll encounter multiple bridge crossings and perhaps some muddy trails along the way.
Hiking in the Sol Duc Valley is like entering another world. If you can't get enough of the area, consider taking a backpacking trip on the High Divide Loop which takes about 2-3 days and has excellent views of Mount Olympus.
Sol Duc Hot Springs Resort
After a long day of hiking, many tourists want to relax in luxury. The Sol Duc Hot Springs Resort is located in the Sol Duc Valley and offers cabin rentals, comfortable hotel rooms, and dining options.
If you don't want to spend the night, you can take a couple hours to relax in the Mineral Hot Spring soaking pools with a $15 day pass.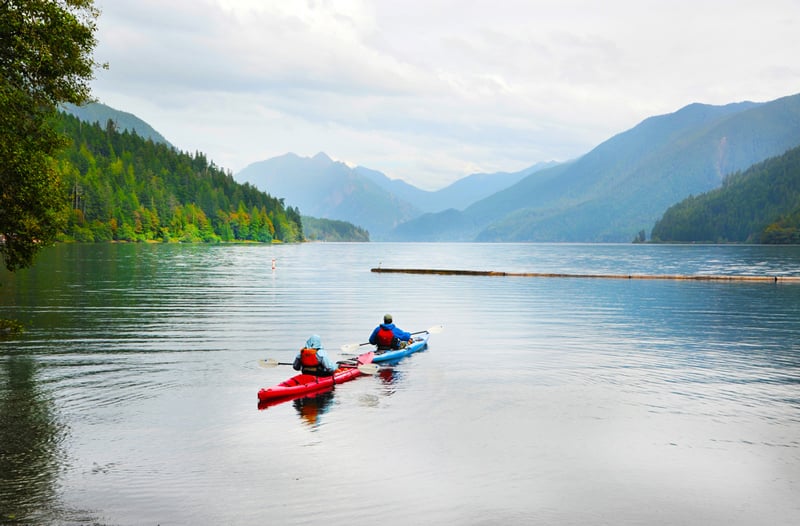 Paddle In Lake Crescent
Lake Crescent is a beautiful, clear lake nestled in the foothills of the Olympic Mountains. It's the second deepest lake in the State of Washington, and the perfect place to go picnicking, paddling, and boating.
Multiple companies offer kayak, canoe, and stand up paddle board rentals. The deep, sapphire lake appears to be bottomless. In fact, it's 2 stories deeper than the Space Needle measuring 624-feet.
If you're into fishing, rowboats are available to rent from Lake Crescent Lodge which sits right along the shoreline. There are also rooms and cottages available for reservation.
Lake Crescent is also an ideal place for artists and photographers because there are multiple hikes around the lake from the lowland forests to the surrounding mountains. You can easily get pictures from above the area looking down to the lake below.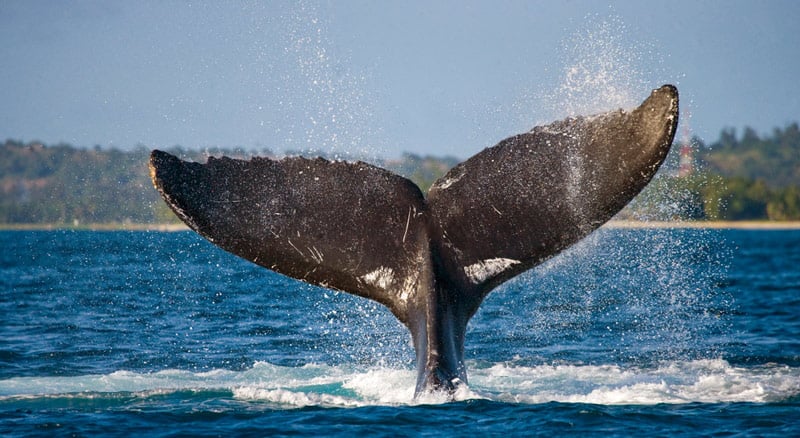 Go Whale Watching Along The Coastline
If you're interested in spotting a whale or two, there's no better place than Olympic National Park.
The Discovery Center in Port Angeles is a must-stop to get information on where to spot whales along the shore. The Discovery Center is part of the Olympic Coast National Marine Sanctuary which includes 65 miles of protected coastline shared with the National Park.
Hiking along the Whale Trail or visiting Kalaloch, Rialto, or Shi Shi Beach is the best place to view wildlife.
The types of whales you'll see depend on where you're located on the shore, what time of year it is, and how likely it is for that type of whale to be in that location.
Gray Whales: November-January or March and April
Humpback Whales: Spring and Summer
Northern Resident Orcas: Common around the north end of Vancouver Island in the summer, and Prince Rupert in the spring
Southern Resident Orcas: Seen in the San Juan and Gulf Islands from May-September. Or in central Puget Sound from October-February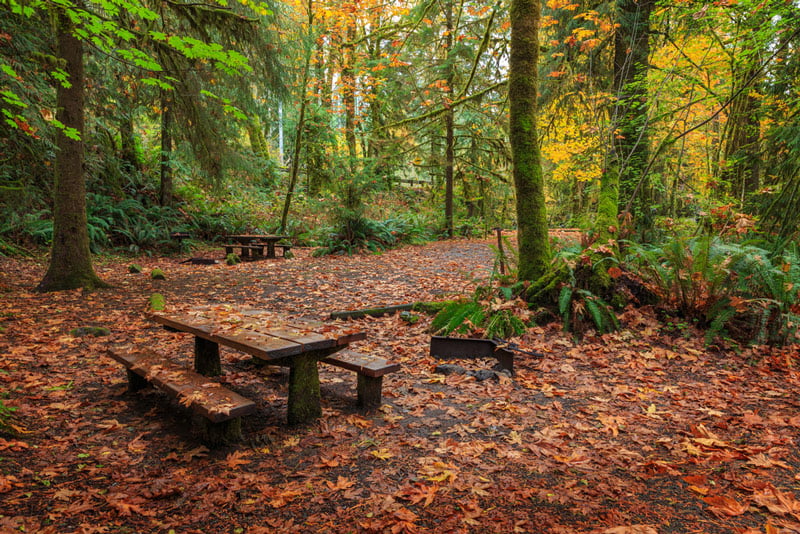 See Massive Trees In The Quinault Rainforest
Located in the "Valley of the Rain Forest Giants" on the western side of the Olympic Mountains is the Quinault Rainforest. The Quinault Rainforest has larger trees and shorter hikes than you would find in the Hoh Rainforest so it's the perfect place to visit with kids.
The Quinault Rainforest accumulates an impressive 12-feet of rain per year to nourish the trees. It's home to five of the top 10 biggest Douglas Fir Trees, and the largest Sitka Spruce in the world. You can also find Mountain Hemlocks, Western Hemlocks, and multiple waterfalls in the area.
If you love wildlife viewing, this is the perfect place to search for marmots, birds, and elk. The Roosevelt Elk are the largest animal in the park and can weigh up to 1,000 pounds. You'll find that they are noticeably bigger and darker than Rocky Mountain Elk.
Aside from hiking, there are two campgrounds in the Quinault Valley: The North Fork Campground, and Graves Creek Campground.
There is also a ranger station in the area with restrooms, picnic tables, and self-guided nature trails.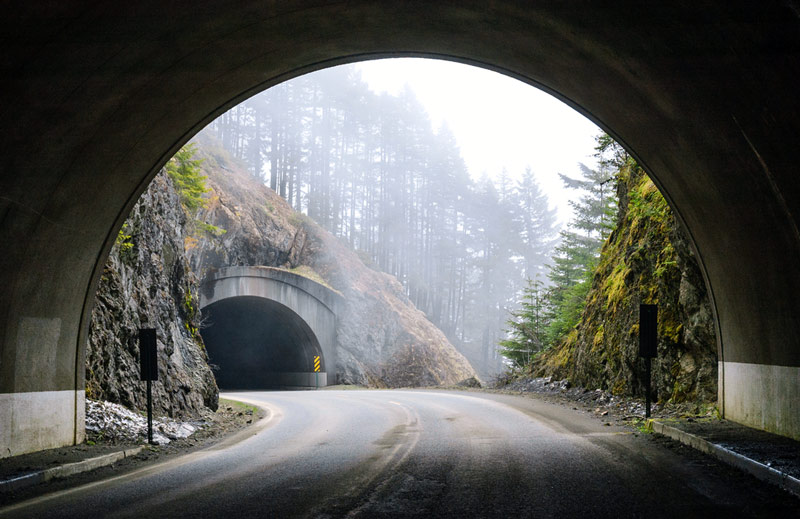 Drive the Olympic Loop
If you or anyone in your family feels like driving more than hiking, explore the Olympic Peninsula Loop! This is a great way to enjoy the spectacular sites and wildlife of Olympic National Park without exhausting yourself.
The entire loop stretches 332-miles long and takes about 8-hours to complete. Much of it encircles Olympic National Park. The loop starts in Seattle, Washington, and continues through the Olympic Peninsula, Sequim, Neah Bay, and Aberdeen.
Most people will choose to drive only a portion of the loop at one time, hitting the most popular spots in the National Park. Lake Crescent and the Sol Duc Valley are situated right on the loop as well as the Pacific Coast Beaches and the Quinault Rainforest.
Make sure to take your time to stop for a few short hikes or take some pictures of the ocean and trees along the way. Make sure to stop by the Point of Arches to see rocky sea stacks along the coast or search for starfish on Kalaloch Beach.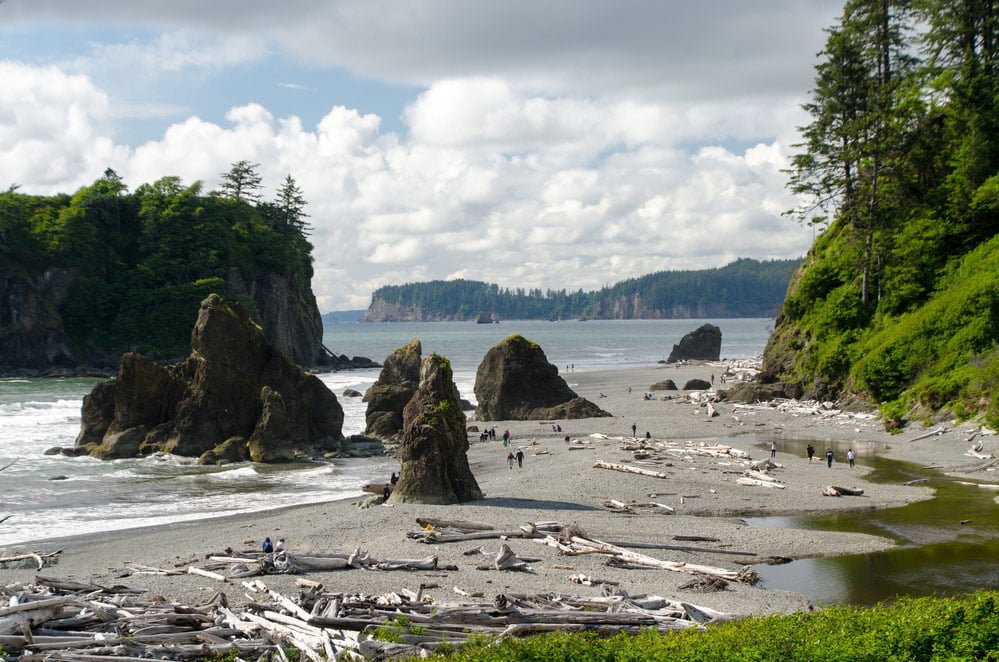 Explore Kalaloch and Ruby Beach
Two of the most beautiful beaches in Washington state are Kalaloch and Ruby Beach. These beaches are both protected by National Wildlife Refuges and Coastal Marine Sanctuaries so they are a safe-haven for local wildlife.
Kalaloch Beach is the best place to view birds like tufted puffins, western gulls, bald eagles, and other coastal birds. It's the more popular of the two because there is a large campground nearby, and pets are allowed on the beach.
Ruby Beach is considered one of the "crown jewels" of Olympic National Park. Its reddish sand gives the appearance of little rubies and the beach is populated with picturesque rock formations and tide pools.
Both beaches are excellent places to have a picnic and admire the huge driftwood logs along the shore.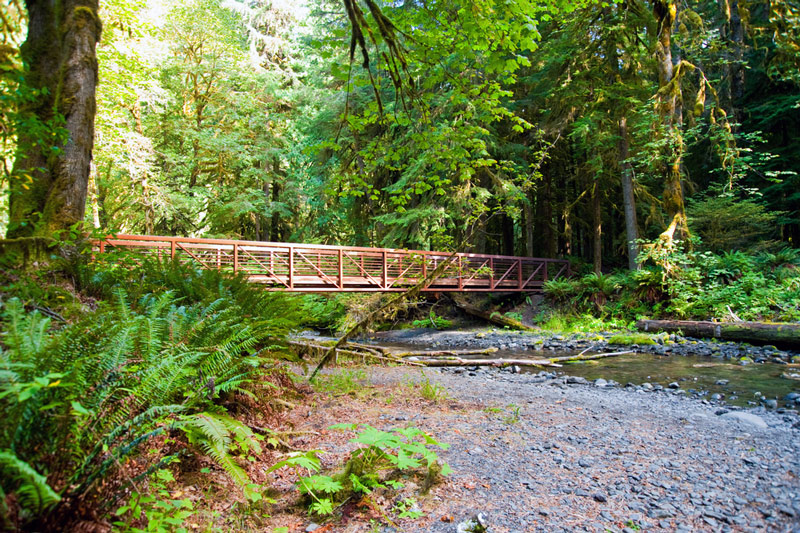 Feel The Mist Of Marymere Falls
Don't leave Olympic National Park before getting your feet wet at Marymere Falls! This is one of the most popular waterfalls in the park because it's so large and accessible.
The trail itself is 2-miles from Lake Crescent by way of the Barnes Creek trail. You can see and hear the waterfall as you approach it because of it's massive size. Marymere Falls cascades 90 feet downward and two main viewpoints. One is located at the base of the falls, and the other allows you to look down the falls from the hillside above.
The path to get there is mostly flat, short, and easy for all ages. As you hike, you will see a lush forest filled with mossy trees and ferns. We highly recommend Marymere Falls for beginner hikers and families.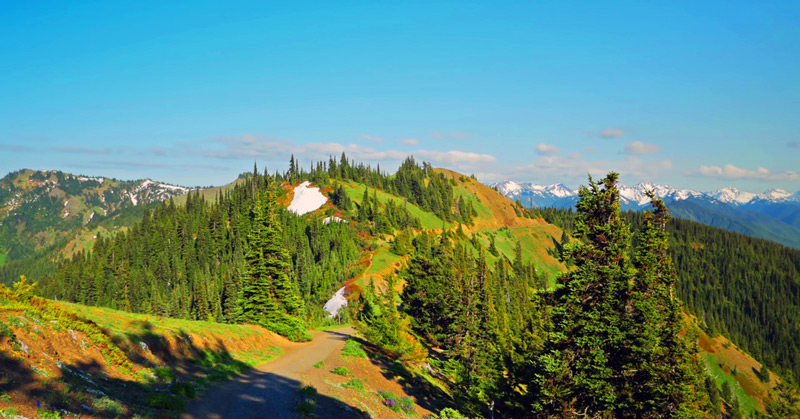 Bonus: Hike On Hurricane Hill
If you're wondering where to go first in Olympic National Park, why not take a hike? Olympic National Park offers you a wide variety of hikes – you'll be able to choose from trails along the seaboard, mountain hikes, and hikes through leafy green forests.
One of the most famous hikes is at Hurricane Hill. Widely considered as one of the most exciting hikes in this national park, Hurricane Hill offers you a stunning view of the area.
You will be able to see snowfall even during the hottest of summer days and take lots of amazing photographs to share with friends.
Staircase Rapids is a peaceful forest hike, perfect for less-experienced hikers. This four-mile trail is perfect for those who want a zen experience, since it is not as popular as the other trails.
For the more experienced hikers, we recommend Mount Storm King. This trip is not suitable for young children or older adults since you may have to use ropes during your hike. After all, this trail has a whopping 2,065-foot elevation gain.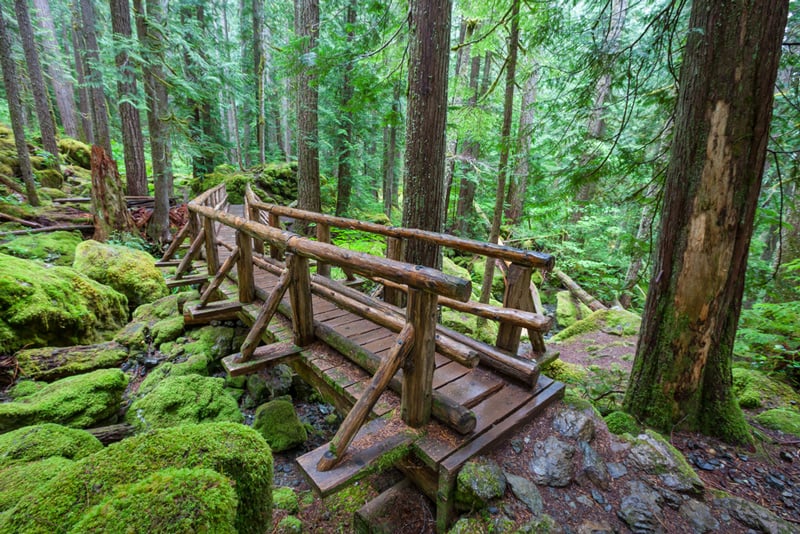 Visiting Olympic National Park
There are multiple entrances into the park, with most people entering through the Elwha Entrance or Sol Duc Entrance north of the park. If you're from Canada, you can take a ferry service from Vancouver Island to Port Angeles.
The best time of the year to visit Olympic National Park is during July and August, when the weather is generally sunny, dry, and warm. From October through May, some roads, visitor centers, and campgrounds will be closed or have shorter hours due to weather conditions, so be sure to check what's open before deciding when to travel.
Generally speaking, the weather can be somewhat unpredictable, so prepare to bring sunscreen, umbrellas, raincoats, hats, and lots of water. You should also take heed of weather conditions in winter areas like Hurricane Ridge, which can see up to 35 feet of snow.
Make sure to pack waterproof shoes, insect repellant, chargers, and food along with you.
That's A Wrap!
Olympic National Park is one of the most exciting places to explore on the West Coast. Full of lush rainforests, stunning beaches, and snow capped mountains, the park is a feast for the senses. You and your family will find plenty of things to do in Olympic National Park during your trip!
You Might Also Like:
The post Top 10 Things To Do In Olympic National Park appeared first on Parked In Paradise.