Glacier National Park has over 700 miles of trails that crisscross the Rocky Mountains in Montana. While hiking is certainly the most popular activity, there are plenty of other things to do!
In this article, we're going to cover the top 10 activities, from must-see views to once-in-a-lifetime excursions.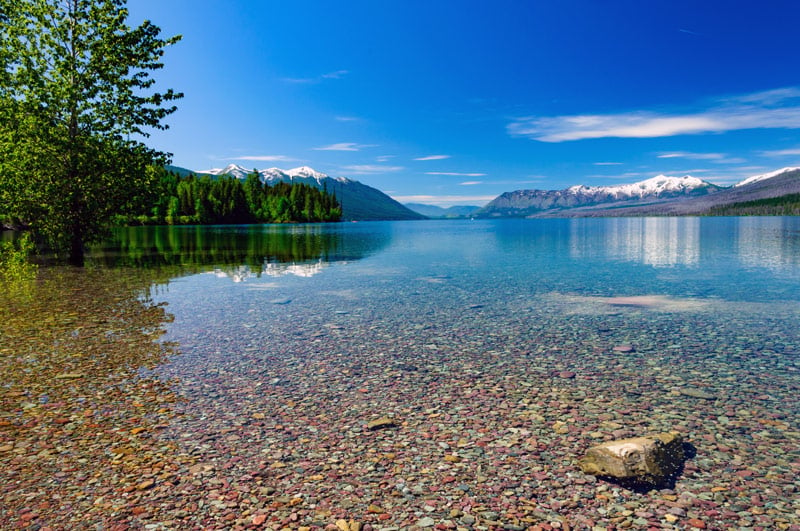 Wade In Lake McDonald
Lake McDonald is Glacier National Park's largest lake, and arguably one of the most beautiful. It's famous for the crystal clear, mirror-like surface and thousands of colorful, smooth rocks that stretch for miles along the shoreline.
Standing on the western shore, you can look across the water and witness snowy mountain peaks reflected off the surface with pristine clarity. 
This lake was carved by massive glaciers thousands of years ago and it's currently home to a diverse array of plant and animal species.
Many tourists will set aside a full day for the visiting Lake McDonald. The peaceful area is great for taking in the views, setting up a picnic, or stopping by the rustic Lake McDonald Lodge.
Walking paths around the lake also break off into numerous hiking routes, serving as a trailhead hub for further adventures.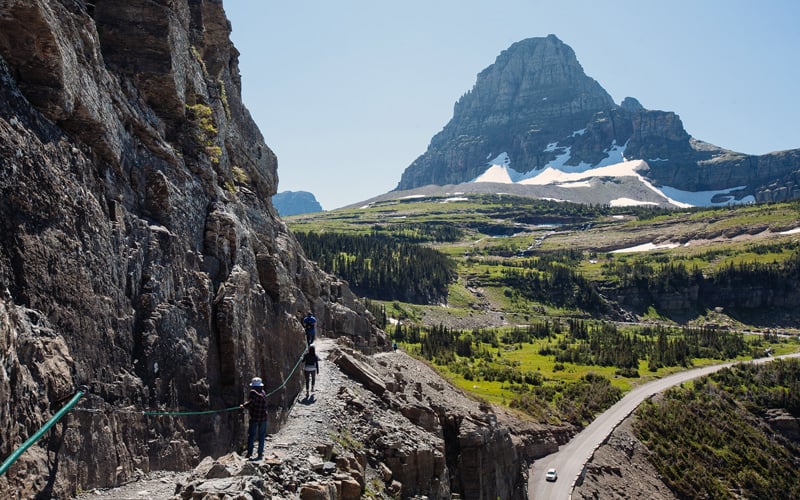 Hike The Highline Trail
Leading hikers alongside the continental divide, the Highline Loop is one of the most famous hikes in Glacier National Park.
Despite the name, this trail is an out-and-back that meanders 12 miles total over varying heights and terrains. The path rises well above 7,000 ft at its highest point, from which you can survey the beautiful landscape.
The Highline Trail will impress you with stunning views, wildlife, and wildflowers around every corner. One of the most prominent features is the "Garden Wall" section where you can witness thousands of mountainside wildflowers.
Hiking the full loop can take travelers between 5-7 hours and it's rated as moderate.
Even though the elevation gain is only about 800 feet, you should not attempt this hike if you're scared of heights. One section of the trail, known as "The Ledge" is only about 4-6 feet wide and has steep cliffs on one side falling over 100 feet to "Going to the Sun Road" below.
Fortunately, the park service has added handrail cables for constant support.
Ride A Horse
Horseback riding is a popular attraction anywhere you go. But in Glacier National Park, it's a century-long tradition that will make you feel like a real cowboy during Western Expansion.
Guided horseback rides can be found inside the park and takeoff from Many Glacier, Apgar, and Lake McDonald. The tours will carry you along trails that hikers normally don't experience. This opens up a whole new level of exploration into the park you may otherwise never get to see.
Horseback riding is a great way to explore the area without having to wear out your own feet. They're also a great break from the standard National Park activities.
Knowledgeable rangers will give you a bit of park history along the way and make the adventure even more personal and memorable than you could accomplish on your own.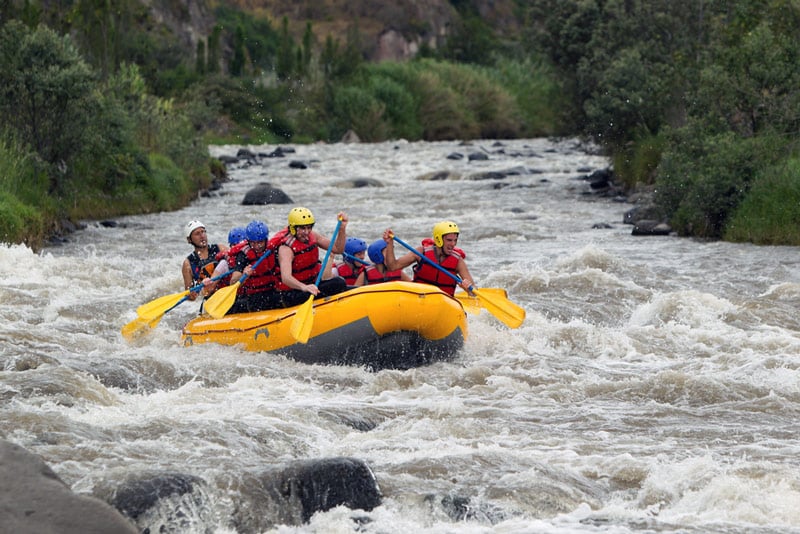 Raft On The Flathead River
Two sections along the Flathead River are popular for whitewater rafting. The Middle Fork and the North Fork are jointly managed by the National Park Service and the National Forest Service.
Several local raft companies offer guided tours on the river. Adrenaline junkies will love the challenging half-day or full-day trips that will carry you alongside the mountains. The tours offer Class II and Class III rapids so even inexperienced paddlers can join.
For those looking for a slower ride, families can embark on a relaxed float tour.
Every passenger in the boat gets a window seat to Glacier National Park's natural beauty. You can look out for wildlife along the shoreline and embrace the crystal clear water below.
Travelers who wish to set out on their own can obtain permits to paddle the river as a self-guided trip.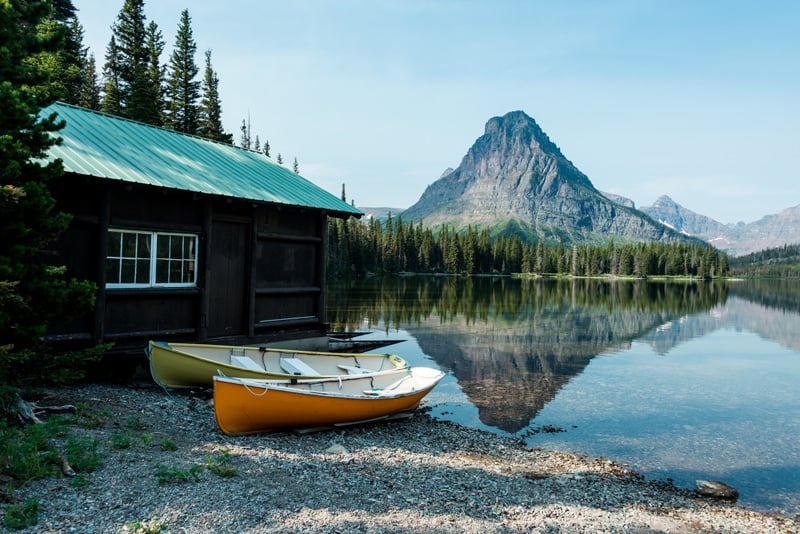 Relax At Two Medicine Lake
Once a busy hub of tourist activity, Two Medicine has decreased in foot traffic since the Going-to-the-Sun Road's development, making it the Park's ideal destination to avoid dense population without sacrificing the captivating views.
Here, the mountains encompass a pool of deep blue water, Two Medicine Lake. The hills slope lazily toward the lake as if it's a volcano's sparkling crater.
Branching off from the Two Medicine area, you'll find various hiking trails that head to astonishing waterfalls and some with ascents to panoramic views of the region below.
If you want, you can even make your stay at Two Medicine longer than an afternoon adventure by wilderness camping. Two Medicine is one of the permitted wilderness camping areas within Glacier National Park.
To experience even more of all that Glacier National Park has to offer, you can hop on a ferry at Two Medicine Lake. The ride transports tourists across for easy access to both sides of the region, so you don't have to hike all the way around if you don't prefer. Plus, the ferry ride is a fun, short voyage to take advantage of.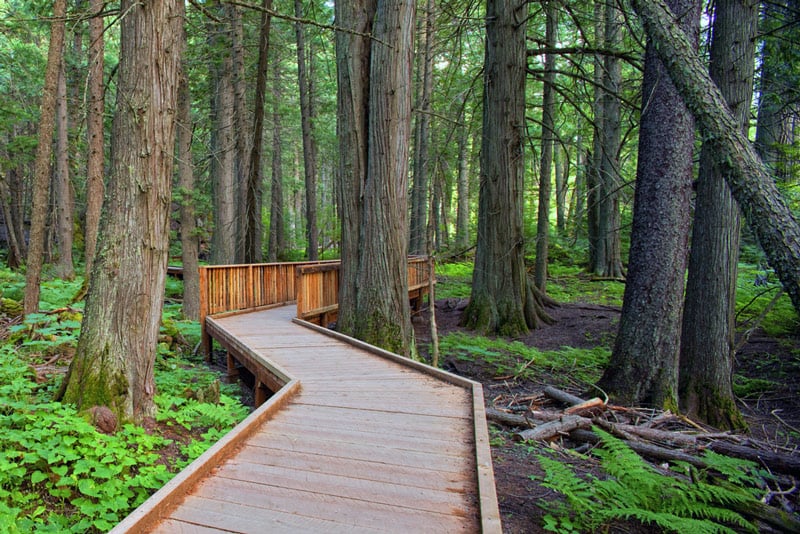 Follow The Trail Of The Cedars
So, you've scaled the Glacier National Park mountainside and journeyed along the coursing rivers, what about the forests? Trail of the Cedars is the ideal hiking path that takes you deep into Glacier National Park's wilderness. This trail cuts through the dense forest along a raised boardwalk, making it a relatively easy trail to navigate.
Here, the towering and historic Cedar trees flank you on both sides for an unforgettable scene and rich, woody smells. Not to mention, the Trail of the Cedars is one of the only wheelchair-accessible hiking paths within the Park.
You also get up close and personal with the lush forest flora and fauna, and if you're lucky, you can get quick glimpses of some Glacier National Park wildlife.
On your hike, you'll come across Avalanche Creek via a footbridge that offers aerial views of Avalanche Gorge. You can even take this trail to Avalanche Lake. Along the way, you'll get pictures of the cascading glaciers as they slice through the gorge.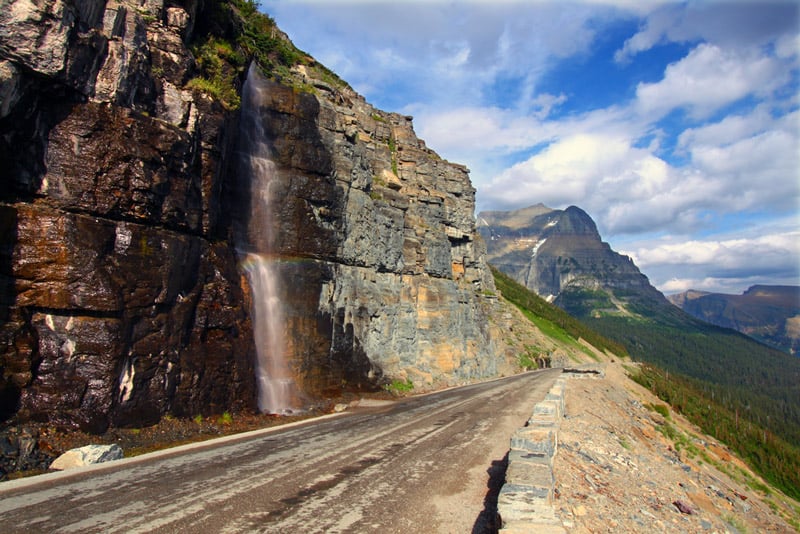 Drive The Going-to-the-Sun Road
You can't go to Glacier National Park, Montana, without venturing around the Going-to-the-Sun Road. It's a staple of the Park that you will not want to miss. This road cuts through the Park and winds through the Continental Divide, reaching an elevation over 6,000 feet high at Logan's Point.
During this 50 mile stretch, you pass through the Park's varying terrains. From distant glacial lake views to the lower pastoral valleys nestled among the mountains, the Going-to-the-Sun Road takes you through the entire Park well within a day.
If getting views from your car window isn't exactly what you had in mind, the road offers many stopping points to pull over, take pictures, and enjoy the wilderness.
The route also welcomes cyclists who want to test their limits along the expanse.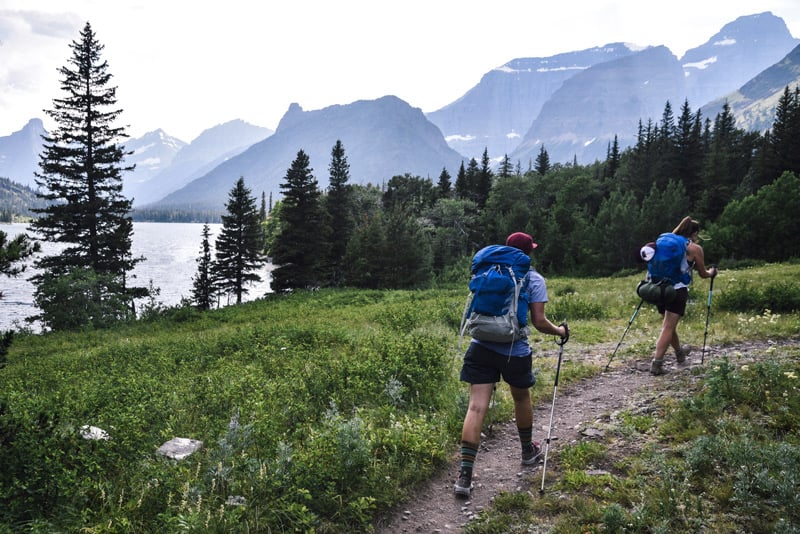 Camping And Backpacking
One of the best ways to experience Glacier National Park is to spend as much time within the wilderness as possible. And you can do that through backpacking and camping. Adventure travelers can spend their days hiking through the vast forest and journeying along all of the trails they please.
13 established campgrounds are located in Glacier as well as hundreds of opportunities for primitive camping. Most of the campgrounds are available on a first-come, first-served basis so it's a great place for a last-minute trip.
When you're ready to stop for the night, you don't have to factor in how much time it'll take you to get back to your lodging; instead, you can unpack your tent and spend the night beneath the stars.
Experiencing the park during the off-hours also gives you exclusive access to backcountry trails that are less popular during the day.
FIND FREE CAMPSITES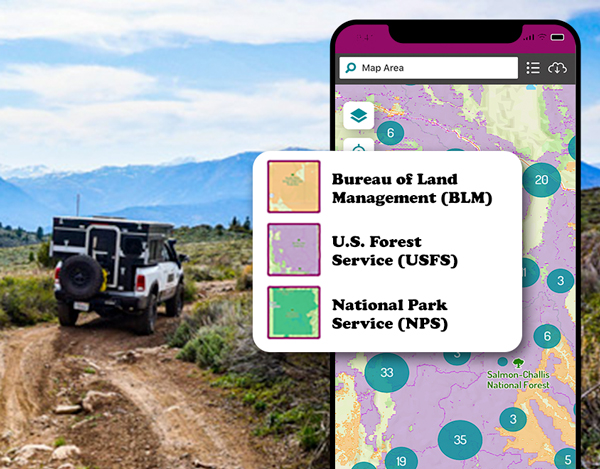 The Dyrt Campground Finder
This is our favorite app for finding free campsites & public campgrounds.
Download offline maps with Public Lands, National Forest, and Bureau of Land Management boundaries.
44,000+ public and private sites listed. Over 1 million campgrounds reviewed.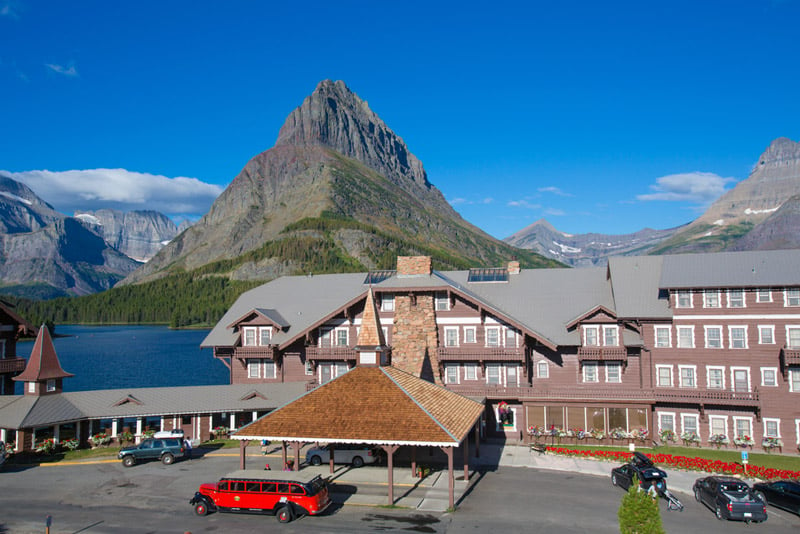 Ride On The Red Bus Tours
If you can't choose a single activity one day, you can take one of the park's famous Red Bus Tours, which can act sort of like an intimate Glacier National Park overview. These tours have been around since the 1930s, and the iconic red bus you board is one of the original buses restored for use in modern times.
The tour takes you round trip along the Going-to-the-Sun Road and ranges between two and a half to nine hours in duration depending on where you climb aboard.
The Red Bus tour makes many stops throughout its journey to allow for pictures and jaw dropping views.
The frequent stops make this tour extremely accessible. So, if you finish up with a hike early and don't know what to do next, you can hop on a Red Bus Tour and head somewhere else!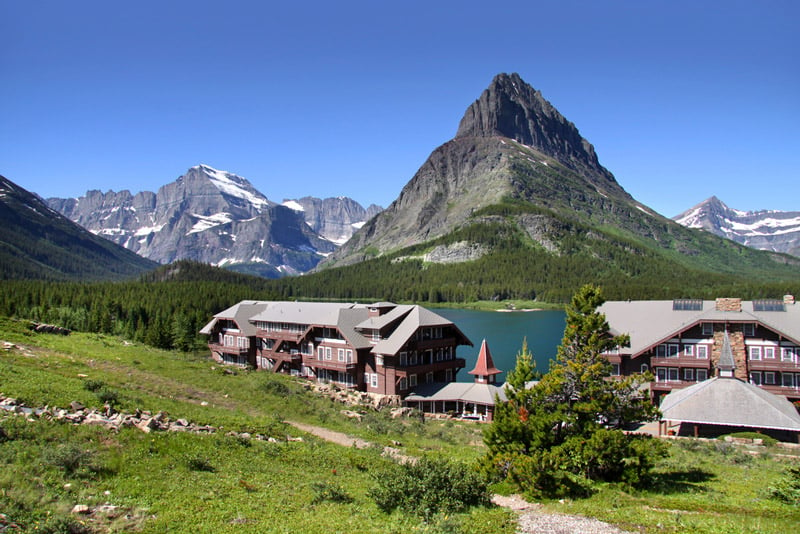 Stop By Many Glacier Hotel
Before embarking on either the Cracker Lake or Grinnell Glacier trail, make sure you stop at the Many Glacier Hotel. You don't have to lodge at this hotel to make it a stop during your trip, and once you see it, you'll understand why.
It's an architectural and historic beauty nestled along the Swiftcurrent Lake bank.
This Swiss-style rustic hotel exudes warmth to welcome guests and visitors inside for a bite to eat or a quick souvenir pick-up. The area itself acts as a trailhead hub, with many hiking trails spurting out from the surrounding terrain.
Suppose you want a break from hiking and exploring. In that case, Many Glacier Hotel is the ideal spot to take a load off, get something to eat, and re-energize while still experiencing Glacier National Park's unique atmosphere.
Other Things To Do In Montana
The post Top 10 Things to do in Glacier National Park Montana appeared first on Parked In Paradise.