Yosemite National Park is open all-year round and there are a surprising number of things to do in the winter. The snowy season is one of the best times of year to visit if you want to avoid the crowds and enjoy the park in its purest form.
Not to mention, prices within the park and the surrounding area are less-expensive than during the busy tourist season.
If you can handle the cold, we've put together a list of the top 10 things to do at Yosemite in winter.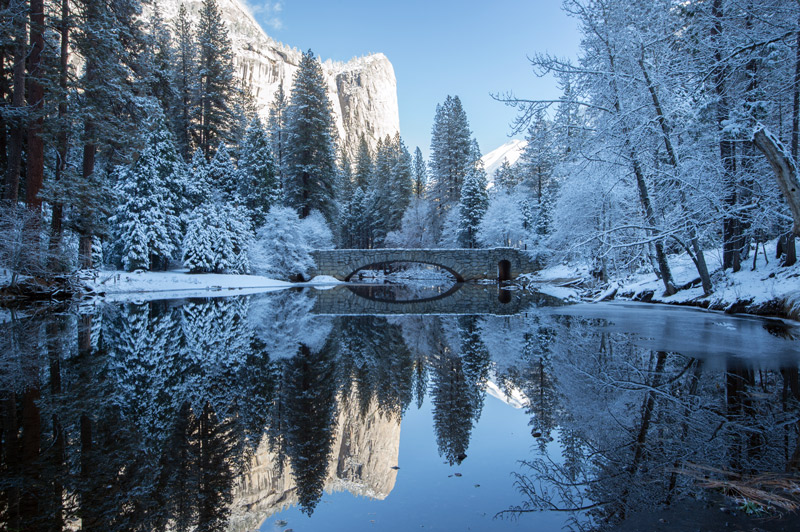 Downhill skiing & Snowboarding
The Badger Pass ski area is open from mid-December to March and offers a mix of beginner to advanced ski runs. Five chairlifts can carry you up Glacier Point where there are 10 routes to try.
The runs range from beginner to advanced level with the largest elevation change being 800-feet.
Multiple free shuttle buses can take you from Yosemite Valley to the ski area above.
This park is family-friendly with ski instructors available for kids ages 4-6 as part of the Badger Pups Program. There are also equipment rentals and lockers available to guests.
When it's time for a break, you can relax at the ski shop, cafeteria, or in the lounge.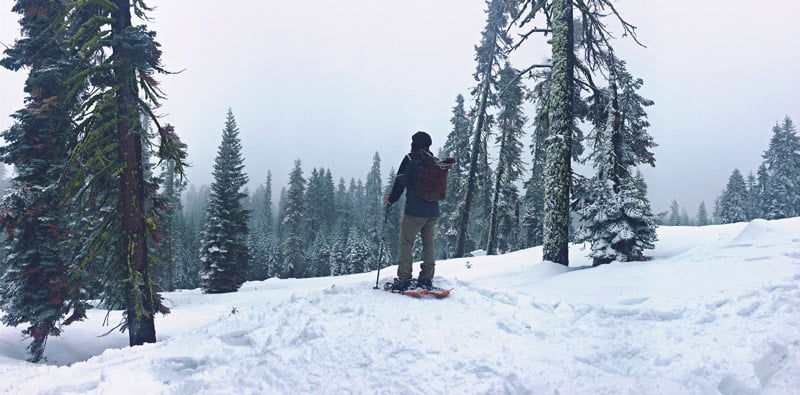 Snowshoeing
Snow-capped peaks and frosted trees light up Yosemite like a winter wonderland. And there is no easier way to move through deep feet of snow than with a pair of snowshoes!
Yosemite offers snow shoe rentals from the Badger Pass Ski Area.
While there are many different routes to take, the most popular hikes include a guided trek to Dewey Point. Along the way, you can get picture perfect views of Yosemite's most iconic features including El Capitan, Half Dome, Mt. Hoffman, Mt. Conness and the Clark Range.
For an even more unforgettable experience, consider taking a moonlit snowshoe hike. You can walk beneath a blanket of stars and enjoy the glistening snow in silence.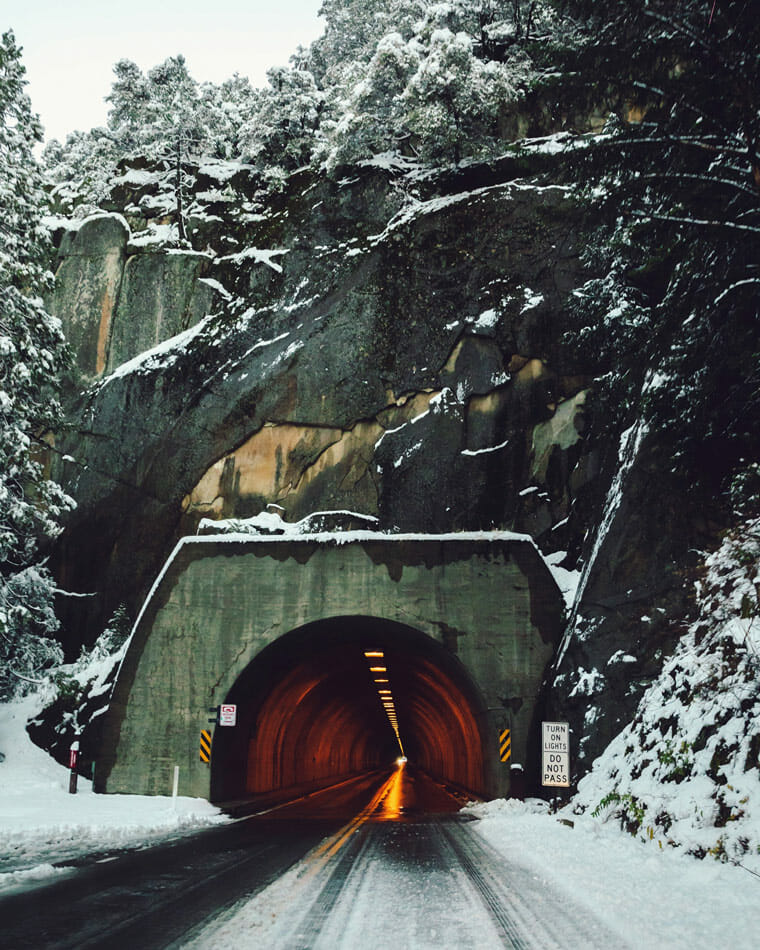 Auto tours
For those who wish to enjoy the park at a more leisurely pace, an auto tour a great choice to make when the weather drops below freezing. You can revel in the towering mountains right from the comfort of your vehicle, or take a narrated bus tour.
The Valley Floor Tour operates year-round and provides visitors with a 2-hour narrated history of the park.
The motorcoach departs twice per day in the winter and drives past notable features including Yosemite Falls, Half Dome, El Capitan, Tunnel View, and Bridalveil Fall.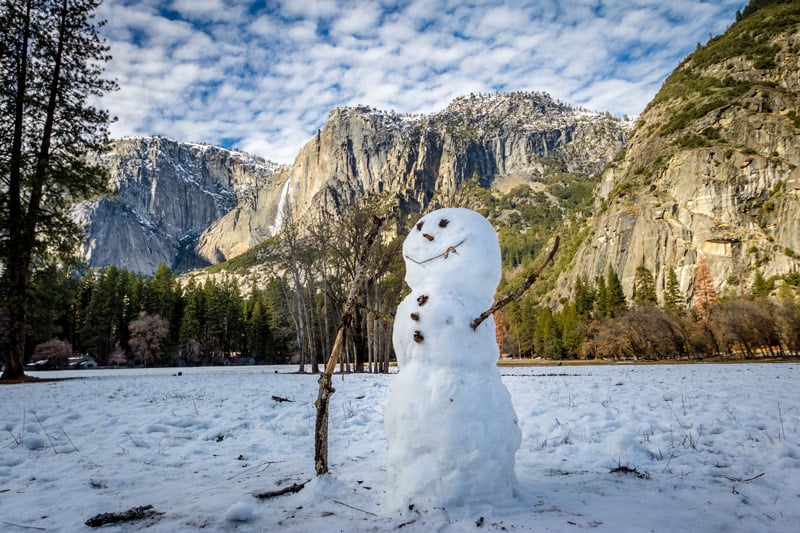 Sledding
There are two snow play areas in Yosemite National Park where kids and adults can enjoy tubing in the winter.
The Crane Flat Campground has some excellent runs if you bring your own equipment. This play area is also located near Tuolumne Grove which offers gorgeous winter hiking trails nearby.
The Badger Pass Ski Area is another great place for families to sled. You can rent tubes and other equipment at the ski shop before hitting the slopes.
Sleigh Rides
One of the most unique winter experiences in Yosemite involves taking a trip back in time.
At the Pioneer Yosemite History Center in Wawona, you can book a horse-drawn sleigh ride and glide across the deep snow near the South Entrance.
The horses will guide you through gorgeous woodlands, across a covered bridge, and past log cabins. After the trip, sip a hot cup of coffee or apple cider beside a campfire outside.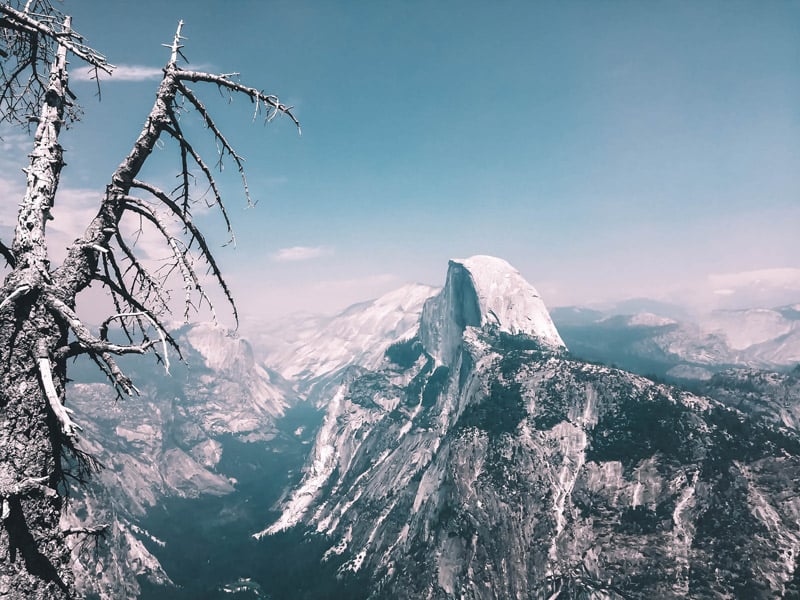 Cross country skiing
You can find world-renowned trails and incredible views while cross-country skiing across Yosemite. The Badger Pass Ski Area has 25 miles of groomed track and over 90 miles of marked trails to glide on.
One of the most popular routes is a 21-mile round-trip track from the Badger Pass Ski Area to Glacier Point. This route typically takes 4-5 hours in one direction and rewards you with incredible views from 3,200 feet of Yosemite Valley, Half Dome, and the Yosemite High Country.
The Glacier Point Ski Hut offers a comfortable place to recharge before turning around. You can choose to stop in for a meal, or spend the night in a comfortable cabin. The hut serves breakfast, lunch, and dinner and provides a hot, roaring fire at night.
Guided overnight trips are available and reservations are required when staying overnight.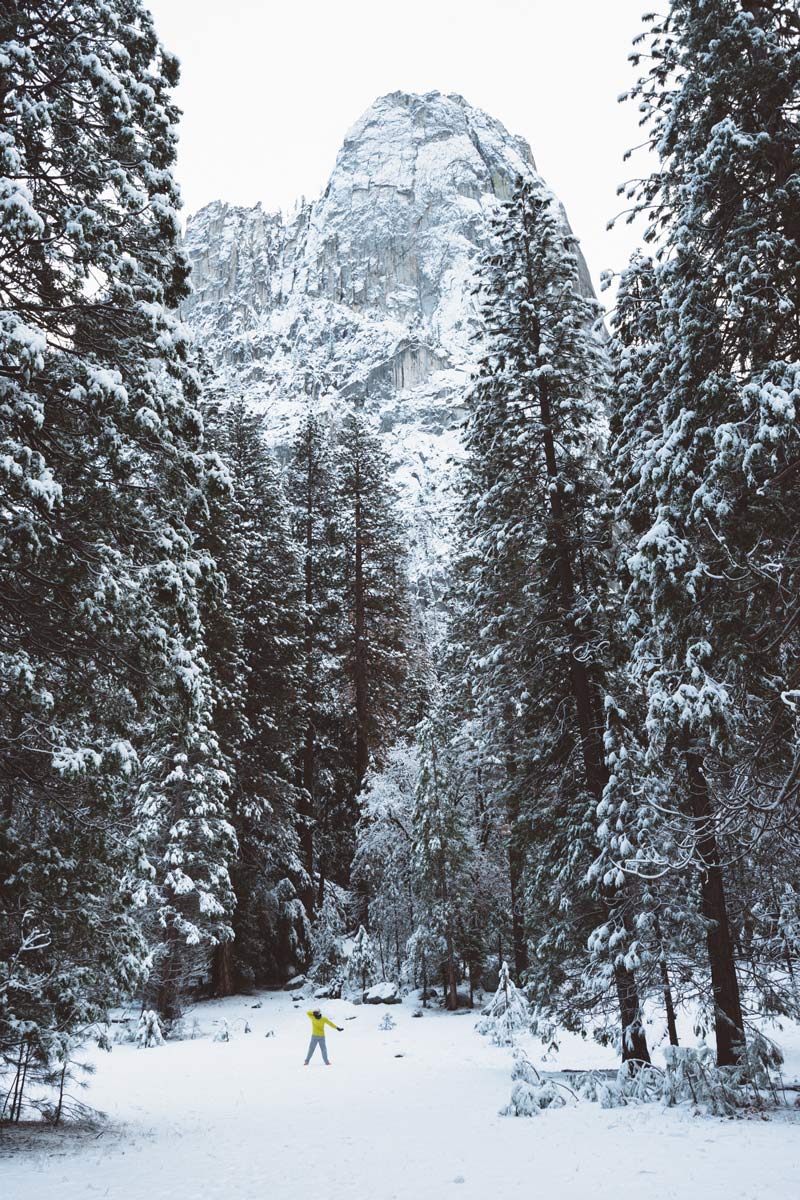 Ice skating
Curry Village is a spectacular ice skating rink with gorgeous views in every direction. Located right in the heart of Yosemite Valley, skaters have a perfect view of half-dome.
This rink is often open until 9:30pm so you can skate under the stars and experience the quiet mountain views.
Afterward, you can grab some drinks at the Mountain Room Bar & Restaurant or eat a slice of pizza at Pizza Deck in Curry Village.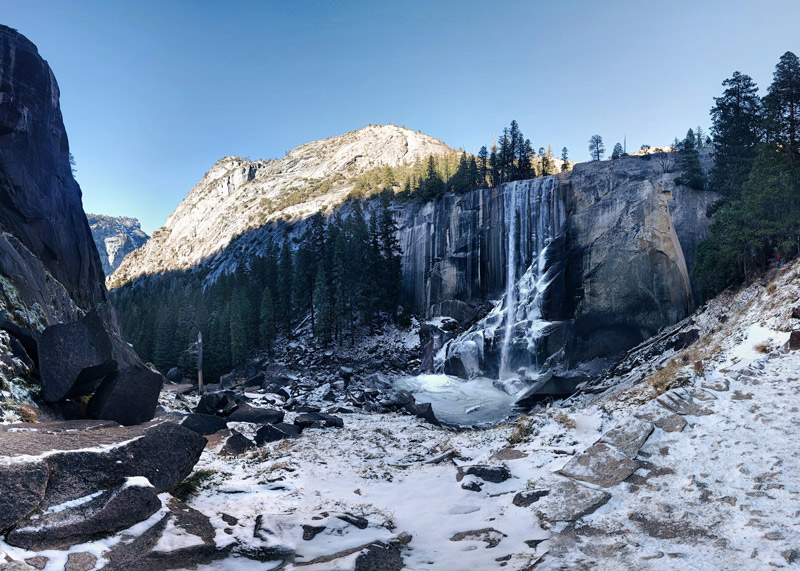 Visit the Ansel Adams Gallery
When you need a break from the snow, the Ansel Adams Gallery is a great place to warm up and relax while eyeballing the contemporary photography of Ansel Adams and others.
Guests can explore the gallery, gift shop, and partake in multiple classes offered.
Photographers can learn from on-site educators and gain one-on-one camera knowledge or book guided photography tours during all four seasons.
Private photography tours will take you to Yosemite's most picturesque locations and help you find the perfect angles for your shot.
Dining At Yosemite's Hotels
Another indoor activity that you can't miss during winter is dining during one of Yosemite's specialty events.
Each December the Ahwahnee dining room transforms itself into a Renaissance-era hall decorated with traditional Christmas ornamentation to serve the Bracebrige Dinner.
This is an imaginative experience where you'll eat a 7-course dinner beneath candlelight and enjoy a performance of live music, dancing, and entertainment.
The tradition has been on-going for the past 90-years and still embodies the spirit of the renaissance. Men are asked to attend in tuxedos and women in formal gowns.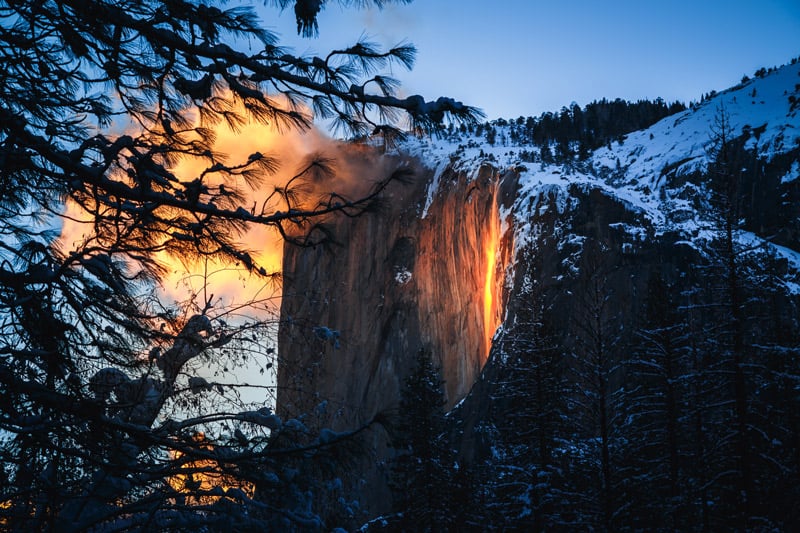 Hike To The Firefall
Horsetail Fall flows down the east face of El Capitan. While this waterfall is a sight to see during anytime of year, it literally lights up in February.
Conditions need to be perfect, but if the stars align you might be able to witness the famous Firefall.
During the second week in February, the sunset illuminates Horsetail Fall at just the right angle and gives it the appearance of flowing fire.
This spectacular display can be seen at many angles throughout the park, but there must be a clear sky, and just enough snowmelt to feed the Firefall.
Overall, this is one of the most photogenic phenomenons in the park.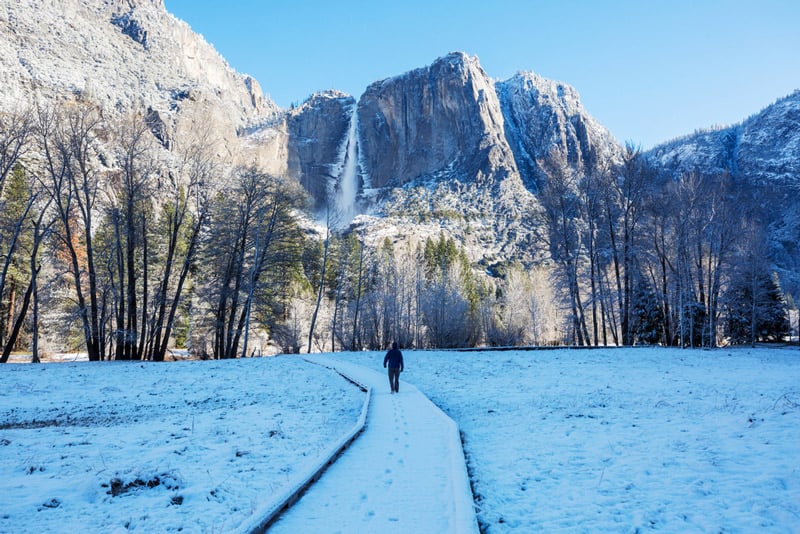 Other Things To Do In Winter
Winter Hiking: Yosemite Valley offers a mix of long and short hikes that are perfect for winter. Lower Yosemite Falls, Mirror Lake, Bridalveil Fall, and sections of the Mist Trail are relatively flat and hiking friendly with no equipment required.
The giant sequoias in Marisopa Grove are a must-see near the park's south entrance. Even though the roads are closed, hiking trails are open to cross-country skiers, snowshoers, and winter hikers.
Enroll in Yosemite Mountaineering School: Ranger-led snowshoe hikes, and nordic skiing adventures are offered through the National Park Service in winter. You can learn how to travel safely and experience lesser-known areas of the park.
Winter Camping: Upper Pines, Camp 4, and Wawona are open year-round for camping. You can also go backcountry camping with a wilderness permit and spend the night in solitude beneath the stars.
Spend the night in a Ski Hut: The Glacier Point Ski Hut and Ostrander Ski Hut are both open to cross-country skiers and make the perfect resting point during a long trip.
Drink with the Vintners: During the holiday season, you can enjoy a 5-course dinner with perfectly paired wine selected by California's most renowned vintners. Reservations are accepted in the Ahwahnee Dining Room where you can mix and mingle with the chefs afterward.
Lodging
Yosemite has a number of lodges and overnight accommodations in the park that are available during winter.
The Ahwahnee Hotel: Yosemite's premier upscale hotel. It was built in the 1920s and hosts many special events including the Bracebrige Dinner in winter. You can find a variety of rooms with a view as well as a swimming pool, gift shop, dining room, and lounge.
Yosemite Valley Lodge: Located in the heart of the Yosemite this hotel is in the perfect location for short hikes and shuttle access around the valley. You'll find a gift shop and Starbucks within the facility.
Glacier Point Ski Hut:This is a rustic cabin located near the Badger Pass Ski Area. The bunk area sleeps up to 20 people per room and is heated with a wood stove. It's the perfect accommodation for adventurers who want to get up early and hit the slopes.
Road Closures
Heavy snows require a few of the roads within Yosemite to remain closed during winter.
Tioga Road and Glacier Point Road (past the Badger Pass Ski area) close after the first significant snowfall of the season.
Mariposa Road is also close during the winter season.
The Yosemite Shuttle services do not operate during the height of winter with the exception of the free shuttle from Yosemite Valley to the Badger Pass Ski Area.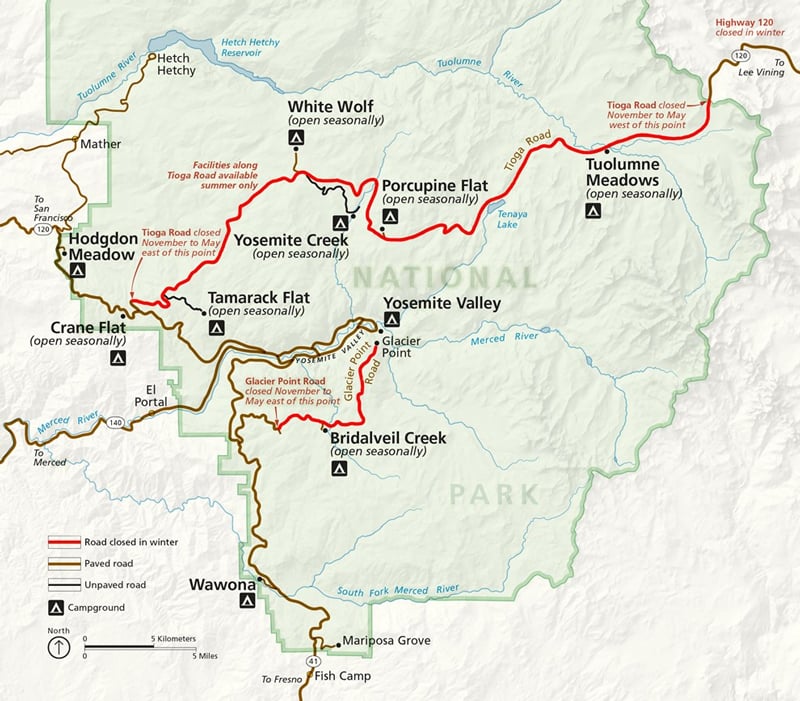 Getting There
The Arch Rock Entrance is the easiest way to get into Yosemite Valley in winter. With the Tioga Pass Entrance Station closed, there is no way to enter the park from the east.
Hetch Hetchy, Big Oak Flat, and The South Entrance remain open throughout the year.
Tire Chains
Throughout the winter months, you're required to carry tire chains in your vehicle. You never know when a heavy snow is going to hit! Signs will be posted throughout the park when chains are required.
That's A Wrap!
Winter is the best time to visit Yosemite if you want a quiet, secluded location with multiple outdoor activities. Whether you're into outdoor adventure like snowboarding or want to take a more leisurely vacation, Yosemite has something to offer everyone.
Try these other activities:
The post Top 10 Things To Do At Yosemite In Winter appeared first on Parked In Paradise.