Idaho is home to parts of Yellowstone, but the National Park Service maintains three other locations in the area that are equally unique and stunning. These lesser-known parks contain rocky spires, lava tubes, and ancient fossils.
You haven't seen Idaho until you've experienced all the park service has to offer!
There is one National Park in Idaho, two National Monuments, and two National Preserves. There are also six National trails and historic sites affiliated with the National Park Service.
National Parks In Idaho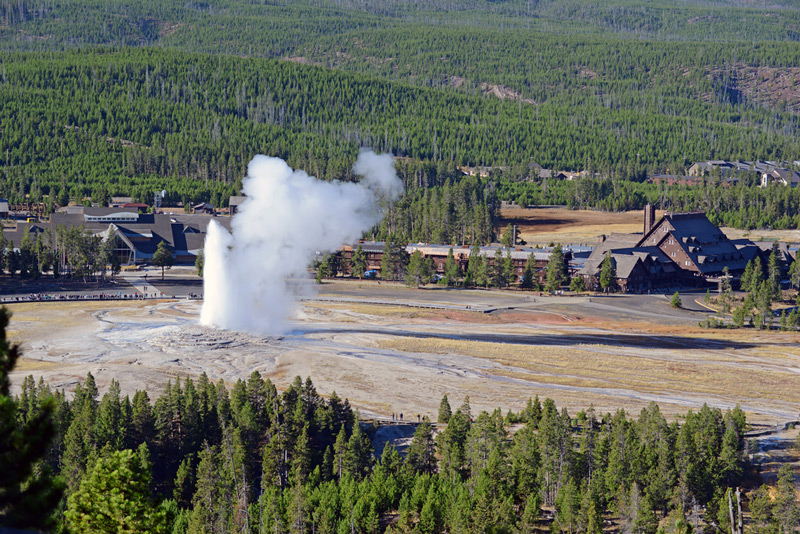 Yellowstone National Park
America's first National Park is Yellowstone. While the majority of the park lies in Wyoming, parts of Yellowstone spill out into Idaho and Montana as well.
Famous for its hydrothermal features, you can find geysers, hot springs, and thermal basins scattered throughout the park. These unforgiving wonders are still active today and regularly put on a show. The most famous geyser is "Old Faithful" and it erupts in front of hundreds of visitors daily.
Even though these hydrothermal features may be the most prominent, there are plenty of other activities to do in the park as well. Hiking and wildlife photography are a dominant activity for tourists. With over 3,000 square miles of wilderness, you're sure to catch a glimpse of something cool. 
Grizzly bears, bison, black bears, moose, elk, bighorn sheep, and wolves are just a few of the large animals found in the park.
In the winter, snowmobiling, skiing, and snowshoeing are dominant sports. Yellowstone is a special place where the hydrothermal features continue to boil year-round.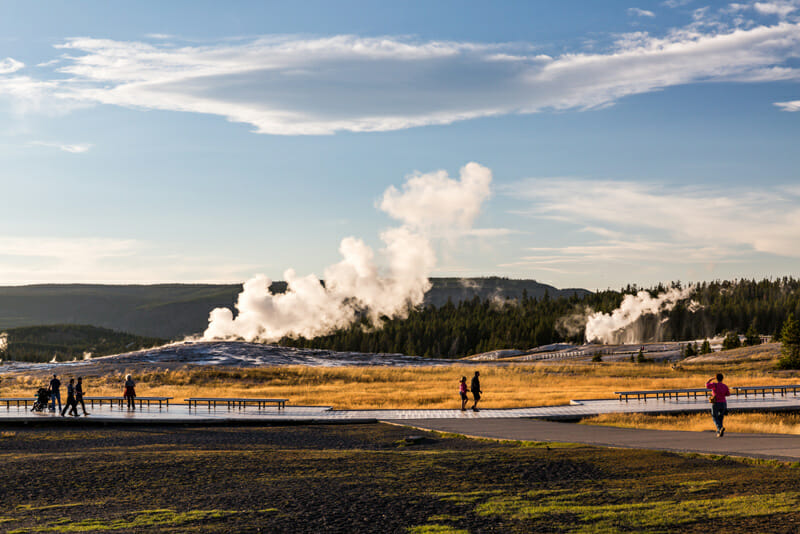 Camping
There are a lot of opportunities available to campers in Yellowstone National Park. 12 established campsites with well over 1000 sites are available to tent and RV campers up to 40-feet long.
A few of the campgrounds in the park have dump stations and electric hookups so you'll be able to camp comfortably. Others are more primitive offering only potable water and vault toilets; however you'll be much closer to nature in these areas.
Backcountry camping permits are also available to those who want a more rugged adventure.
Lodging
A number of different cabins, lodges and hotels are also scattered throughout the park with hundreds of rooms available including luxury accommodations.
For those who want a little more freedom outside the park, luxury glamping accommodations and tiny home rentals are available near Yellowstone.
Pets
Because of the high number of wildlife, pets are not allowed in most areas of this Idaho National Park. Dog boarding facilities are available in the surrounding community.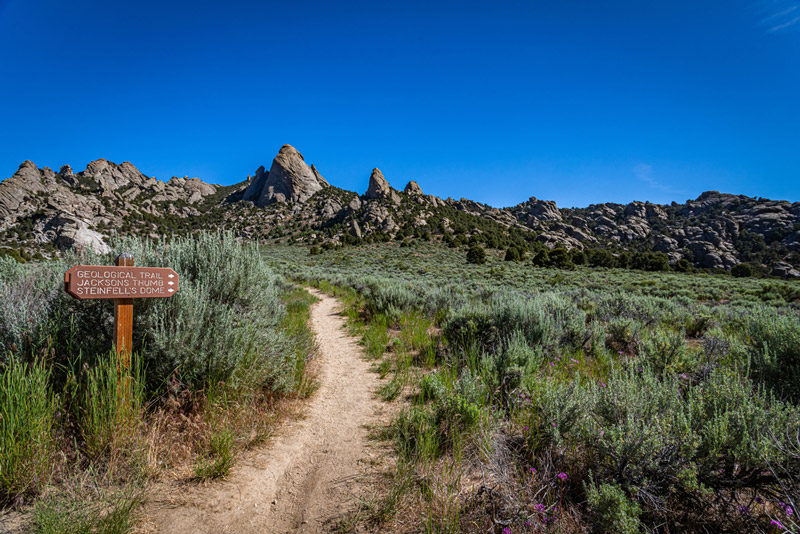 City Of Rocks National Reserve
The City of Rocks National Reserve can be described as an impressive stack of tall spires located along a backcountry byway in south central Idaho.
Weathering and erosions over millions of years have created these unique geologic features that inspire visitors today. While a mountain of rocks may not sound that impressive, this park is quite large and offers many things to do.
Rock climbing is, of course, among the most popular activities. There are over 600 named routes ranging from 5.6 to 5.14 in difficulty. There are also climbing sessions available to first-timers who want to try to scale the mountains.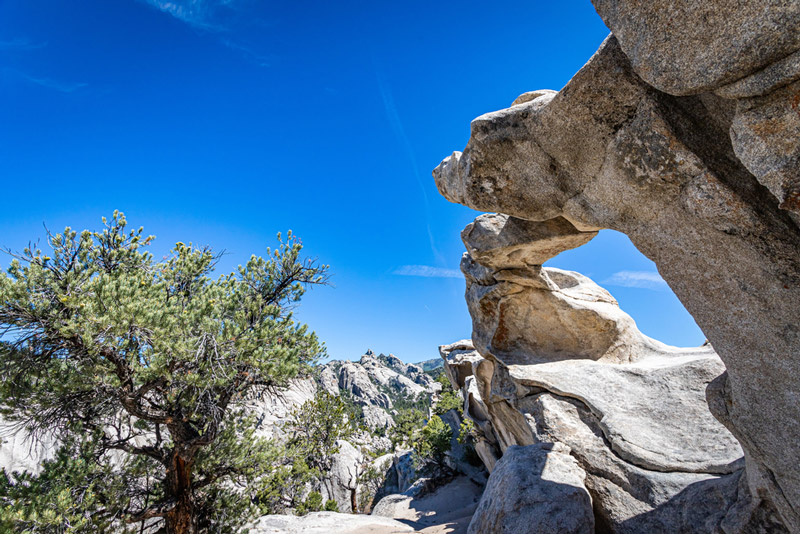 Hiking, mountain biking, and horseback riding are other popular things to do. 22 miles of hiking trails zigzag through the reserve and range from easy to strenuous. Along the way you can do photography, or go birding to try and spot a few of the 178 bird species in the park.
Hunting and archery are permitted in areas of park and the surrounding places nearby. You may enjoy taking part in the 3D archery course which has over 20 targets set up with life-size wildlife to aim for.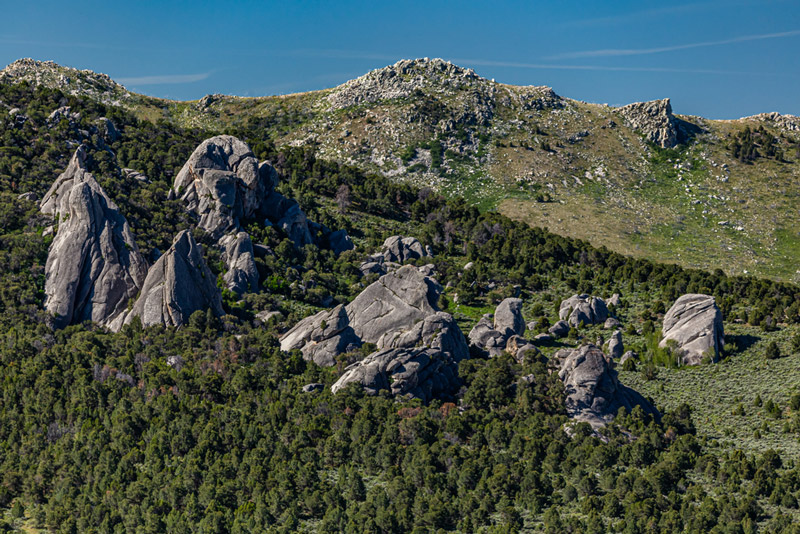 Camping
There is one campground in City of Rocks National Reserve with 64 sites. There is also one group campground, and one horse camp. Backcountry camping permits are available as well.
Pets
This park is very pet-friendly with leashed animals allowed on all trails and within campsites.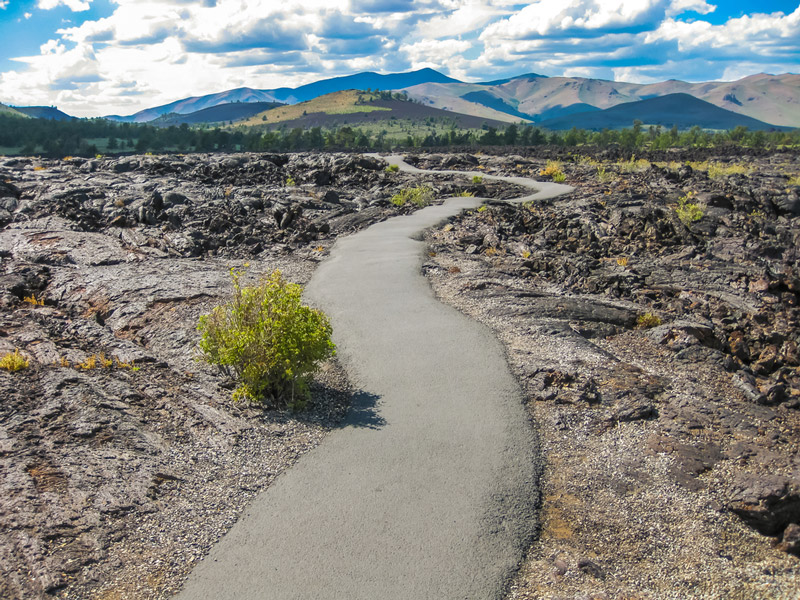 Craters Of The Moon National Monument And Preserve
You'll feel like you're stepping into another world at Craters of the Moon National Monument. This unique landscape was formed with vast lava flows from the past. The park is located in south central Idaho about 2.5 hours from Twin Falls.
At Craters of the Moon you'll find cinder cones, caves, and lava tubes to explore. Hiking is the most popular activity with a large array of easy to strenuous hikes that will take you past craters, cinder gardens and lava rock.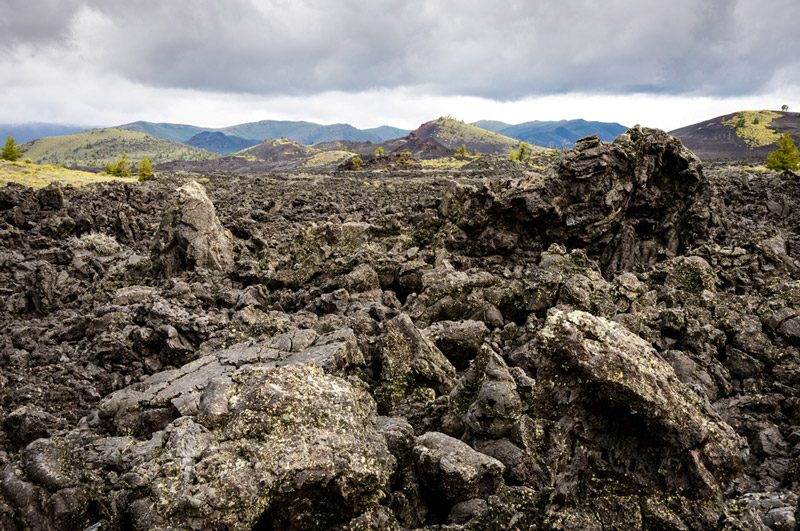 Sage brush and limber pine grow throughout the area and you'll find wildflowers covered in butterflies during the spring season.
Five popular caves are available for exploration with a free permit. The lava tubes range from spacious and open hikes to tight, rocky entrances with low ceilings.
In the winter you can go skiing or snowshoeing throughout the park.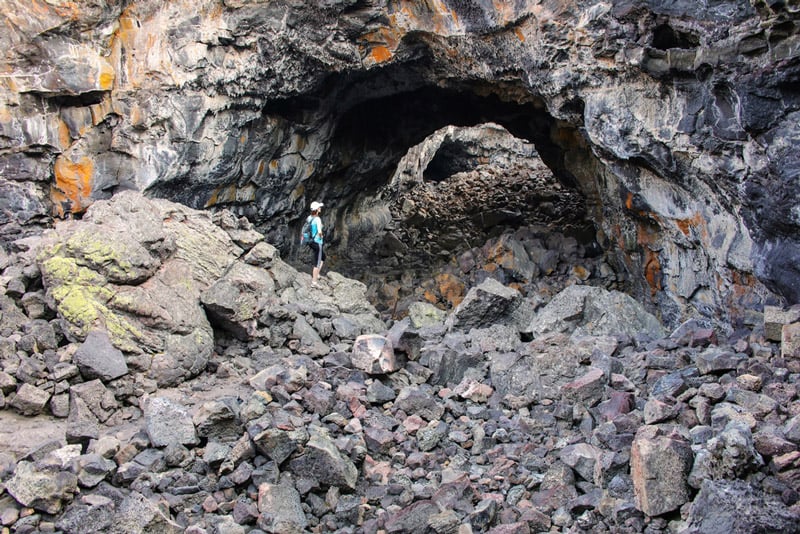 Camping
The Lava Flow Campground has 42 sites for tents and RVs. There are no showers or electric hookups in the area. Backcountry camping is available with a permit.
Pets
Unfortunately, pets are not allowed on any of the National Park trails because the rough lava landscape is very sharp and it could damage their paws.
Hagerman Fossil Beds National Monument
The Hagerman Fossil Beds National Monument is named after the Hagerman horse; which happens to be the first true one-toed horse ever evolved. This monument contains many fossils in addition to the famous horse.
Over 200 species including saber-tooth cats, mastodon, ancient bears, camels and sloths can all be found here.
At the tiny Hagerman Fossil Beds park, visitors can explore the fossils within the visitor center, watch an informational video, and pick up maps of the area.
Outside of the visitor center there are a few trails open for hiking, but you won't find any fossils outside. Most of the fossil work is currently being completed within the park's lab.
Camping & Pets
There are no campsites at the Hagerman Fossil Beds park. Leashed pets are allowed on the paved trails outside, but there are not many areas where you can bring them.
Idaho National Trails and Historic Sites
Minidoka National Historic Site
Nez Perce National Historical Park
California National Historic Trail
Ice Age Floods National Geologic Trail
Lewis And Clark National Historic Trail
Oregon National Historic Trail
National Parks In The Surrounding Area
The post National Parks In Idaho appeared first on Parked In Paradise.