Known as the "Rocky Mountain State," Colorado has a diverse array of alpine mountains, high plains, frigid rivers, and arid deserts.
There are four National Parks in Colorado. The National Park Service also operate seven national monuments and historic sites in the state.
National Parks In Colorado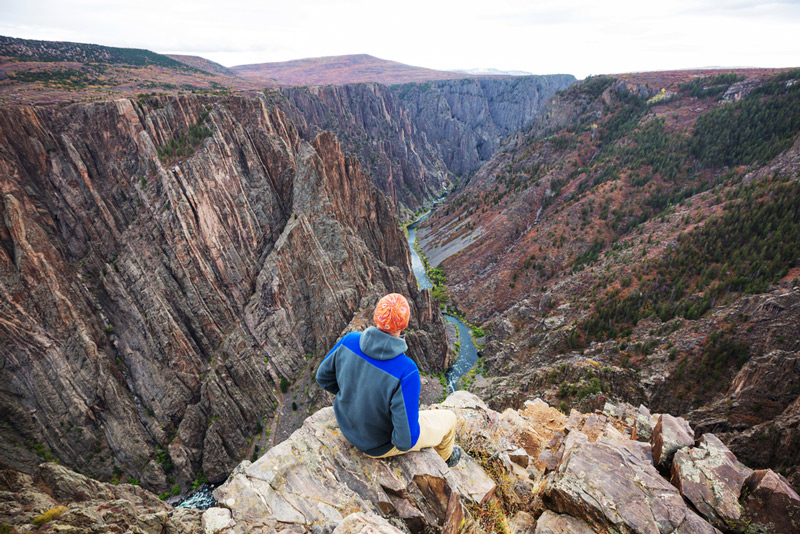 Black Canyon Of The Gunnison National Park
Located in southwest Colorado, Black Canyon of the Gunnison National Park provides overwhelmingly steep cliff walls, impressive spires, and views of the Gunnison River below.
The park provides a mix of challenging and leisurely activities around it's mountainous vertical walls. Rock climbers can enjoy tackling the challenging Painted Wall a 2,250 foot face towering above the river.
Families can take scenic drives along East Portal Road or try fishing for rainbow trout in the Gunnison River. Many wildlife including elk, Rocky Mountain bighorn sheep, and mule deer call Black Canyon of the Gunnison home.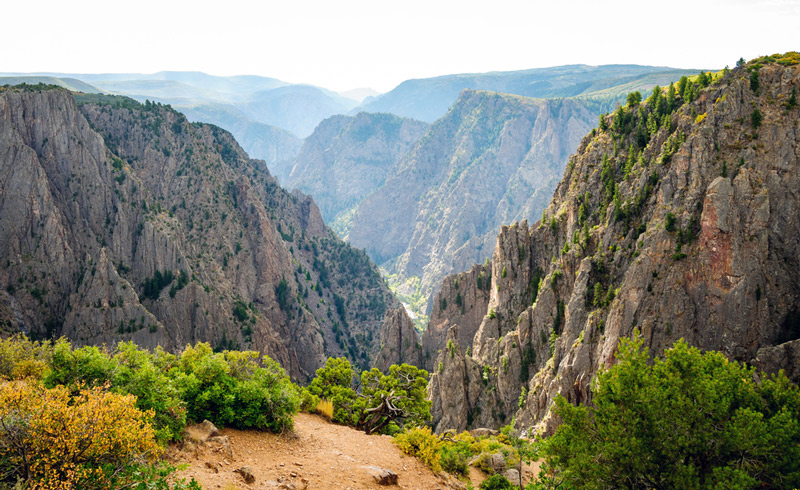 Getting There
The National Park can be reached via CO Highway 347 from the south or CO Highway 92 from the north.
Driving from the North Rim of the park to the South Rim takes roughly 3 hours, although the North Rim is closed to cars and other vehicles during winter.
The South Rim area of the park is open every day, but some parts of the road are closed to vehicles during winter.
Pets
Pets are allowed on a leash in certain parts of the park, including campgrounds, roads, overlooks, and a few specific trails, such as Rim Rock Trail. Pets aren't allowed on other trails, including cross-country trails or in wilderness areas.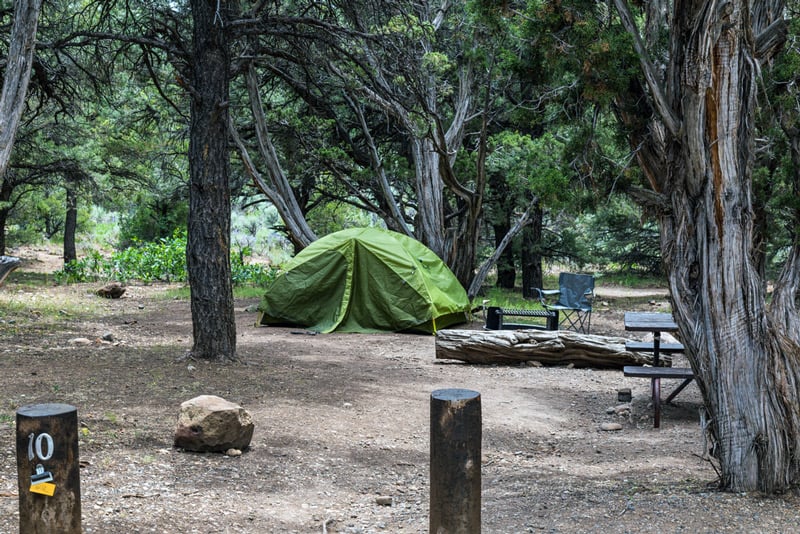 Camping
Three developed campgrounds are available within the park. The South Rim Campground is open year-round and can accommodate RVs up to 55 feet in length.
For a quieter experience, wilderness camping is also offered near the Gunnison River at the bottom of the North Rim and South Rim routes and along Devil's Backbone Route.
Things to Do Near Black Canyon Of The Gunnison National Park:
Museum of the Mountain West (10 minutes west)
Crawford State Park (20 minutes northeast)
Cimarron Canyon Rail Exhibit (25 minutes southeast)
Needle Rock Natural Area (25 minutes northeast)
Curecanti National Recreation Area (60 minutes east)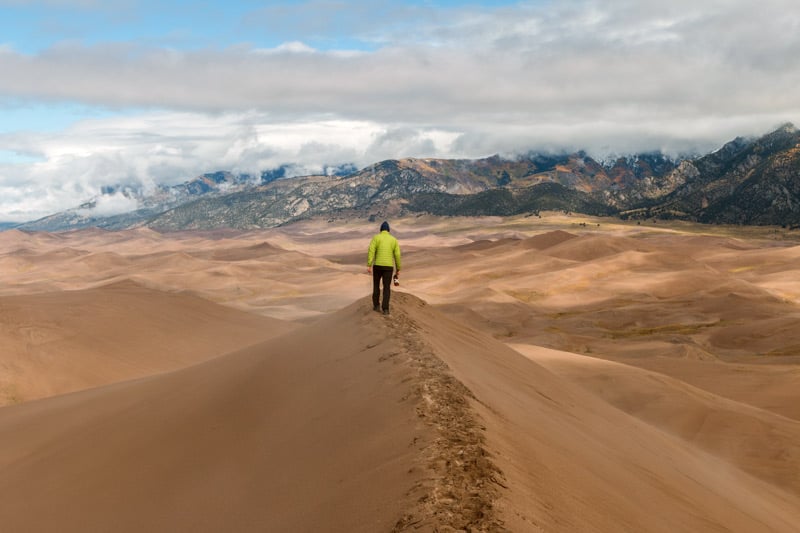 Great Sand Dunes National Park And Preserve
Featuring the tallest sand dunes in the North America, Great Sand Dunes National Park and Preserve is an impressive landscape.
The park is open day and night to visitors so you can enjoy the pitch black night skies and relax in the dunes under the stars.
Hiking up the sand dunes is a tiring and awe-inspiring feat. The endless dunefield stretches across 30 square miles and multiple peaks reach over 700 feet tall. Sand-boarding and sledding down the dunes is a fun way to get from the top to the bottom. There are a number of outfitters that rent out sand-boards for the day. The Oasis Store is located 4 miles from the park entrance and rents sleds from April through mid-October.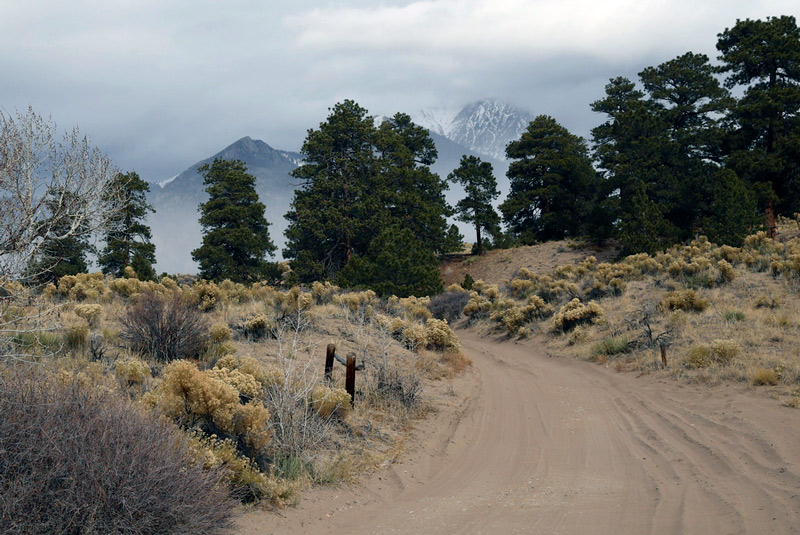 While the dunes themselves are the most prominent feature in the area, many adventurers are surprised to find that the park is home to several lakes and forests as well which are located on the northeast side. There are multiple routes and miles of forested trails to take if you wish to enjoy a more leisurely hike.
The 22-mile Medano Pass Primitive Road also offers views of the park from up high for those with a 4WD vehicle. 
Getting There
Visitors can get to this Southern Colorado park by taking Highway 150 to the south or County Road 6 to the west. The park is open daily, although some facilities have seasonal hours of operation, such as Pinon Flats Campground and Medano Pass Primitive Road.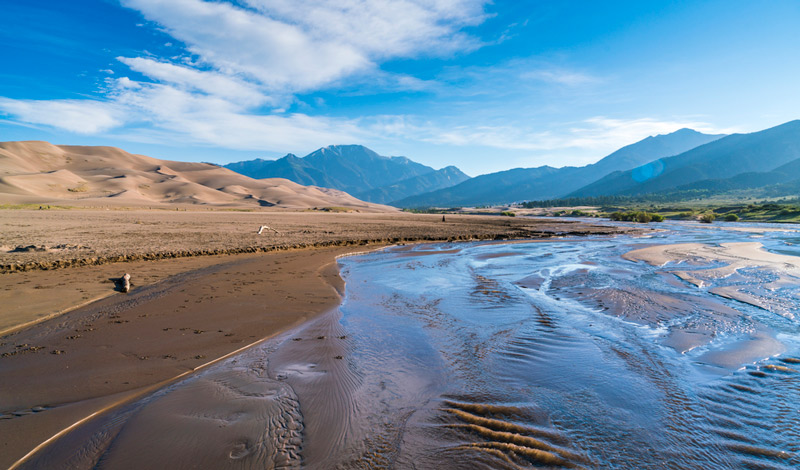 Pets
The Great Sand Dunes is a very pet-friendly National Park. Leashed pets are allowed in many areas including the Preserve, Mosca Pass Trail, Dunes Overlook Trail, and along the Medano Pass Primitive Road.
Please note: The sand dunes become painfully hot during the summer, so take your pets earlier in the day or later in the evening to protect their paws.
Camping
The Pinon Flats Campground is the only established campsite within the park. It's open April-October each year. There is also backpacking and high-clearance 4WD camping along the Medano Pass primitive road.
Aside from Pinon Flats, there are also multiple campgrounds located just outside the park and US Forest Service Areas on the east side of the park if you're looking to go boondocking nearby.
Things to Do Near Great Sand Dunes National Park:
Monte Vista National Wildlife Refuge (50 minutes west)
Spanish Peaks State Wildlife Area (2.5 hours southeast)
Lake Pueblo State Park (2.5 hours northeast)
Beaver Creek State Wildlife Area (3 hours northeast)
Pikes Peak (3.5 hours north)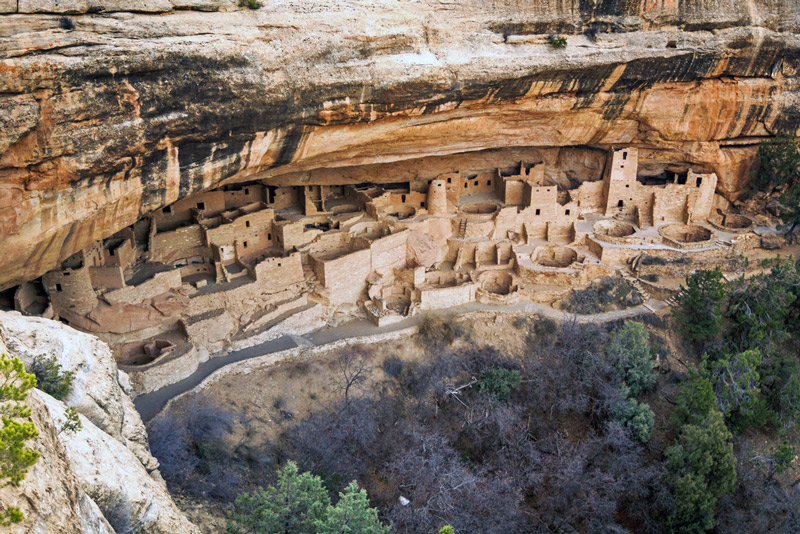 Mesa Verde National Park
Mesa Verde National Park is tucked away in the southwestern corner of Colorado. It features almost 5,000 known archeological sites including 600 Ancestral Puebloan cliff dwellings that date back hundreds of years.
The park provides visitors with a chance to learn more about Ancestral Puebloan culture and history. Tourists can get views of Spruce Tree House from overlooks close to the park's archaeological museum, or take a driving tour of Mesa Top Loop Road.
While going through the park, you can catch a glimpse of many local species, including Rocky Mountain elk, American badgers, and porcupines.
Those who visit Mesa Verde National Park during the winter months can partake in snowshoeing and cross-country skiing. Nordic skiing on groomed trails is also available in some areas of the park.
Getting There
Visitors can take Highway 160 to reach the park entrance, where they can then drive for roughly 22 miles to get to the first cliff dwelling. The park is open all year round, but certain activities and facilities have limited hours of operations depending on weather and road conditions.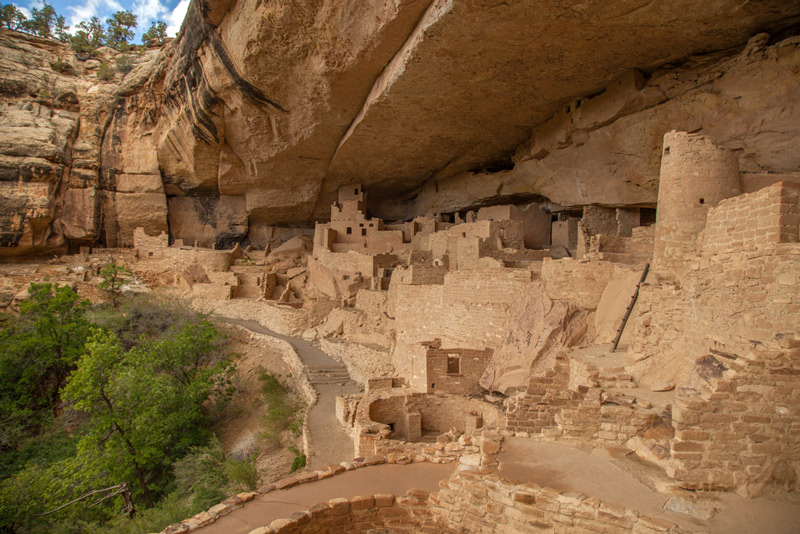 Pets
Pets are only allowed outside of vehicles in a few areas, including parking lots, campgrounds, and along paved roads. They are not allowed at archaeological sites, trails, and buildings throughout the park.
You can find a kennel within the park at Morefield Campground where they have half-day and full-day rates for boarding your dog while you explore the area.
Camping
There is one campground in Mesa Verde National Park; Morefield Campground. It has a number of facilities including a dump station, electric hookups and coin-operated laundry machines. The campground is accessible for tents and RV campers up to 46 feet in length.
Things To Do Near Mesa Verde National Park:
Canyons of the Ancients National Monument (30 minutes northwest)
San Juan National Forest (1 hour northeast)
Lone Mesa State Park (1.5 hours north)
Uncompahgre National Forest (3 hours north)
Rio Grande National Forest (3.5 hours northeast)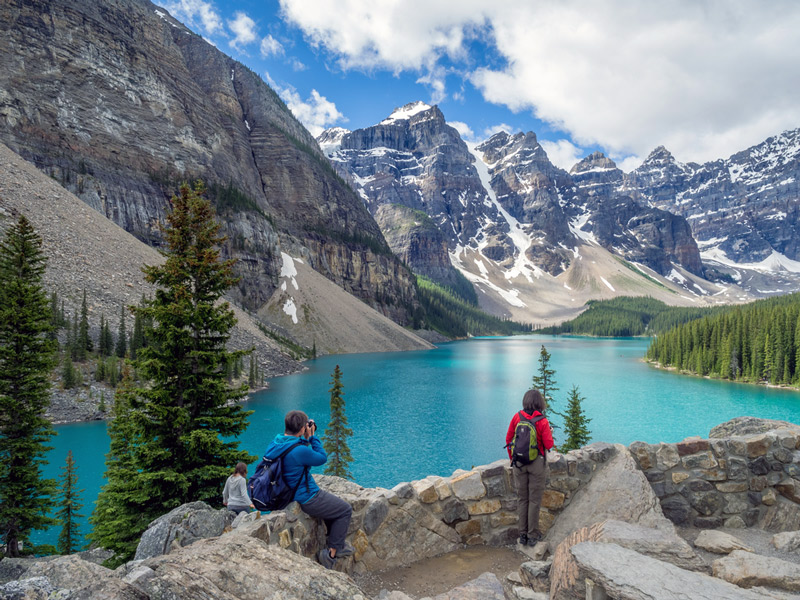 Rocky Mountain National Park
Perhaps the most well-known National Park in Colorado is Rocky Mountain National Park. The expansive area covers 415 square miles of northern Colorado.
One of the most scenic drives in the US is Trail Ridge Road which cuts 48-miles straight through the park. The trip takes about 2-hours one direction. Along the way, you'll get to experience spectacular mountain views from every angle. 11 miles of the highway are located above tree-line and the road peaks at 12,183 feet in elevation. Heavy snowfall means the road is typically inaccessible between October and May.
For the hikers and backpackers, Rocky Mountain National Park has over 355 miles of trails to explore. A mix of short and long treks allow visitors to enjoy stunning mountains, waterfalls, lakes, and forests. Gem Lake, Twin Sisters Summit, and Mills Lake are among the more popular trails in the park.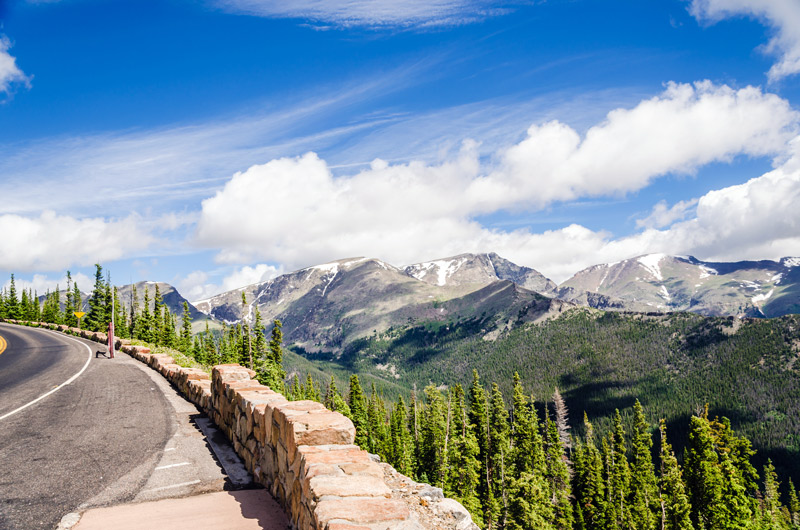 Getting There
A few roads lead to the park, including US Highway 36, Highway 7, and Highway 66 from the east and US Highway 40 and Highway 34 from the west.
he park is open on a daily basis every day, although some areas or activities might be unavailable due to weather conditions. Visitor center hours also vary depending on the season.
Pets
Most areas of Rocky Mountain National Park are not open to pets, even on leashes, due to the presence of wildlife and the risk of spreading disease. Pets on leashes are allowed along paved roads and in parking areas, as well as in established campgrounds and in picnic areas.
Pets are not allowed in any tundra or meadow areas or on any trails in the park.
Camping
The park has five campgrounds for both tent and RV campers although none of them have showers or electric hookups. Moraine Park is the only campground that is open year-round. It can accommodate RVs up to 40-feet long.
Things To Do Near Rocky Mountain National Park:
Golden Gate Canyon State Park (1 hour south)
Downtown Boulder (1 hour southeast)
Downtown Denver (1.5 hours southeast)
State Forest State Park (2.5 to 3 hours northwest)
Arapahoe and Roosevelt National Forests (3 hours south)
Colorado National Monuments And Historic Sites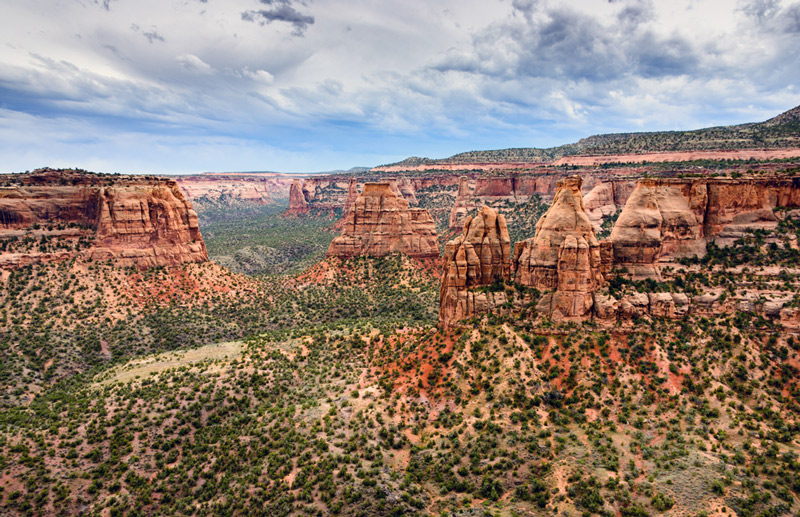 Colorado National Monument
Located in western Colorado near Grand Junction, is the Colorado National Monument. The monument offers picturesque views of granite and sandstone rock formations and cliffs, along with juniper forests and other natural features. 
The Colorado National Monument is home to many animal species that visitors might see during their time at the park, including desert bighorn sheep, gray foxes, desert cottontails, golden eagles, and red-tailed hawks.
Rim Rock Drive offers 23 miles of scenic canyon views and multiple switchbacks along sheer cliff-faces. Climbers will enjoy multiple routes up sandstone spires and cliffs. The park also has more than 40 miles of trails to explore.
Getting There
Visitors can reach the park's east entrance via Highway I-70 toward Grand Junction or the west entrance via Highway I-70 toward Fruita. The park is open daily throughout the year, although the visitor center has limited hours of operation.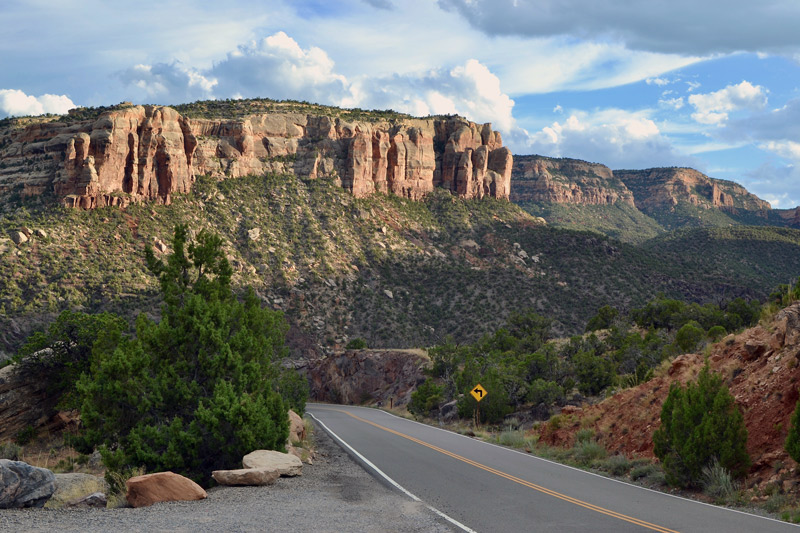 Pets
Pets are allowed in a few areas of the park, including in developed campground areas and along paved park roads. All pets need to be on a leash at all times in the park. Pets aren't allowed on any of the park's trails or in the backcountry areas.
Camping
Saddlehorn Campground is the only established campsite within the Colorado National Monument. However, backcountry camping is available with a permit. There are also multiple opportunities for boondocking nearby.
Things To Do Near The Colorado National Monument:
Downtown Grand Junction (10 minutes east)
Dominguez-Escalante National Conservation Area (30 minutes south)
McInnis Canyons National Conservation Area (1.5 hours west)
Gunnison Gorge National Conservation Area (2 to 2.5 hours southeast)
White River National Forest (3.5 hours east)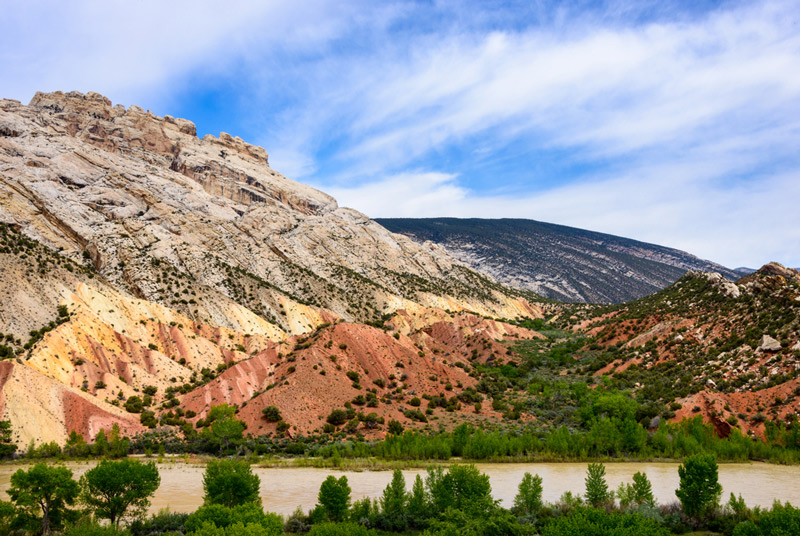 Dinosaur National Monument
As you might imagine, Dinosaur National Monument features dinosaur fossils! Embedded in the rocks of the park, you'll find prehistoric remains as well as an array of petroglyphs. The Quarry Exhibit Hall features roughly 1,500 dinosaur bones including Allosaurus, Apatosaurus, Camarasaurus, Diplodocus, and Stegosaurus. 
Dinosaur fossils aren't the only thing in the park. Hiking and river rafting on the Yampa and Green rivers are some of the most popular activities for adventurers. There are over 210,000 acres of park to explore and 14 established trails.
For those who want scenic views, you can take an auto tour along Harpers Corner Road, Yampa Bench Road, or Echo Park Road. Unpaved auto tours are also available.
Getting There
Located in the northwestern area of Colorado and part of Utah, the park can be reached via US Highway 40 near Dinosaur, CO, or Utah Highway 149 near Jensen, UT.
The Colorado side offers opportunities to explore deep canyons and the Yampa and Green Rivers. While the Utah side is closest to Quarry Exhibit Hall.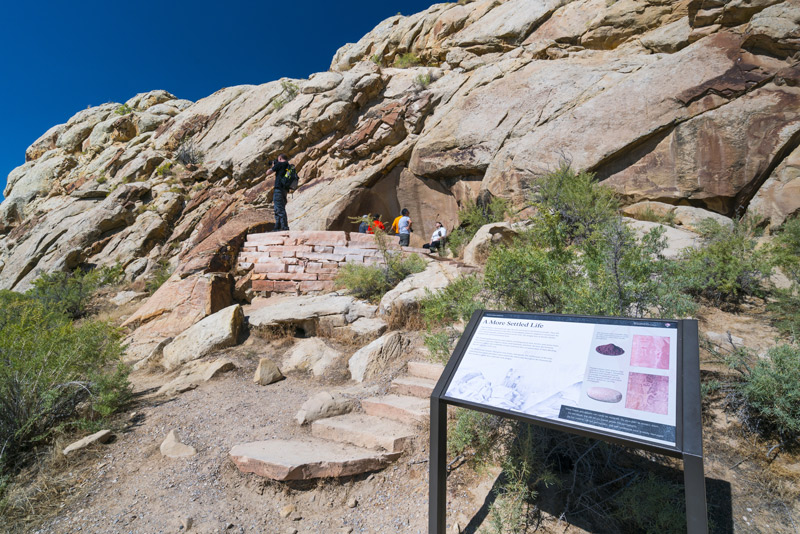 Pets
Pets are allowed in some areas of Dinosaur National Monument, such as along roads, campgrounds, river launches, parking lots, and day-use areas. A few trails also allow pets, such as Plug Hat Picnic Area, Echo Park Overlook, and Harpers Corner Road.
Pets are not allowed on any other trails or in the backcountry area. Pets are also not allowed on river trips.
Camping
Six campgrounds are located within Dinosaur National Monument for tent and RV campers. There are also backcountry camping opportunities available.
Things To Do Near Dinosaur National Monument:
Browns Park National Wildlife Refuge (30 minutes north)
Point of Pines Recreation Site (45 minutes to 1 hour southwest)
Flaming Gorge National Recreation Area (1.5 hours northwest)
Ashley National Forest (2 hours west)
Medicine Bow-Routt National Forests (2.5 hours east)
Colorado National Historic Trails And Recreation Areas
National Parks In The Surrounding Area
You Might Also Like:
The post National Parks In Colorado appeared first on Parked In Paradise.