Nebraska is known for the Sand Hills and Great Plains. It's also home to more miles of river than any other US state as well as America's largest aquifer.
The east side of the state has many rolling hills and fields, but the west side rises higher in elevation and encompasses two of the most popular National Monuments in Nebraska.
There are no National Parks in Nebraska. But there are three National Monuments, two rivers, and five trails managed by the National Park service.
Nebraska National Monuments
Agate Fossil Beds National Monument
Scotts Bluff National Monument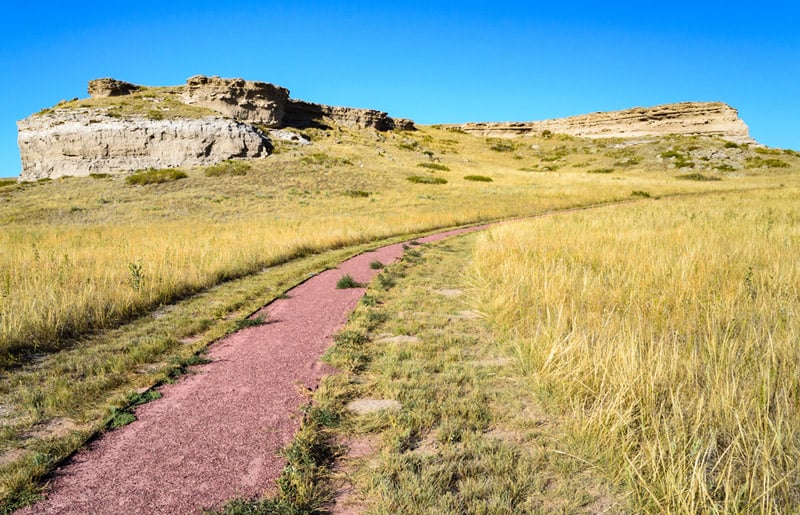 Agate Fossil Beds National Monument
This U.S. National Monument is the home of a large volume of Miocene fossils found at Carnegie and University Hills dig sites. They date back to between 20 and 16.3 million years ago.
The Agate Fossil Beds have many distinct features that cannot be found elsewhere. "Devil's Corkscrews" is one of the most popular formations. These Miocene aged burrows were discovered in the late 19th century. They were actually created by now-extinct beavers called Palaeocastor.
The park is also home to the "Bone Cabin" where fossil excavations have been housed for over 25 years.
Sioux County is one of the larger counties in the state of Nebraska and is known for its cattle ranching. Large open spaces allow for a quieter way of life. Spending time here requires a full tank of gas and a car load of snacks as there is no concessions or vending at the Fossil Beds.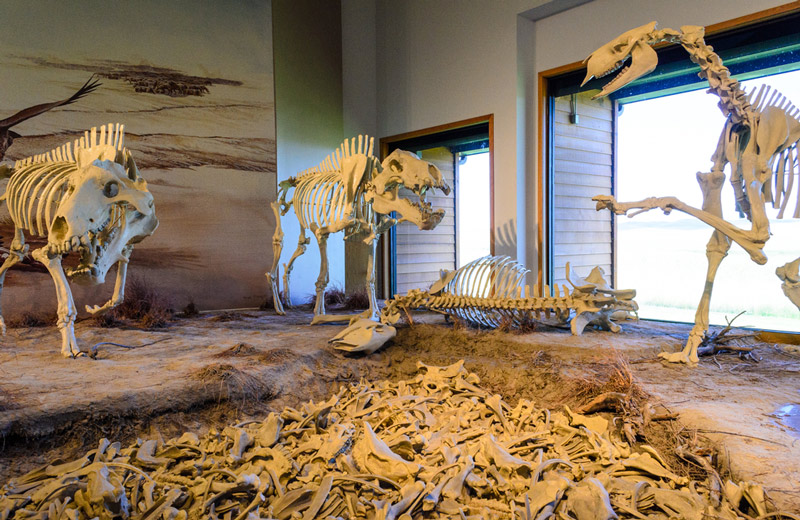 Things To Do In Agate Fossil Beds National Monument:
Trail walking is the main focus of the Agate Fossil Beds National Monument, with its two park trails open every day from dawn to dusk.
There are also plenty of fossils to study at the visitor center and a collection of Native American artifacts that were given to James Cook that are kept in the James H Cook Collection.
Pets: While pets are not permitted inside the visitor center and park facilities, they are allowed on the park's paved trails. Please remember to pick up after your pets and leave behind a clean, safe park.
Camping: There is no camping allowed inside the park area, however there is primitive camping 6 miles south at Panhandle Road Camping, or other camping in Scottsbluff, Mitchell, and Gering.
There is also a Wildlife Management area five miles north of the Park that also allows for camping.
Lodging: There are several hotels and motels within 50 miles of the park in Harrison, Crawford, Scottsbluff, and Gering.
Things To Do Near Agate Fossil Beds National Monument:
While there are no attractions close to the Fossil Beds, there are plenty of things to see in the neighboring towns approximately an hour away from the park.
Gering is home to museums, trails, golfing, and much more and is within 50 miles of the park. A great day trip is to see the Scotts Bluff National Monument.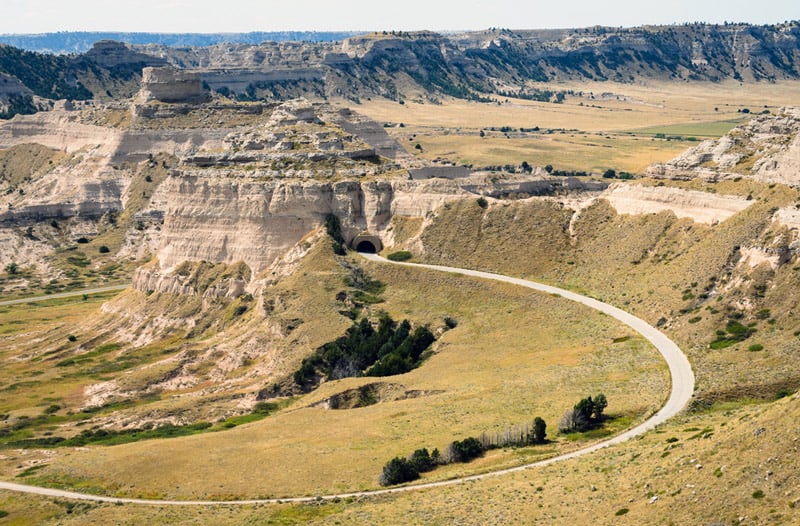 Scotts Bluff National Monument
Located near Gering, Nebraska, this park site boasts over 3,000 acres of trails, bluffs, prairies, and badlands.
If you are going to be one of its over 100,000 visitors, there is plenty to see and do. Scotts Bluff National Monument preserves the bluff that was instrumental in the Oregon Trail, the Pony Express Trail, and the California Trail. It was the second most landmark referred to in the pioneer journals on the Emigrant Trails.
Things To Do In Scotts Bluff National Monument:
Besides the great trails and sites outdoors, visitors love to visit the Oregon Trail Museum and Visitor Center with drawings and images by William Henry Jackson.
There is a 12 minute video that shows the Oregon Trail and the history. Little children can ask about the Junior Ranger program at the park.
Pets: Pets are allowed on all park paved roads and trails with owners agreeing to clean up after them. Keeping the parks clean and safe is a priority.
Camping: There is no camping at Scotts Bluff National Monument, however there are RV campsites at Lake Minatare State Recreation Area including primitive and nonprimitive sites.
Lodging: Between 2.5 to 5 miles away from the Monument, there is a wide range of bed and breakfasts, hotels, and motels for lodging in Scottsbluff.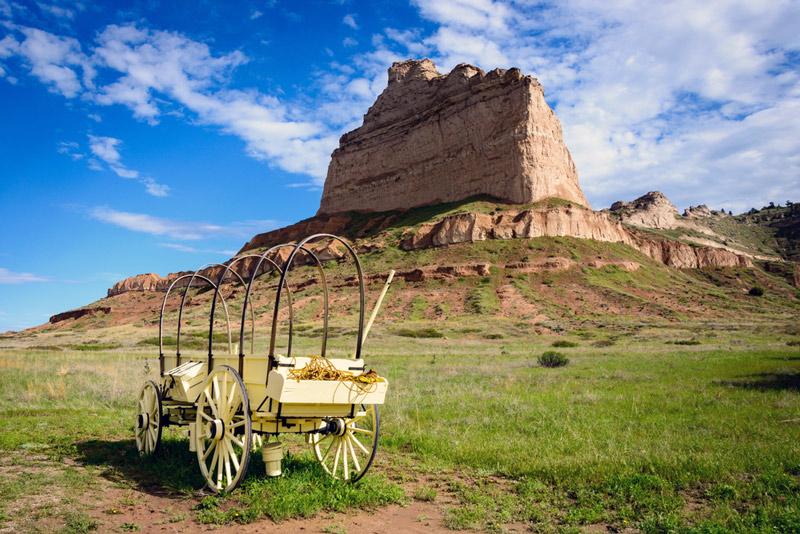 Things To Do Near Scotts Bluff National Monument:
There are over 80 area restaurants in Gering and near to Scotts Bluff National Monument. After walking the trails and seeing the sites of the park, visitors are encouraged to take park of the food, museums, golfing, and night life of the city.
Riverside Discovery Trail (1.5 miles away)
Bowl Arena (2 miles away)
Midwest Theatre (2.6 miles away)
North Platte Valley Museum (2.4 miles away)
Wildcat Hills State Recreations Area and Nature Center (6.3 miles away)
National Rivers In Nebraska
Nebraska has more miles of river than any other state making it a paddler's paradise. On the Missouri River, you can paddle down a 100-mile stretch of America's longest river. There are also hiking trails along the way as well as overlooks, bridges, and fish hatcheries to explore.
The Niobrara River is 76 miles long on the far north portion of the state. Niobrara will bring you through more dramatic elevation changes. You can paddle past bluffs, waterfalls, and diverse wildlife.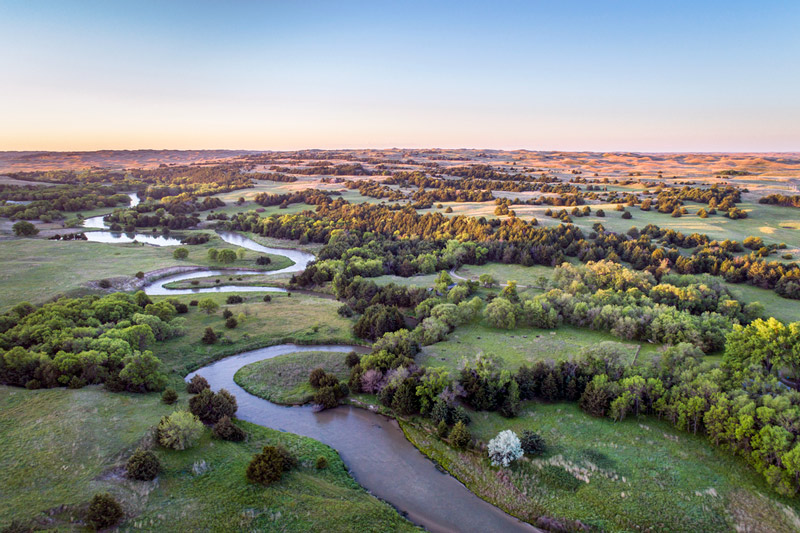 National Trails In Nebraska
Hiking is another great way to experience the Nebraska landscape. Some of the most famous trails cross through Nebraska including portions of the original Oregon Trail, the Mormon Pioneer Trial, and the Pony Express Route.
National Parks In The Surrounding Area
The post National Parks In Nebraska appeared first on Parked In Paradise.