We we love autumn campervan holidays just as much as summer road trips!
by naomi fiddes-baron
When you think campervan holidays, you probably think summer! However, that doesn't mean you can't have a totally epic campervan holiday in the autumn; exploring the best of British countryside and attractions.
If you're struggling for ideas of where to go on your autumn campervan holiday, then fear not!  We have put together some of our best ideas of where to go and what to see with your campervan in the autumn.  From nature adventures to indoor attractions, we'll prove that a campervan holiday in the autumn totally rocks!
Keep warm (whatever the weather) with our heated campervans
First things first; let's address the weather!  The average temperature in the UK in autumn ranges from 19 degrees in September through to around 10 degrees in November.  However, this September has seen us in shorts and t-shirts for a lot longer than we expected, as we embraced a late surge in heat!  Having said that, we're British after all, and we like nothing better than a brisk walk in a blizzard on the beach!  So, nothing will stop us enjoying whatever the weather decides to chuck at us!
Besides, virtually all of our campervans available to hire have heating options ranging from fuel efficient diesel, thermostat controlled gas, or the classic wood burner – so you'll be able to stay toasty the entire time!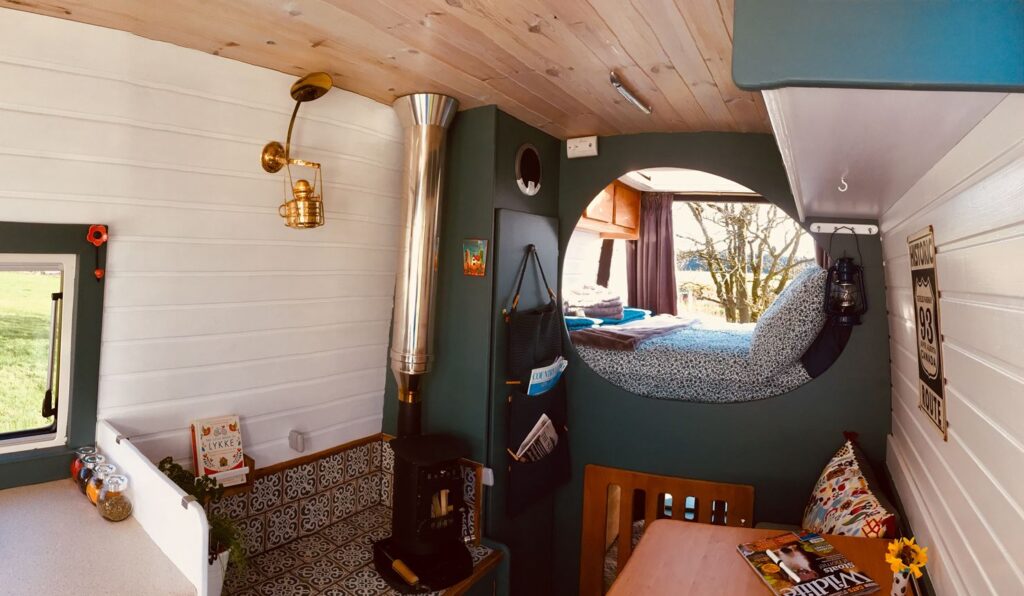 Change of Scenery
One of the most magnificent things about autumn is the glorious colour changes that start happening throughout nature.  The Peak District starts to turn to a stunning burnt umber, and Scotland develops into a fiery landscape set amongst the evergreen forests.  Some of the best places to take in these beautiful changing colours are in public gardens or arboretums.  We've given you our favourite venues for each area of the UK!
Scotland
Scotland in a campervan is fabulous at any time of the year.  However, autumn is a great time to go on a Scottish road trip for a few reasons.
Firstly, the notorious Scottish midge has often died off by the end of September so you can enjoy the stunning scenery without getting eaten alive (if you're anything like me, insects of any kind enjoy feasting on your blood!).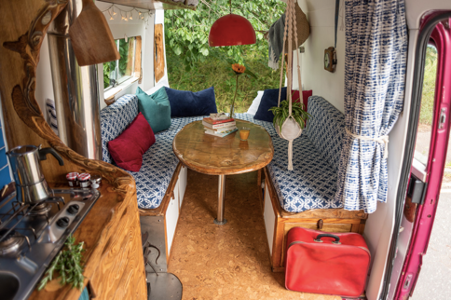 Home to a world-famous collection of plants from around the world, the 120-acre garden Benmore Botanic Garden is set within the Loch Lomond & the Trossachs National Park and the Argyll Forest Park.
England
Known as God's own country, Yorkshire includes the North York Moors and Yorkshire Dales National Parks, and is part of the Peak District National Park.  It is also home to:
Here you will find tea rooms; adventure playground and a bird of prey and mammal centre as well as being pet friendly!  This beautiful estate has woodland trails ablaze with colour; you can go on guided tours of the arboretum and get spooked out on their Halloween trail!
Wales
I've said it before and I'll say it again – a National Trust membership is an absolute life necessity!  You will need to book in advance to visit Dyffryn Gardens in the outskirts of Cardiff but it's worth it to see the restored Edwardian gardens in 55 acres featuring the best woody collection in the National Trust.
Forage for your Fodder!
We're all about eating seasonal food at Quirky HQ, and autumn is blackberry time!  Lots and lots of our campervans have the most incredible kitchens complete with ovens for baking the ultimate blackberry pie!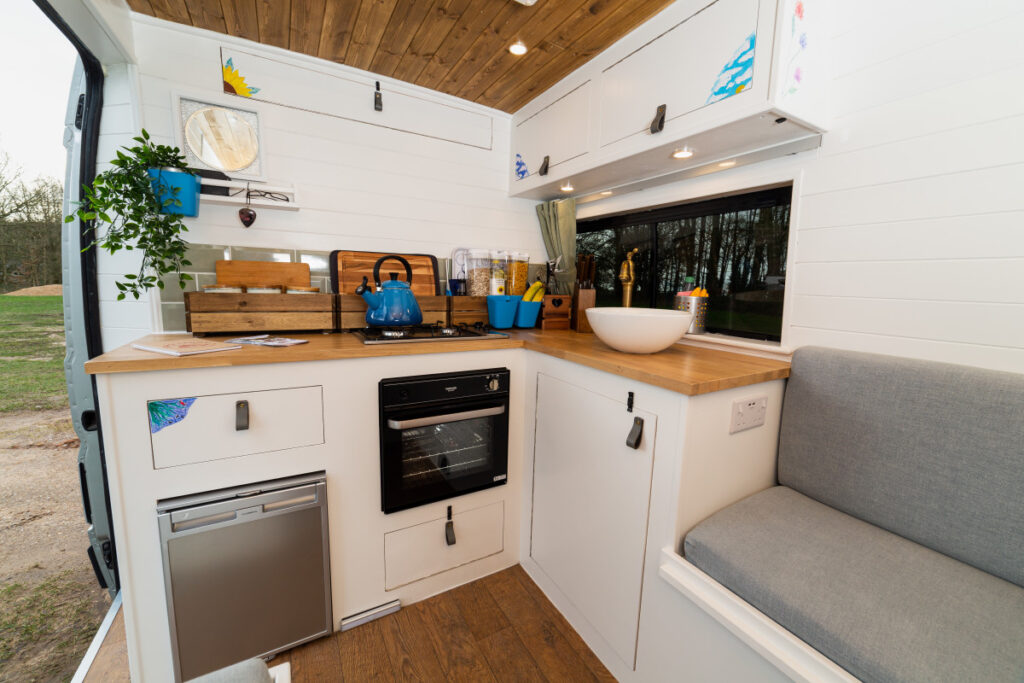 Whilst you are out and about on your travels, a great Autumn activity is blackberry picking! What could be better than taking your bounty back to your cosy campervan and creating an absolute dream of a crumble to consume over a log burner?!
Top Tips for Foraging:
Only forage on public land.
Canals and country roads are great places to find hedges brimming with blackberries.
Avoid major roads – pollution isn't all that great!
Gloves might be a good idea!
Save some for others!  Don't be a greedy guts – think of the birds and other animals who need them for survival.
Get Spooky with Halloween!
A critical part of autumn is Halloween and pumpkins!  Whether you're going to make gallons of soup or the best carved scary pumpkin ever, there's something very wholesome about the simple pumpkin.  Some of the best pumpkin patches to visit and pick out your pumpkin in the UK are:
Foxes Farm (Basildon, Essex) – Pick Your Own Pumpkin Patches 2020 are a pre-booked only event!  There's also a corn maze on site!
Cattows Farm (Heather, Leicestershire) open 1st to 31st October.  As well as a pumpkin patch there are tea rooms and a farm shop at this farm in the heart of the national forest.
Brookhill Farm (Thursford, Norfolk) – open 22nd to 31st October.  Has a house made out of pumpkins!
Seal Pups in Northumberland
We think you should definitely plan a road trip to Northumberland in autumn.  The Farne Islands are home to thousands of grey seals (also known as Atlantic seals), and each autumn hundreds of pups are born there!  In fact, 2737 pups were born there in 2018 according to the National Trust facts and figures!
One of the best ways to see the seals is on a dedicated boat trip.  Many of these are still operating in a Covid-secure manner and also allow dogs on board!
Going on a campervan holiday in Autumn means you have full roaming access to these fabulous sights across the UK.  You don't have to stay put; you can make your own road trip which features all these ideas and so many more! Ready to book your adventure? See our range of handmade campervans.
The post Autumn Holiday Activity Ideas appeared first on Quirky Campers.