Wisconsin has more than just cheeseheads and Packer fans. Bordering two of the great lakes (Michigan and Superior) you can also find endless opportunities for outdoor adventure.
What National Parks Are In Wisconsin?
There is one National Lakeshore, two National Scenic Trails, and one National Riverway maintained by the National Park Service in Wisconsin:
Apostle Islands National Lakeshore
St Croix National Scenic Riverway
North Country National Scenic Trail
Ice Age National Scenic Trail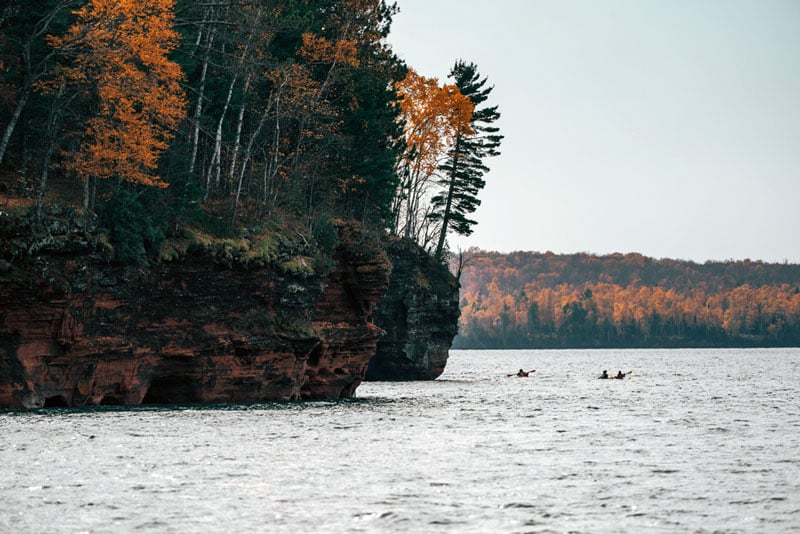 Apostle Islands National Lakeshore
Located off the northeastern tip of mainland Wisconsin, the Apostle Islands National Lakeshore is a beautiful wilderness that encompasses 21 islands and 12 miles of coastline along Lake Superior.
Kayaking, canoeing, and boating are among the top activities for visitors because you can easily island hop from one to the next.
The isolated islands are home to many delicate and unique ecosystems. Over 240 bird species breed or migrate on the islands. And there are over 50 miles of established hiking trails throughout the park.
The Apostle Islands are special because of their diverse array of geological formations from sea caves to old-growth forests. Steep, sandstone cliffs overlook the coast and dip into the clear lake below. Scuba divers can explore sea caves and four shipwrecks in the area.
Home to 9 historic lighthouses; Apostle Islands hosts the most historic towers of any lakeshore in the National Park System.
This huge national park offers a respite from the world; but it's also dedicated to the preservation of history and nature.
In the past, the islands were home to Native Americans, farmers, loggers, and trappers. Many of their homes, schools, and buildings can still be visited today.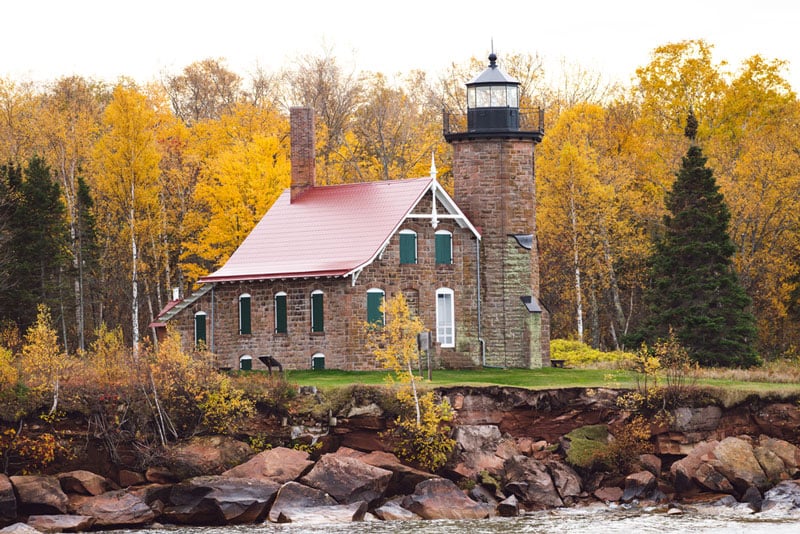 Things to Do At Apostle Islands National Park:
Explore the Ice Caves
Camping and hiking
Kayak, motorboat, or sailing tours
Scuba Diving
Fishing
Hunting & trapping
Visit the lighthouses
Operating Hours: Both the islands and the mainland section of the park are open to visitors year-round though occasional closures may happen to limit access to certain areas.
There are several visitors center which are open during the summer months only (May-September).
Camping: There is camping on 18 of the 21 islands at this National Lakeshore. But, the campgrounds are only accessible by watercraft. The mainland campground is a 6-mile hike inland and there are no drive-up sites for RVs or car camping.
The primitive nature makes this park a fantastic way to get away from the crowds and really experience the wilderness of upstate Wisconsin.
Things to Do Nearby: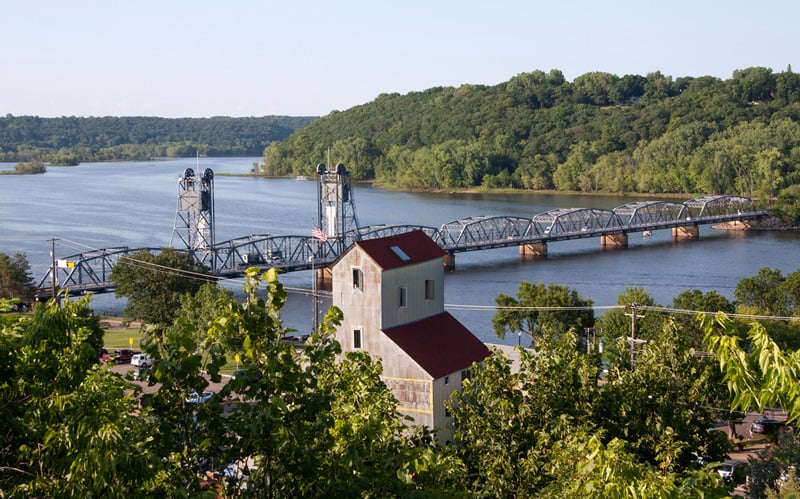 St Croix National Scenic Riverway
Hundreds of miles of freshwater rivers and beautiful scenery make up the stunning St Croix National Scenic Riverway.
The rivers St Croix and Namekagon come together to form this scenic riverway that includes 250 miles of river flowing through rich forests.
While this park is known for its amazing waterways, you can also hike and camp there.
The National Park Service is dedicated to the preserving history along this riverway, including the prehistoric evidence of human life beginning 10,000 years ago.
The riverways history has evolved with the times from treaties with traders and Native Americans to logging to the foundations of houses and farms. You can see some of the historic exhibits at the visitor center.
The wildlife in the park is stunning. Not only do you find incredible geography, but amazing animals and plants as well. The park has on-going research to help protect its natural world.
Things to Do At The St Croix National Scenic Riverway:
Kayak, canoe, or paddleboat
Fishing
Birdwatching (look for eagles!)
Snorkeling
Camping and hiking
Snowshoeing
Birdwatching
Operating Hours: While the majority of the park is open year-round, some areas may get closed or be difficult to get to due to snow or high water.
There are two visitor centers for this waterway located in St Croix Falls, Wisconsin, and Marine on St Croix, Minnesota.
Fees: There are no fees to access the park or camp. However, there may be fees to any docking areas not located on park property.
Things to Do Nearby: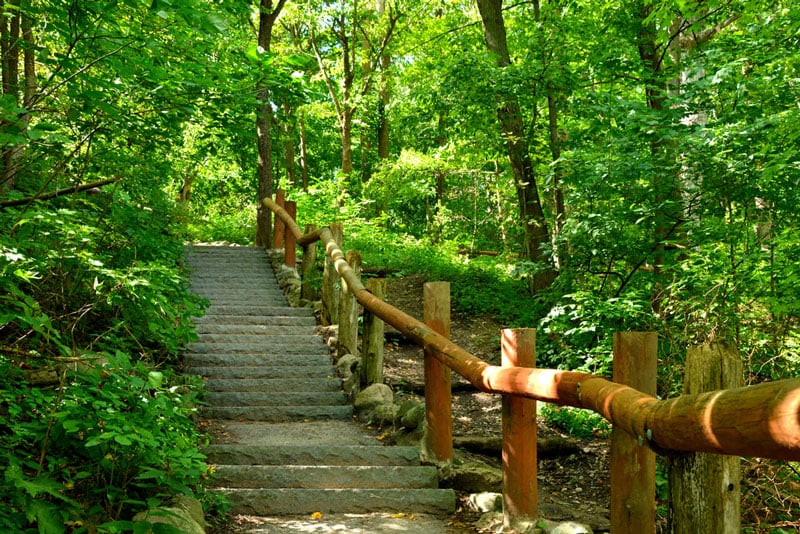 North Country National Scenic Trail
The North Country National Scenic Trail passes through the northern part of Wisconsin coming from Minnesota and heading into Michigan.
This trail marches through seven states and will soon include an eighth, going all the way from North Dakota to Vermont. The trail also heralds several historic sites.
The North Country National Scenic Trail is one of the longest trails in America and continues to grow. Once complete, the National Park Service will have created one singular trail measuring about 4,200 miles long.
Connecting 10 National Forests and over 100 state parks, the trail weaves through magnificent landscapes as well as historic towns.
Popular Stops Along The North County National Scenic Trail:
Lonetree Wildlife Management Area
Sheyenne National Grassland
Chippewa National Forest
Superior Hiking Trail
Ottawa National Forest
Hiawatha National Forest
Hocking Hills State Park
Allegheny National Forest
Finger Lakes National Forest
Adirondack Park
Operating Hours: Because of the great distance along the trail, you should plan ahead before hiking. The length makes it perfect for a backpacking trip! You can lean all about the route through the North Country Scenic Trail Association.
Fees: There is no fee for hiking along the trail, but you may have parking or camping fees when exiting the trail sections. This will vary by state and park.
In Wisconsin, you may not have any camping fees for primitive camping, but you will need a sticker for your vehicle if you intend to park it overnight or longer.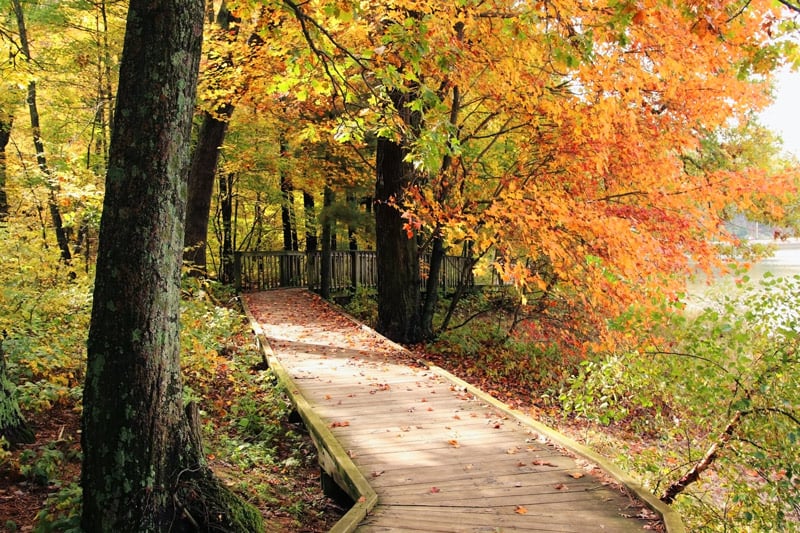 Ice Age National Scenic Trail
Thousands of years ago, glaciers carved out lakes, rivers, valleys, and ridges, leaving us with gorgeous geographical clues of their old existence.
The Ice Age National Scenic Trail includes over a thousand miles of trail which traces the path of the glacier's edge. It begins on the far western side of Wisconsin, crosses over, dips down south, and heads back north up along the peninsula.
Not all parts of the trail are connected, but many volunteers are working to continue building and connecting the trail to itself. Some parts of the trail are connected with less-traveled roads.
However, these beautiful sections of trail are amazing nonetheless. They pass by rivers, waterfalls, and incredible forests.
Along the Ice Age Trail, you can see nine different geological wonders that were spoken of by Robert F. Black in his book Geology of Ice Age National Scientific Reserve.
Things to Do:
Hiking and Backpacking
Cross Country Skiing
Snowshoeing
Camping
Hunting and Fishing
Birdwatching
Stargazing
Visiting an Interpretive Historical and Geological Center
Operating Hours: The trail is open to public hikers hear-round except for certain segments that close during the 9-day deer hunting season in November.
If you hike during that time, make sure to wear blaze orange when hiking in hunting areas. You should also plan ahead and be aware of the trail conditions before you start your hike.
Fees: Fees are not needed to hike along this beautiful trail. However, if you plan to enter any other lands, such as the state and county parks, they may require entrance fees, camping fees, or parking fees. Research what the parks you'll be visiting require.
Things to Do Nearby: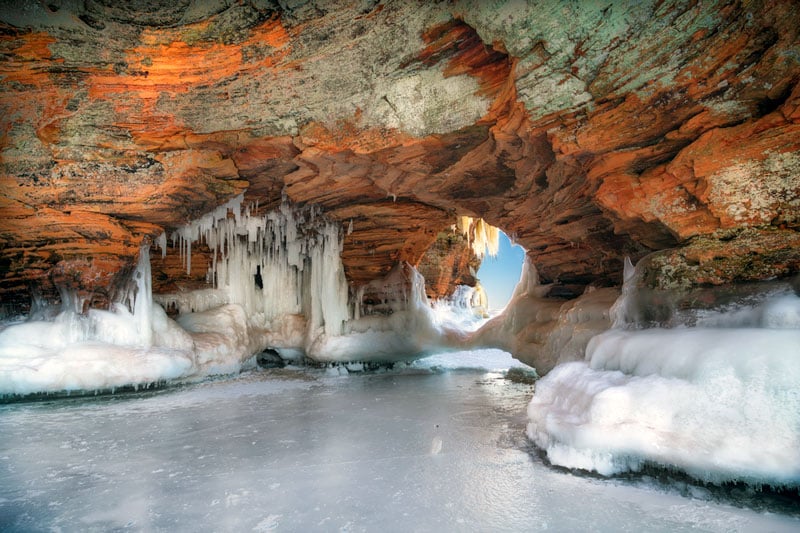 Wisconsin National Parks
The Apostle Islands are a must-see park for any adventure seeker visiting Wisconsin. With opportunities like scuba diving through shipwrecks, climbing to the top of lighthouses, and paddling along the shore, you can find endless days of adventure there.
For hiking and backpacking, don't forget to trek along the Ice Age Trail and the North County National Scenic Trail where you can follow the path all the way to Vermont.
History buffs should be sure to check out the St Croix Riverway to learn about prehistoric life along the rivers.
National Parks In The Surrounding Area:
You Might Also Like:
The post National Parks In Wisconsin appeared first on Parked In Paradise.