Located in Northern California, less than 1-hour from Redding is Lassen Volcanic National Park. Lassen is home to the world's largest plug dome volcano. It also has multiple geothermal features including hot springs, mud pots, and steam vents.
Visitors can enjoy the boardwalk around a hydrothermal basin, and hiking to the clear mountain lakes. At the end of the day, you can drive up the highest elevation road in the cascades.
Camping under the stars is one of the best ways to experience Lassen Volcanic National Park. The high altitude campsites are quiet, and private which is perfect for a relaxing vacation.
There are eight campgrounds in Lassen National Park with over 400 campsites for tents and RV campers. The campsites come with basic amenities including potable water, vault toilets, fire rings, picnic tables, and trash collection. There are also overflow campgrounds and discounted primitive campgrounds in the surrounding area which we'll cover in this article.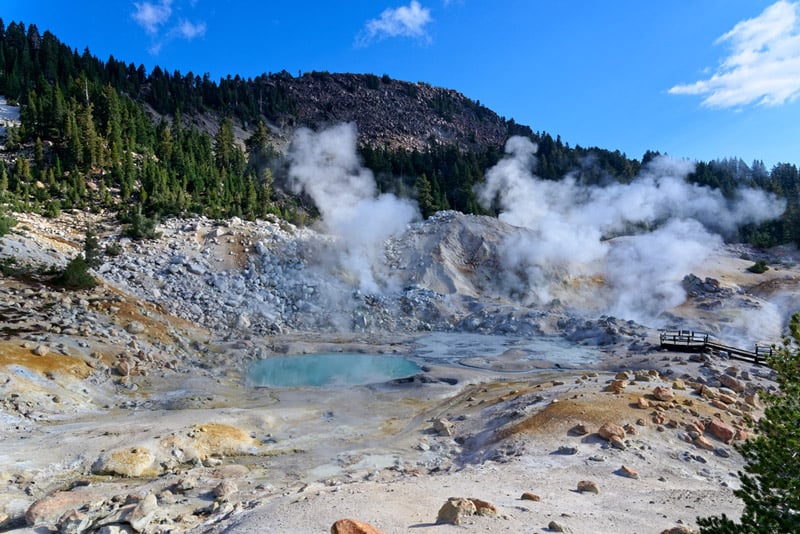 Reservations: Campgrounds in Lassen are available on a first-come, first-served basis. Reservations are available if you wish to book ahead.
Seasonal Closures: Due to the high elevation and snow cover, Southwest walk-in is the only campsite open year-round. The rest of the campgrounds are typically open between June and September.
Water and bathrooms: All campgrounds have potable water and pit toilets. Flush toilets can be found at Butte Lake, Manzanita Lake, Summit Lake, and Southwest walk-in. Manzanita Lake is the only campground with showers and laundry services.
Electricity: None of the campgrounds at Lassen Volcanic park have electric hookups.
RV camping: Even though there are no electric or water hookups for RVs, this park is surprisingly accessible to large rigs. Butte Lake, Manzanita Lake, Summit Lake, and Lost Creek Group camp can all accommodate large motorhomes.
Cell phone service: Mobile coverage is spotty throughout the park and you're unlikely to find a reliable connection at any of the campgrounds.
Pets: Leashed dogs are welcome in all of the campgrounds.
Camping In Lassen Volcanic National Park
Nestled in the ponderosa pines, the campgrounds at Laseen are remote, private, and offer minimal amenities. Hiking, trout fishing, and kayaking through the mountain lakes are some of the most popular activities.
Butte Lake Campground
A quiet and remote campground, Butte Lake is the place to stay if you want quick water access and hiking opportunities. A six-mile gravel road will lead you to the campground which is situated at 6,100 feet elevation. Although this campground feels off the beaten path, there are 101 campsites, 6 group sites, and space for motorhomes up to 45 feet long.
Campsites are flat, and the soil is soft making for a comfortable overnight experience. The skies also get pitch black at night so it's a great place to see the stars.
Butte Lake itself, is just steps away from the campground where visitors can kayak, go trout fishing, and paddle along the rocky shoreline. Lava used to flow directly into this lake and you can still see the remanence which is an attractive photo opportunity. 
The Cinder Cone Trail, which is one of the most popular hikes in Lassen begins at Butte Lake Campground.
First-come, first-served
Typically open June-October
Vault and flush toilets
Bearproof box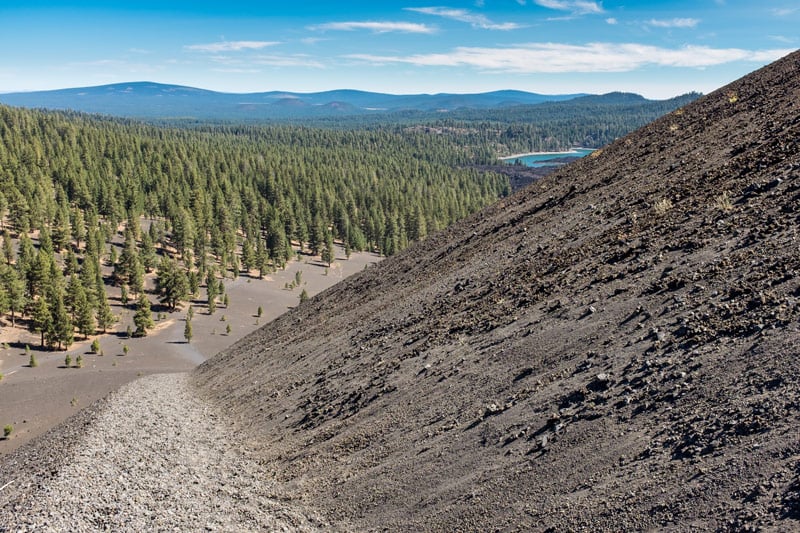 Juniper Lake Campground
One of the smallest campgrounds in the park is Juniper Lake. At an elevation of 6792 feet, this is an exceptional location for views. Located on the eastern shore of Lake Juniper, campers must travel along 13 miles of both gravel and paved roads. The last six miles into the campground are not accessible for trailers, motorhomes, or buses because of the rough road conditions.
Juniper Lake is highly remote with pit toilets and no potable water so you'll need to pack your own. This is a good place to stay if you enjoy rugged camping and don't want to spend the night around too many other people. There are only 18 individual sites and two group sites for tent-camping only.
Known for its views, Juniper campground is in the perfect position to view Lassen Peak from your tent. It's also located next to the trailheads for Snag Lake and Horseshoe Lake so you can enjoy paddle boats or go for a quick dip.
First-come, first-served
Typically open June-October
Tent camping only
Vault toilets
Bearproof box
*No potable water*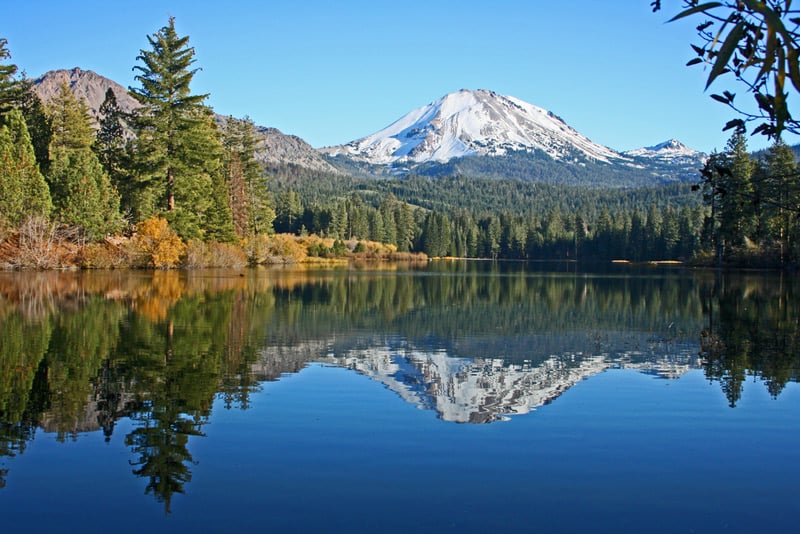 Manzanita Lake Campground
With 179 sites, Manzanita Lake is the largest campground in Lassen Volcanic National Park. It's only one mile east of an entrance station, and at a lower elevation (5890 feet) so the area easy to get to even in a big motorhome. There are RV sites available for campers up to 45 feet long.
Manzanita Lake is the only campground in the park with showers, laundry facilities, and a dump station. It's also situated nearby a general store with snacks and kayak rentals. So if you're looking for full amenities, it's the best place to stay.
A mix of waterfront tent camping and RV sites make Manzanita an attractive location for easy lake access and nearby hiking trails. The campsites themselves are surrounded by ponderosa pines, although they are not as private as some of the other campgrounds in the park. There are also some camping cabins which can be reserved if you prefer to sleep in a bed.
First-come, first-served; Reservations available
Typically open June-October
Tent and RV campsites up to 45′
Flush toilets
Showers
Laundry
Bearproof box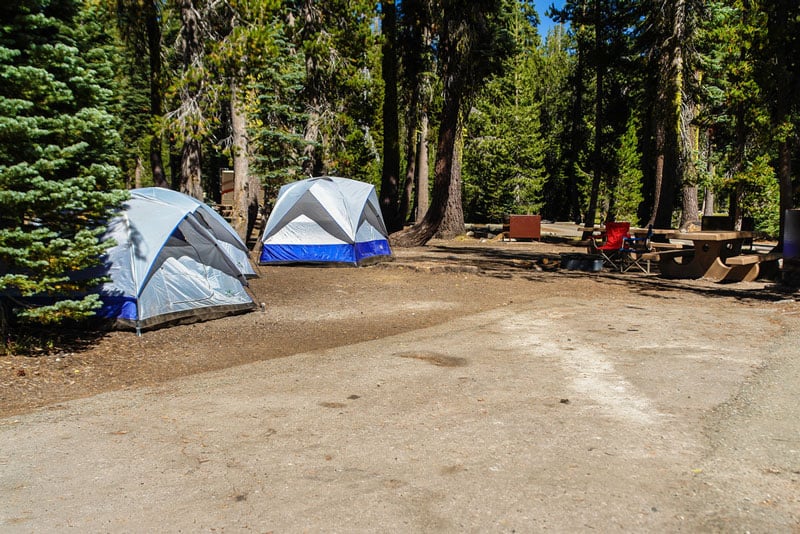 Summit Lake North And South Campgrounds
Tucked into the mountains at 6695 feet elevation is Summit Lake. The North and South Campgrounds are at opposite ends of the lake. Both have easy access to the shore and are located only 1/4 mile from the Summit Lake trailhead. This is the ideal location for waking up early and heading out on a long day of hiking and backpacking.
Summit Lake North Campground is larger and best for families with motorhomes up to 35 feet. It has flush toilets and potable water. The campsites are not particularly private, but they are nestled in a beautiful setting.
The South Campground is smaller and more suitable for tent camping. It has minimal amenities with vault toilets, potable water, fire rings, and picnic tables only.
Because of the high elevation, the Summit Lake Campgrounds are only open from June-September.
First-come, first-served; Reservations available
Typically open June-September
Tent and RV campsites up to 35′
Vault and flush toilets
Bearproof box
Southwest Walk-In Campsites
The Southwest Walk-In Campground is the only one in the park that guarantees year-round camping. With 21 campsites, there are flush toilets and potable water available from the middle of May through October. In the winter, these services can be found at the Kohm Yah-mah-nee Visitor Center which is a short walk away.
The campground allows overnight camping in your vehicle, so it's a good place to stay for van dwellers as well as tent campers. The Mill Creek Trail begins in the northern portion of the campground if you want to enjoy a short hike.
During the winter, the space changes to an over-the-snow tent camping area. There is a dedicated sledding hill within walking distance!
First-come, first-served
Open year-round
Tent and vehicle camping
Vault and flush toilets
Bearproof box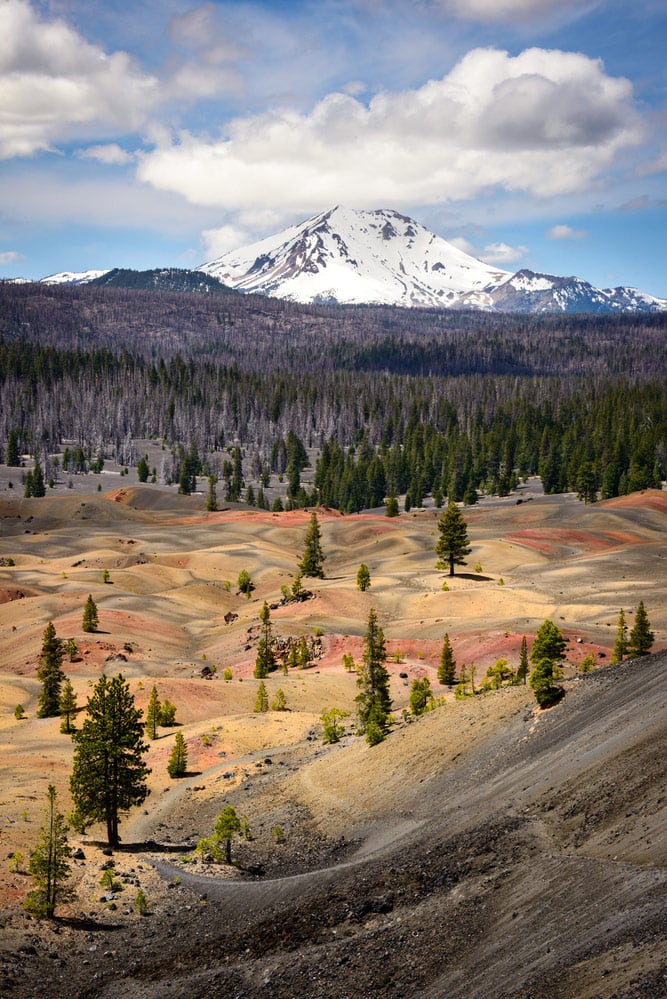 Warner Valley Campground
Warner Valley Campground is located about a mile to the north of Warner Valley Ranger Station. Only available to tent campers during the summer months, this is a small area with 17 sites which has a more remote feel. The rough gravel road will take you to a campsite with minimal amenities including vault toilets, bear boxes, and potable water.
Though secluded, the best part about Warner Valley is that it's located close to Boiling Springs Lake, Terminal Geyser, and Devils Kitchen. So it's the ideal location if you are excited to visit the hydrothermal basin.
First-come, first-served
Typically open June-October
Tent camping only
Vault toilets
Bearproof box
Lost Creek Group Campsites
A small campground, Lost Creek Group Campground offers just 8 campsites with spaces for trailers up to 40 feet in length. This campground is just five miles to the south of Manzanita Lake along the park highway. It is rather easy to get to and some of the sites are accessible for most people.
This is an excellent choice for those who want to be close to Devastated, Manzanita Lake, and the Summit Lake areas. Hiking and swimming are common things to do here. There is no direct boating access but there is access nearby to non-motorized boats. Reservations are required. Campsites can be booked up to one year in advance through Recreationa.gov. They are typically available from June through September.
At A Glance: The Best Acadia Campgrounds
Best for RV camping: Manzanita Lake
Best for van life: Southwest Walk-in
Quick access to trails: Butte Lake
Most secluded: Warner Valley
Stock corrals: Butte Lake, Juniper Lake, Summit Lake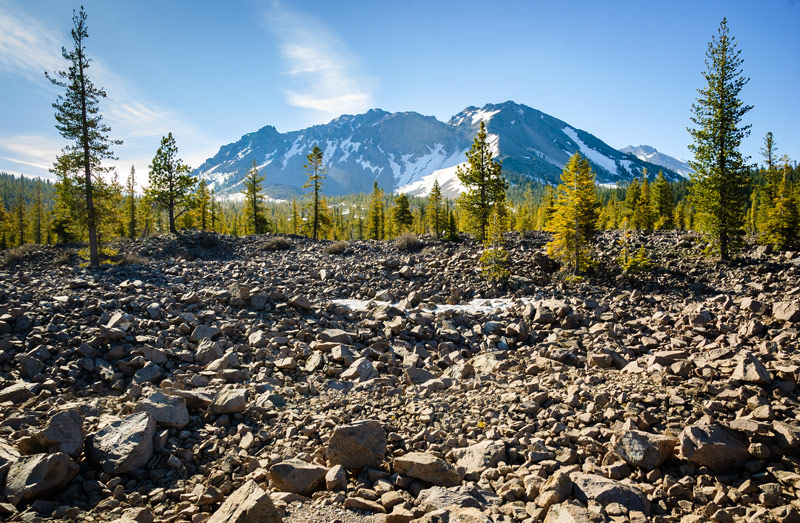 Dispersed Camping Near Lassen Volcanic National Park
Surrounded by National Forests, it's easy to find free dispersed camping near Lassen. Dispersed camping requires that you follow leave no trace principles. Including, packing in and packing out all of your gear.
North of the Park: Consider camping in the Lassen National Forest or the Shasta-Trinity National Forest. Here are some free campgrounds:
Private Campgrounds Near Lassen Volcano
If you're looking for campgrounds with more amenities such as electricity and showers there are plenty of private campgrounds in the area. Road trippers who spend more than one week per year camping should consider joining a discount camping club. These clubs cost a small yearly fee to join and allow you to save up to 50% on participating campgrounds.
Some of the best private campgrounds and RV parks surrounding Lassen include:
Lodging At Lassen National Park
Camping cabins can be booked at Manzanita Lake. There is also one hotel in the national park; the Drakesbad Guest Ranch.
Located a few miles away from the Warner Valley Campground, the Drakesbad Guest Ranch has 19 bungalows and comes with meals included! There is a thermal pool for swimming, and massages and horseback riding available. The cabin is a truly unique experience in the woods, and close to some of the best geothermal hikes.
Continue Reading:
The post Camping In Lassen Volcanic National Park appeared first on Parked In Paradise.