We've seen some amazing Ford Transit camper van conversions, but what about a smaller version? The Ford Transit Connect is built off a Ford Focus platform. It's small, boxy, and perfect for a tiny conversion.
This compact car is a fleet vehicle so it gets great gas mileage and spare parts are easy to find. It's also known for being very driveable, easy to maneuver, and repairs are inexpensive.
A Ford Transit Connect comes with either a short-wheelbase (104.8 inches) or the long-wheelbase (120.6 inches) version.
We've pulled together a wide range of clever DIY builds and professional up-fitters to give you a variety of layout and design ideas to design your own Ford Transit Connect.
Ford Transit Connect Campers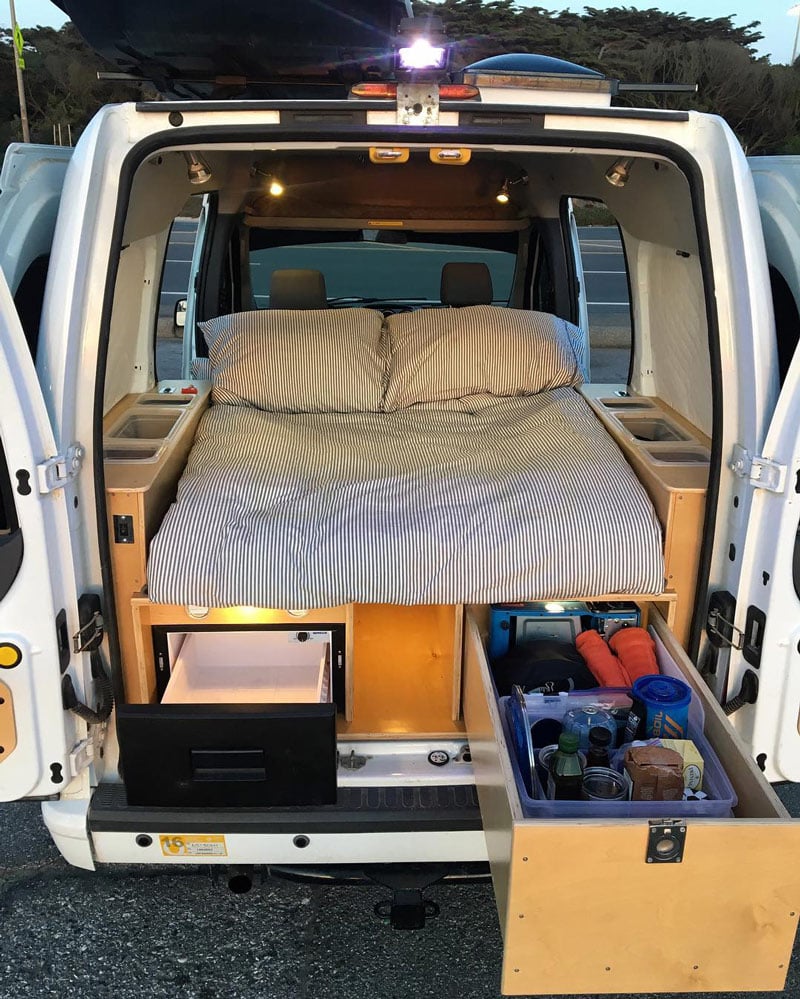 Glampervan.us is a conversion company based in San Fransisco, California. They designed this compact Ford Transit Connect that sleeps two and has a fixed bed design with storage on both sides. That adds plenty of space to such a small camper!
Our favorite part about this build is the use of space beneath the bed. With one long sliding drawer on the right, and a drawer-style refrigerator on the left you can travel with cold food without sacrificing space.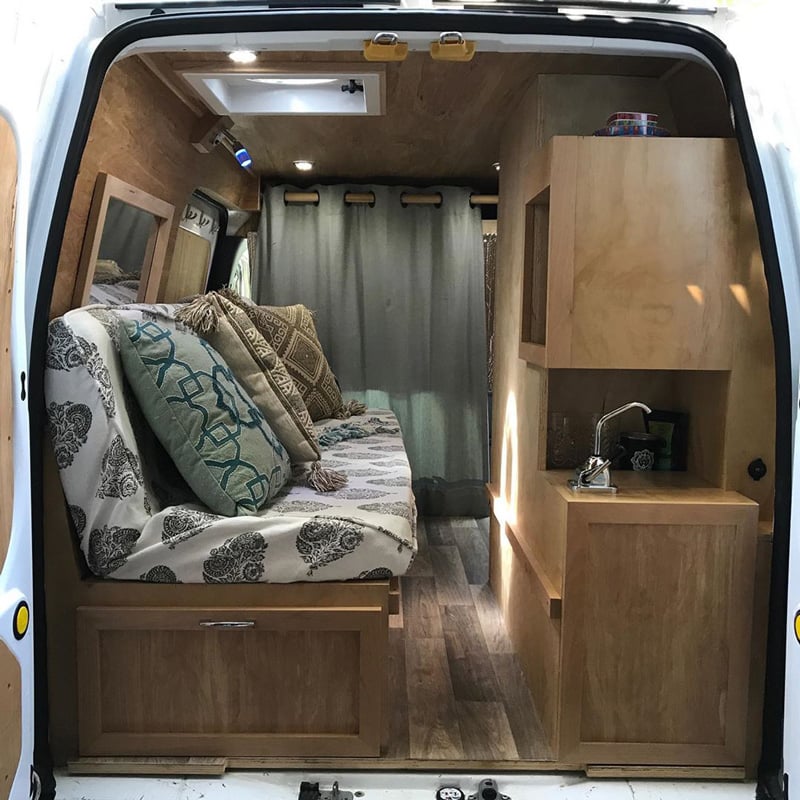 We love the style of this Transit Connect design. The build looks simple at first glance, but there is a built-in sink, plenty of drawer space, and the back doors have shelving units that fold down to maximize space.
The couch on the left folds down flat when it's time to go to bed at night which saves space and give you a place to sit during the day.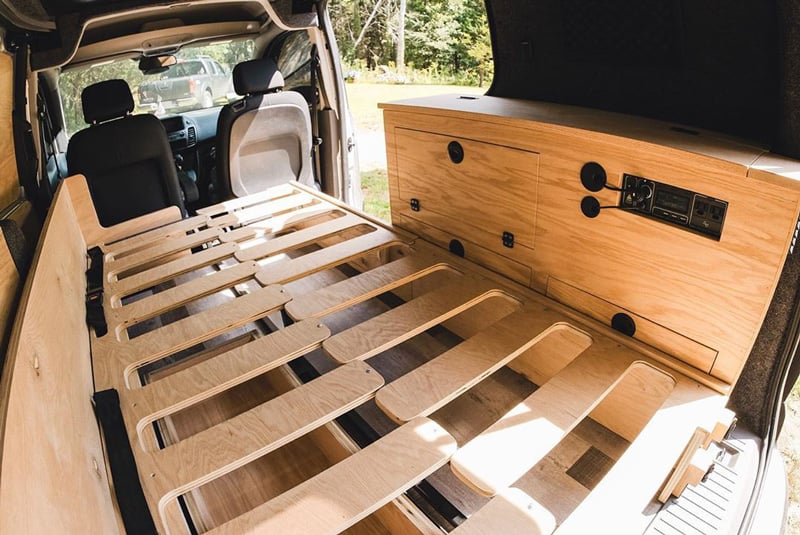 This design by Jeff from HillTopVan in Northern California has one of the coolest modular bed designs we've seen. Slide-out beds are common in Transit Connects, but this one sits on a steel frame and has brackets that bolt seat belts to the floor below.
On the opposite side of the Connect is a storage space that houses an electric system powered by a Yeti solar generator. Those are perfect for weekend camping trips!
Ford Transit Connect Camper Van Conversions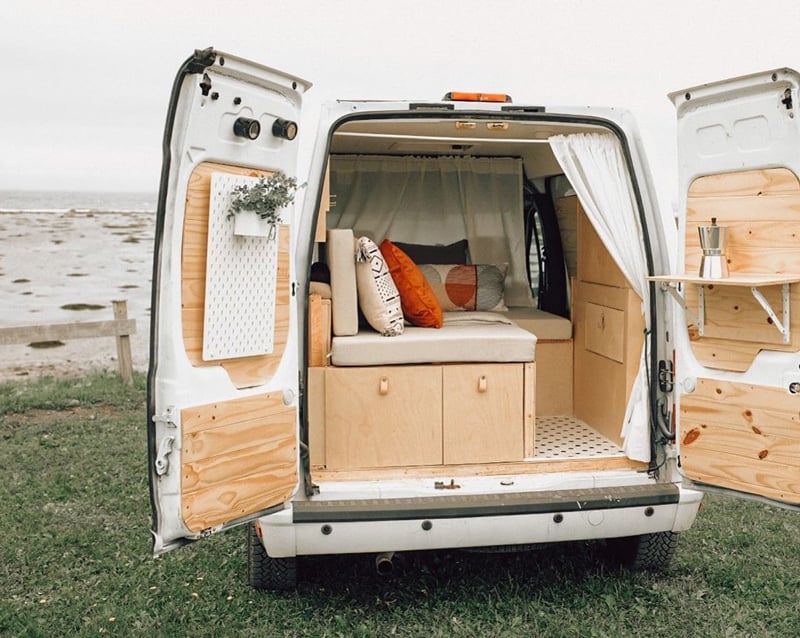 One of the prettiest DIY Ford Transit Connect conversions we've seen is this design by a couple from Canada. We love the light colors, the unique layout of the bed, and pop-up shelves on the back doors.
They also make excellent use of space by placing magnetic spice holders on the top portion of the back doors.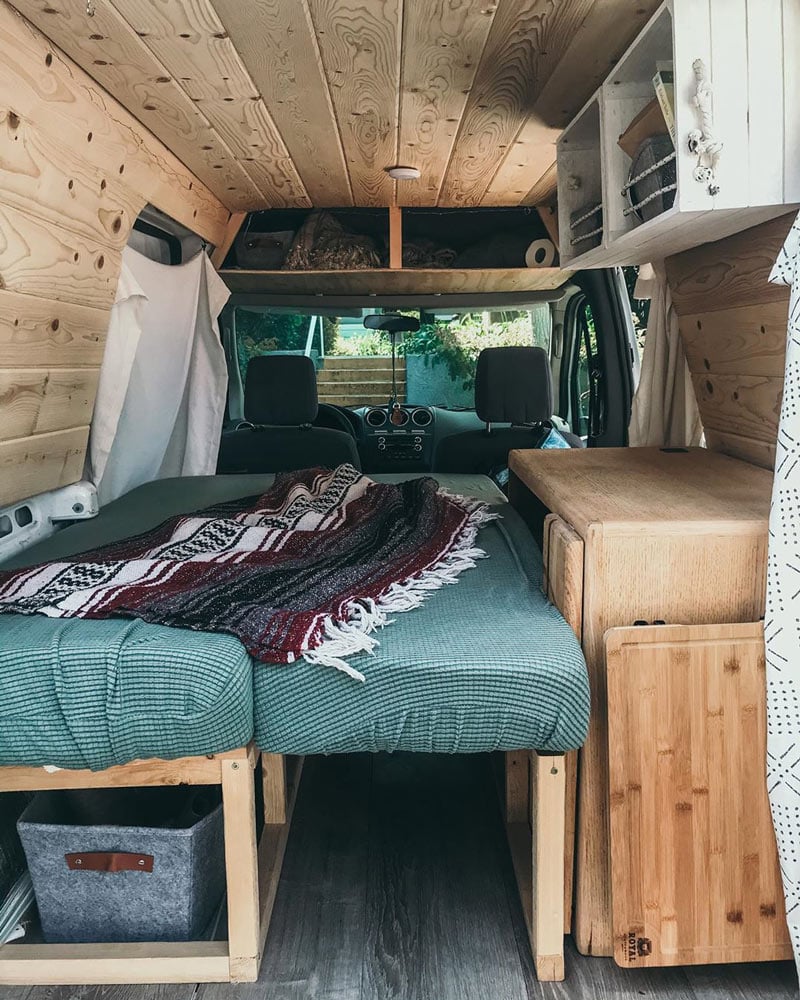 Jaclyn is a photographer that travels to many events in her DIY Ford Transit Connect. We love the versatility and coziness of this build. Here you can see an example of a sliding bed design when it's folded out for sleeping.
She uses multiple small boxes for storage that can be easily re-arranged and removed as needed.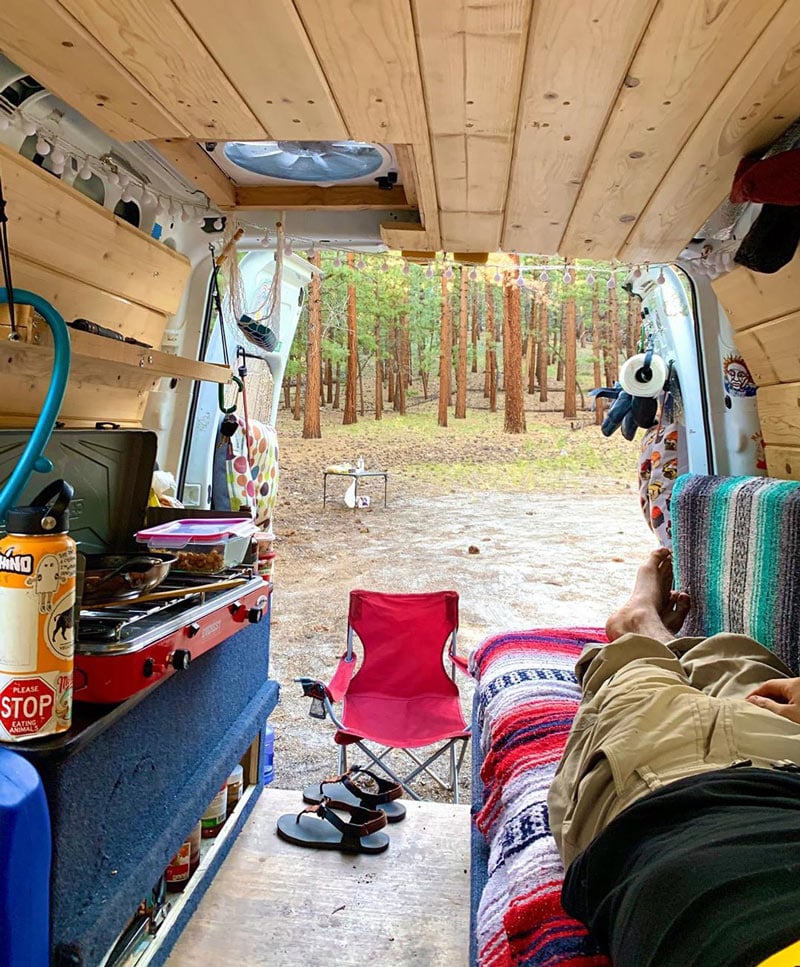 This van build is minimalistic and perfect for a camping trip! We like that this build has a fan for ventilation, large counter space for cooking, and plenty of food storage underneath.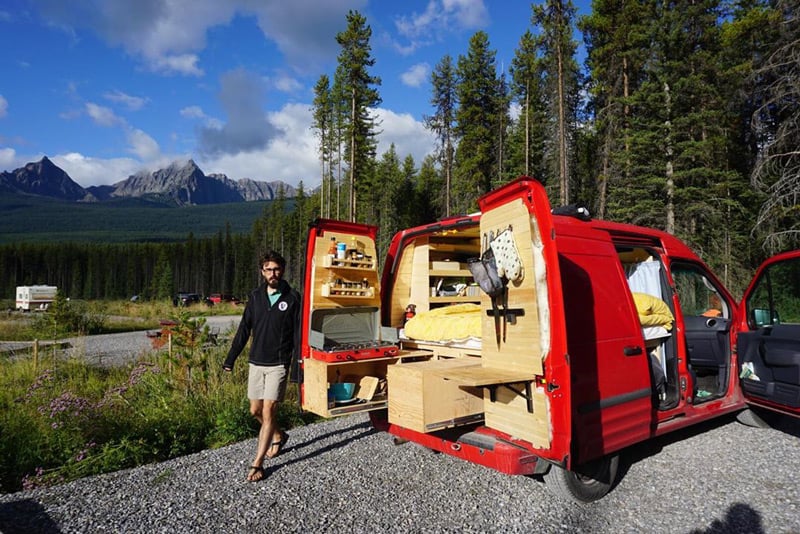 This camping van was built with an incredible amount of cleverly placed storage. With heavy-duty drawer slides, and collapsable L-brackets holding the backdoor countertops, every inch of space is useable.
We also love the spice rack and additional storage hooks on top.
Transit Connect Campers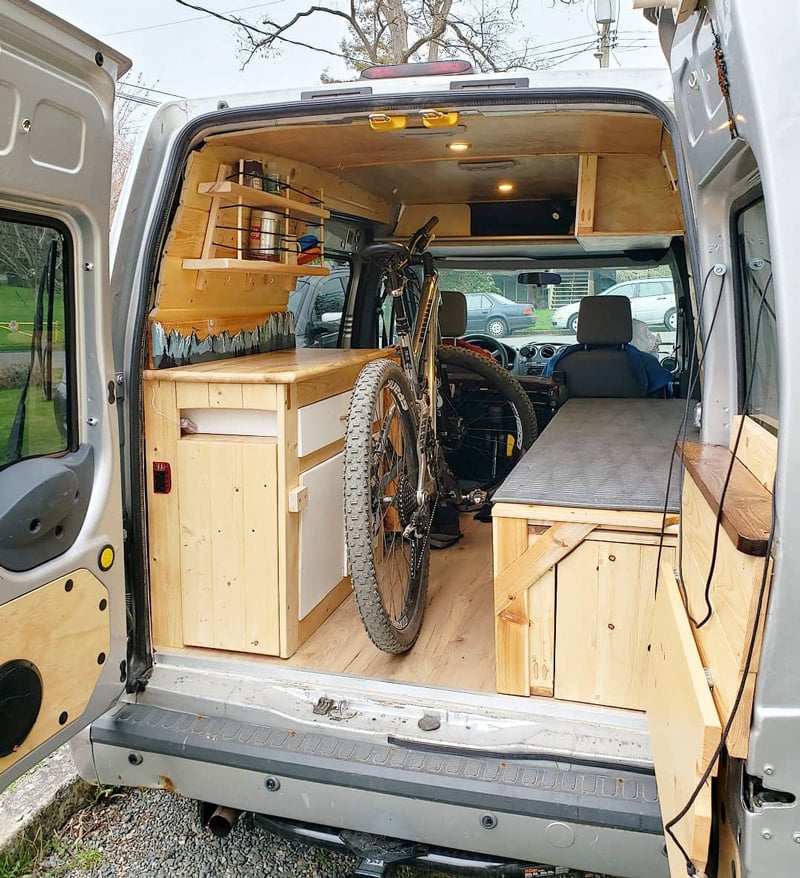 This Ford Transit Connect was designed by Sunshine Coast Adventure Van. The design is well-organized and makes this tiny, compact camper look very spacious inside!
We like that it was built with adventure in mind. The van leaves enough space to load a mountain bike or other equipment. The bench slides out into a larger bed, and the folding tables on the rear door are held in place by hinges and suspension cables.
We also love the mountain design on the backsplash of the countertops!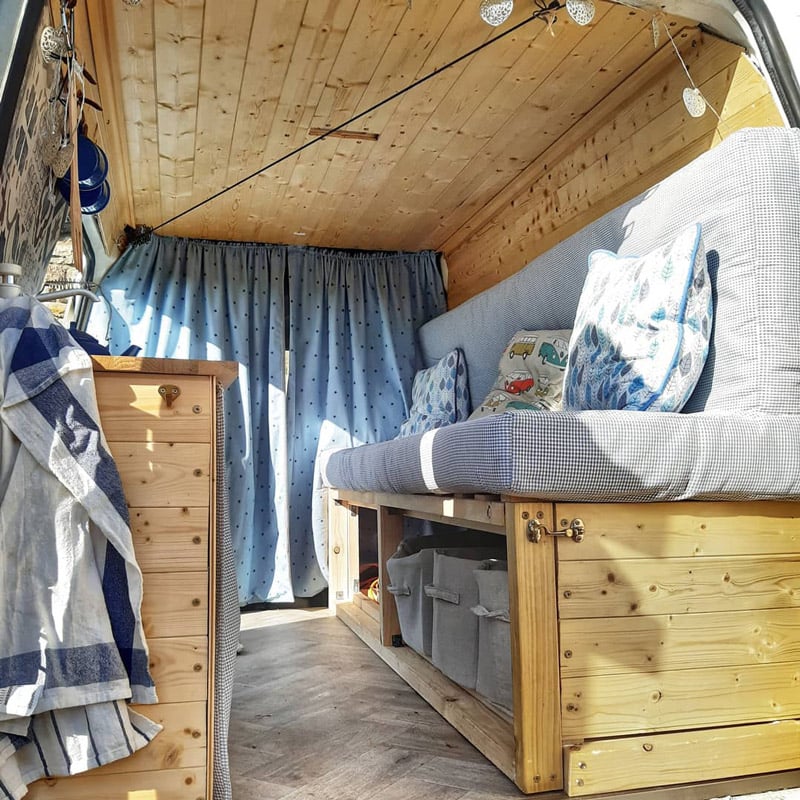 Victoria designed this Transit Connect camper to travel around the UK. The build looks simple at first glance, but there are a lot of little details that could be easily missed. All of the cushions and curtains are handmade. There's also a custom painted backsplash, dog bowl sink, and slide-out bed with space underneath.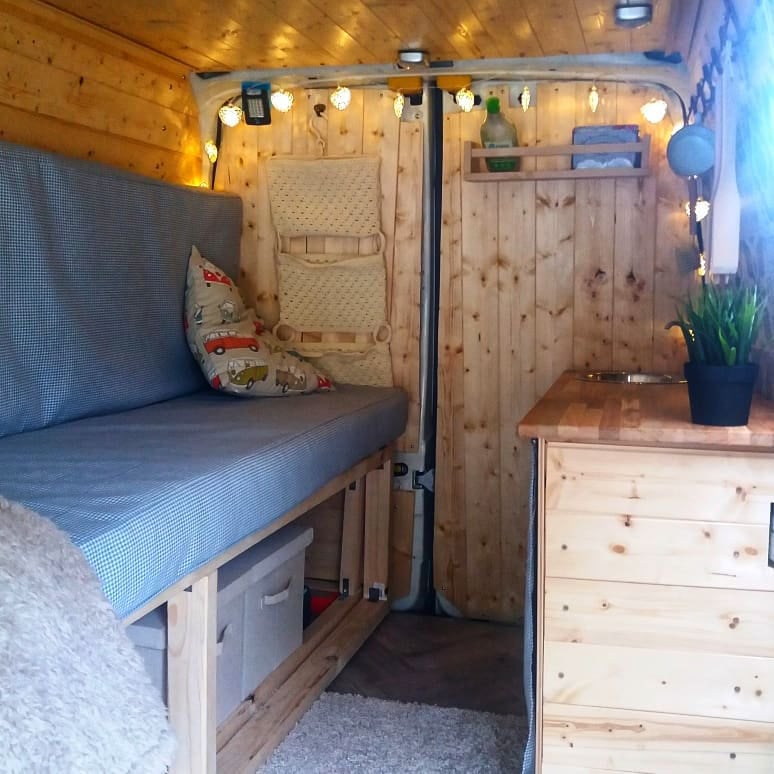 We like this view because it gives you a good idea of what the space looks like all closed up for the night!
That's A Wrap!
If you're looking for a compact camper van to convert that won't cost an arm and a leg, the Ford Transit Connect is an excellent choice! Easy to maneuver, good gas mileage, and easy to find parts for repair all make it a nice adventure vehicle for the solo traveler or couple.
Looking For Something Bigger?
Check out these other van builds:
The post 9 Ford Transit Connect Camper Conversions appeared first on Parked In Paradise.