What happens when you combine German engineering with classic American style and a touch of British quirk? The result looks a little less like this and something more like this: a custom-built Mercedes 1671 and Airstream Excella trailer hybrid, and the best part? It's up for sale.
The plus-sized camper was dreamt up by the eBay seller who hoped to build his own adventure rig and travel around the world in it, but sadly his health problems have forced him to sell. He shipped the 31ft long Airstream Excella over to Britain from the U.S. himself, and English company E. J. Holyoake attached it to the back of a 1986 16T Mercedes 1617 truck to create this behemoth of a motorhome the likes of which are usually only seen in the States. The truck was fitted with a fresh new engine during the conversion process, comes with 12 months' MOT (a test of roadworthiness that all British cars must pass annually) and "drives like a Merc should."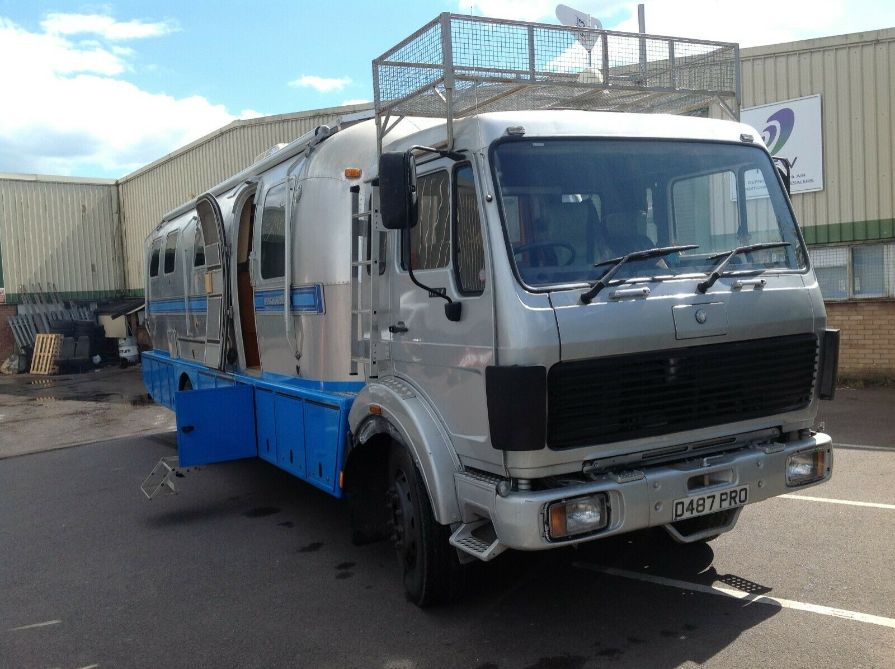 The camper seats five and sleeps four; two in the full size double bedroom at the rear and two on a double bed which pulls out in the main cabin.
The interior is a little dated, as attested to by the distinct 1970's vibe in the bathroom, but this could easily be modernized and revamped. The bathroom contains a cassette toilet, a shower and a sink, although it is not clear how large the onboard water tanks are.
A galley kitchen provides all the amenities needed to cook up a hearty meal; a gas oven, microwave and full size fridge/freezer along with plenty of storage scattered around the living quarters.
The camper has everything you'd need for extended periods of off-grid living including gas central heating, air conditioning, a water heater, 12V lighting and a 240V inverter. It comes equipped with solar panels but in case there's no sun it's also got a back up wind generator, and in case there's no wind it even comes with an on-board petrol-powered generator. 
An awning is attached to the exterior, and it comes with outside lockers too for storing tools and essential gear.
"I built this Airstream with a passion for travel but health has got in the way," says the seller in the eBay listing description. "The truck will come with 12 months MOT at the point of sale so you can drive it into the sunset and beyond."
The truck camper is up for sale at £24,999 ($32,800) although it is open to offers and viewings, and can be collected from Shrewsbury in the West Midlands. Although it's a shame to see the seller part with his beloved creation this rig is sure to be taking one very happy group of people on world-wide adventures soon.
Source: eBay
The post Airstream Conversion is for Sale & Adventure-Ready appeared first on Outbound Living.