Zion National Park is located in southwestern Utah, 1-hour east of St. George. The park is known for steep red cliffs, emerald pools, arches, and stunning canyon walls.
Some of the most popular hikes and viewpoints in the US are located in Zion, including Angel's Landing, The Narrows, and Kolob Canyon. 
Zion is surrounded by National Parks, conservation areas, and National Forests in every direction. All of this is to say that camping is abundant in and around Zion.
There are three campgrounds in Zion National Park with over 300 available campsites for tents and RV campers. There are also private campgrounds and opportunities for free camping in the surrounding area which we'll cover in this article.
Camping In Zion National Park
The three campgrounds in Zion National Park are South Campground, Watchman Campground, and Lava Point Campground. There are also 12 primitive campsites in the Narrows and opportunities for backcountry camping.
Zion is extremely popular with campers so we highly recommend making a reservation recreation.gov if you're hoping to camp inside the park.
Quick Tips:
Campsites get hot throughout the summer, and many of them are unshaded so you'll want to pack a wide-brimmed hat and some sunscreen.
Zion is not a dog-friendly park. Leashed pets are permitted in the campgrounds and on the Pa'rus trail which is paved, but they are not allowed on any of the park trails so we recommend leaving your furry friend at home.
There are no showers in Zion. Paid showers are located just outside the park entrance at Zion Outfitter.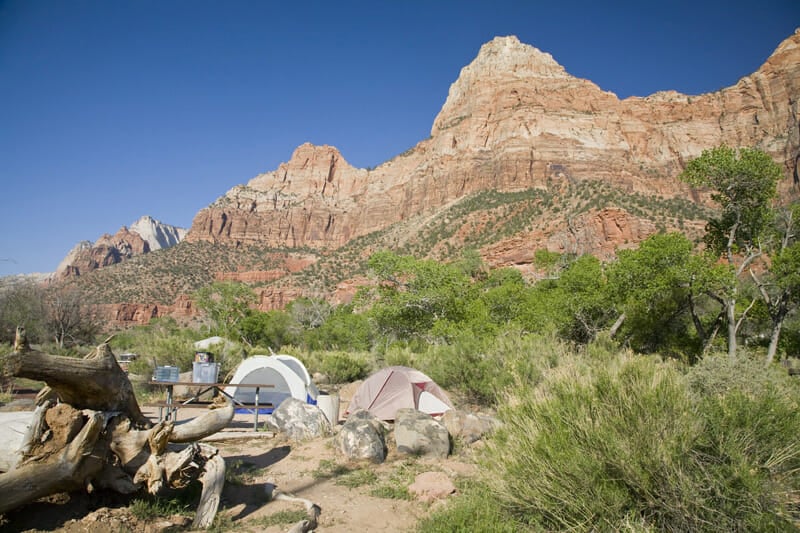 South Campground
South Campground is only 1/2 mile away from the south park entrance. It fills up nearly every night from March-October and reservations can only be made 2 weeks in advance.
This campground is extremely popular because it's within walking distance of the Visitor Center, and shuttle service which runs throughout the park. Once you set up camp you'll be able to navigate the area without a vehicle or enjoy views of Bridge Mountain, The Watchman, and the Virgin River right from the campground.
Three trails branch off of South Campground: the Watchman Trail, the Archeology Trail, and Pa'rus which is the only trail in the park that allows dogs. Popular climbing routes are a short bus ride away, and South Campground allows hammock camping so this is a great place to stay if you're a climber.
While there is no electricity or showers at this campground, it does have good mobile coverage, potable water, and a dump station. Generators are permitted.
One thing to keep in mind is that the campground area is small. Sites are located close together so you won't have much privacy. The ground is also hard-packed dirt so you'll want to bring a ground pad in order to sleep comfortably. RV campers up to 30 feet are welcome and the sites cost $20 per night.
Reservations available March-October
117 tent and RV campsites
Flush toilets
Potable water
Dump station
Picnic tables and fire rings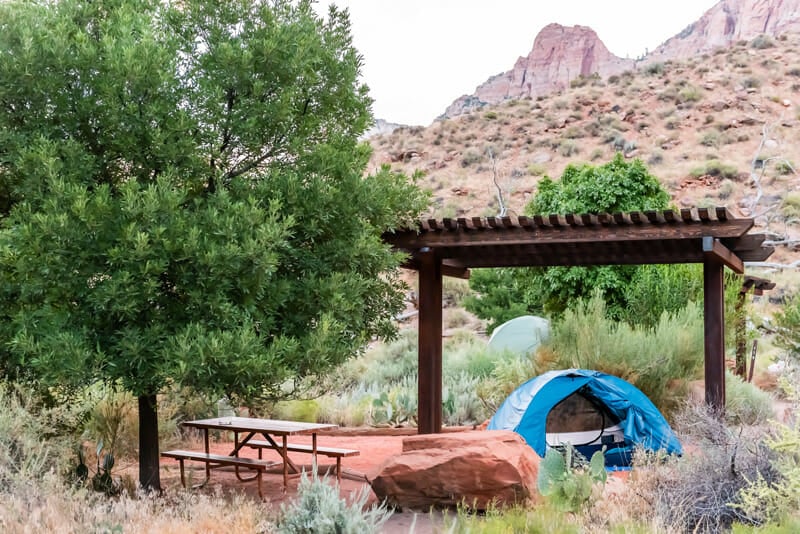 Watchman Campground
Watchman Campground is the largest and most established in Zion. There are a variety of sites available from walk-in tent camping to larger pads that can accommodate RV campers up to 50 feet. It's open year-round and you can make reservations between March-November up to six months in advance.
The Watchman Campground has flush toilets, a dump station, good mobile coverage, and some of the campsites have electricity making it an ideal place to stay if you have an RV. There are no showers in the park and generators are not permitted.
The Zion National Park entrance is only 1/4 mile from Watchman Campground. When you stay at Watchman, you're within walking distance of the visitor center, shuttle service, and an abundance of views. The Watchman trail ascends the peak directly behind the campground and you're also nearby the Archeology trail and Pa'rus trail.
Reservations available March-November
190 tent and RV campsites
Flush toilets
Potable water
Dump station
Picnic tables and fire rings
Lava Point Campground
If you're looking to get off the beaten path and do some dry camping, Lava Point Campground is the place to go. Lava point is located on the north end of the park, nearest to the Kolob Canyons. Sitting at 7,800 feet, temperatures stay cool even in the heat of summer. It's typically open May-September because snow can make the roads impassable.
Lava Point is in the perfect location if you want to stay close to the subway hiking trail, take a scenic drive up Kolob Canyon Road, or hike to Zion's highest points. The West Rim Trail is within walking distance and has some of the best overlooks in the park.
This is the only campground in Zion that's available on a first-come, first-serve basis; and it's free! Because there are only six sites, you'll need to arrive early. It fills up especially fast on weekends. This campground has pit toilets and trash cans but there is no water or electricity in the area so you'll need to pack accordingly.
Lava Point is not a great place to take your RV because the roads are rough and only vehicles under 19 feet are permitted.
Typically open May-September
6 campsites
Pit toilets
Picnic tables and fire rings

Backpacking In Zion
There are over 90 miles of trail in Zion National Park and lots of opportunities for backpacking and primitive camping. You'll quickly find yourself isolated if you choose to take the trails less traveled. Backpacking permits can be obtained up to 3 months ahead of your trip and cost just $5.
Half of the backpacking campsites are available on a first-come, first-served basis while the other half are saved for reservation holders. You can reserve a backpacking campsite here.

Camping In The Narrows
Zion is most famous for The Narrows, a winding river gorge with walls a thousand feet tall. You can hike the river as a day trip, or stay at one of the 12 campsites located along the river.
The river campsites are small, with most fitting only 2-6 people. They're also much colder than the other campgrounds because the canyon walls keep them shaded throughout the day. As you can imagine, these campsites don't have any amenities including picnic tables or fire rings, though you're welcome to build your own.
Camping in the Narrows does require a wilderness permit. All of the sites are available on a walk-up basis and about half can be reserved online. You can read more about The Narrows Campsites here.

Free Camping Areas Near Zion
There are many opportunities for free, dispersed camping near Zion. If you're not familiar with dispersed camping, it's important to know that there are no amenities. You're responsible for bringing your own water and packing out your own waste. We recommend stopping by a National Forest Office, Visitor Center, or Bureau of Land Management to get specifics on the area.
25 minutes west of Zion National Park you can find the Hurricane Cliffs Recreation Area which is run by the Beauru of Land Management (BLM). This is a popular trail system for mountain bikers. Boondocking here is free. There is good cell phone coverage and many campsites which are numbered and have rock fire rings.
Further west, you'll find the Red Cliffs National Conservation Area. This is about 50 minutes from Zion National Park and directly north of St. George, Utah. Free, dispersed camping is permitted in the upland zone. There are also campgrounds with vault toilets there for $15 per night.
South of the park, free dispersed camping is permitted along the Smithsonian Butte Back Country Byway. It's a 9-mile stretch of road between Rockville, Utah and Apple Valley.
30 minutes Northeast of the Kolob Canyon in Zion is the Dixie National Forest. There are a variety of camping options there including free dispersed camping, and paid campsites.
East of Zion is the Grand Staircase Escalante National Monument. This large park covers 1.7 million acres and has many opportunities for dispersed camping. Free permits are required when camping in this area.
If you're new to dispersed camping, read our guides:

Private Campgrounds
RV Parks and private campgrounds are abundant around Zion. The Zion Canyon Campground and RV Resort is located in Springdale and the closest to the south entrance. The Zion River Resort and Quail Queek Campground are also south of the park.
Outside of the east entrance, you can find the Zion Crest Campground and RV Park.
If you're an avid camper, we recommend getting a discounted camping membership. Discount camping clubs cost a small yearly fee to join and allow you to save up to 50% on participating campgrounds. Many of these memberships will pay off in just one full week of camping.
Our favorite membership clubs to join are:
Hotels Near Zion
Springdale is the closest city to Zion National Park it has many hotels, restaurants and tourist shops. There is also a free shuttle service that runs from Springdale into the park so it's a great place to stay if you want to get around without worrying about your car. Zion has limited parking, and if you don't arrive early chances are good that you'll need to park in Springdale anyways.
We recommend booking a hotel in Springdale if that's how you choose to vacation.
Continue Reading:
The post Camping In And Around Zion National Park appeared first on Parked In Paradise.