Yosemite National Park is one of the most popular parks in America. It's no secret that it's on nearly everyone's bucket list. Spanning nearly 1,200 square miles Yosemite is huge! So it's a good idea to do a little research first and decide how you want to tackle the adventure.
Winter in the mountains brings a number of seasonal road closures to be aware of. There are also height restrictions to drive through many of the tunnels that can block access for RV campers and large travel trailers. In this post we're going to cover the best time of year to visit Yosemite, how to get there, and how to get around.
The Best Season To Visit Yosemite National Park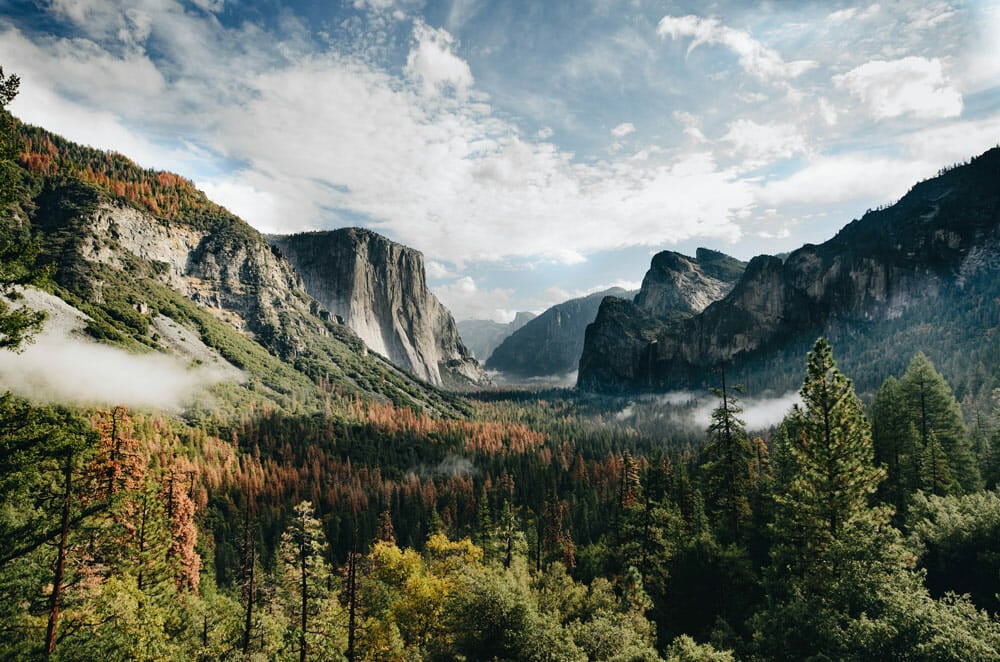 Visiting in Spring
Yosemite is famous for its waterfalls. During the spring (April and May) the remaining snow is melting fast and water flow is at its peak. The wildflowers will be will be in full bloom. And if you get there early enough, you might just miss the summer rush.
Visiting Yosemite in spring will give you the best chance to see wildlife, and the most ferocious waterfall displays.
Visiting in Summer
Summer is of course, the most popular season for visiting Yosemite. If you visit during this time expect big crowds. Nevertheless, it's a large park – and if you visit the lesser known areas like the east and far north sides, you're still going to be in for a treat.
Pack the water because temperatures in mid-summer to push into the 90s. Arrive early to avoid the biggest traffic jams and secure your parking spot.

Visiting in Fall
Autumn is significantly less crowded than the summer months. Especially if you can wait until after Labor day. While the waterfalls will have considerably less water than the spring, you'll get cooler temperatures.
The leaves begin changing colors in in September and October. Visiting Yosemite in Fall can be one of the most picturesque times of the year. If you're into photography or drawing, the changing leaves will really make your pictures pop.
Visiting in Winter
Winter is the least popular time to visit Yosemite. There are considerably less crowds, and some of the roads and amenities will be shut down for the season. If you're new to the area, you might be surprised to know that Yosemite has its own ski area and lifts. You can spend the night at the park lodge then hit the slopes for skiing, snowboarding and sledding fun.
If you're lucky, during the last two weeks of February you can witness Yosemite's famous Firefall. When the sunset hits Horsetail waterfall just right, the whole thing bursts into color. Illuminated in red and orange the waterfall transforms into a spectacular "wall of fire." You can view it from many different angles when it occurs.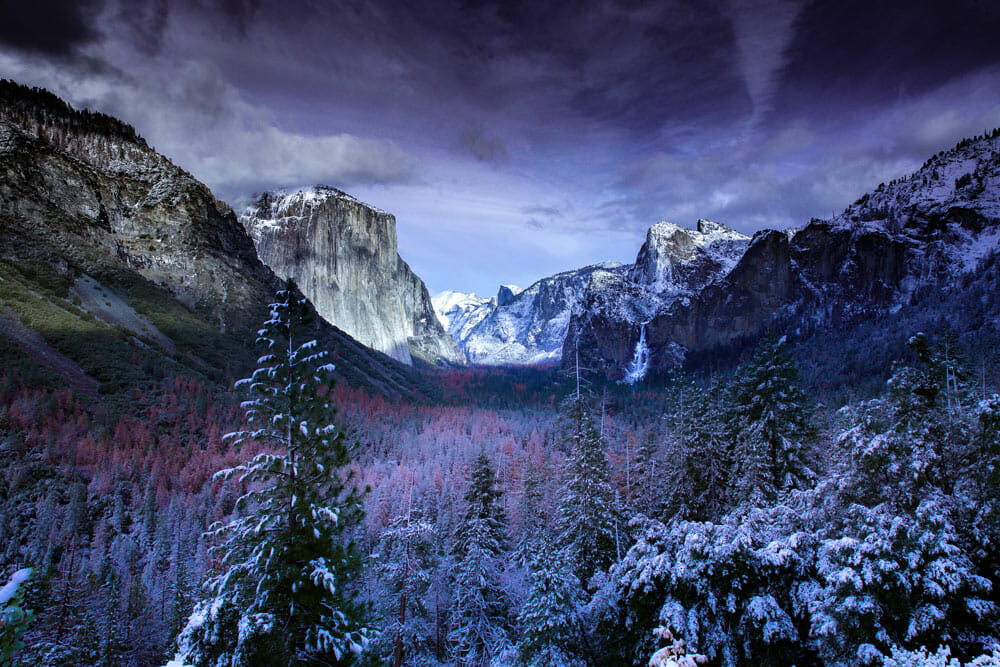 Seasonal Closures
A big thing you need to keep in mind when visiting any National Park is seasonal closures. The park service will close certain roads, campgrounds, and buildings throughout the year when they become icy or impassable. While it's not possible to predict exact closure dates we can look at past data to get an average of when roads will be closed. In Yosemite, the three main road closures to be aware of are:
Tioga Road (typically closed November – May)
Glacier Point (typically closed November – April or May)
Mariposa Grove (occasional closures in winter)
Tioga Road: Runs from the east entrance of Tioga Pass past the Tuolumne Meadows into Yosemite Valley. The road is closed every year due to snow and slippery conditions. The east end of Yosemite is the least visited area of the park. In fact, you won't even be able to get into the east entrance during the winter.
Glacier Point Road: Leads to a high viewpoint overlooking Yosemite Valley. Heavy snows and high altitude keeps this area impassable every winter.
Mariposa Grove Road: This is located on the far south end of the park right as you enter through Fish Camp. It is a short road that sidetracks off to the Mariposa Grove hiking trails. This road is not closed every year, only when weather is especially bad. Mariposa road closures will not prevent you from driving from the South Entrance into Yosemite Valley.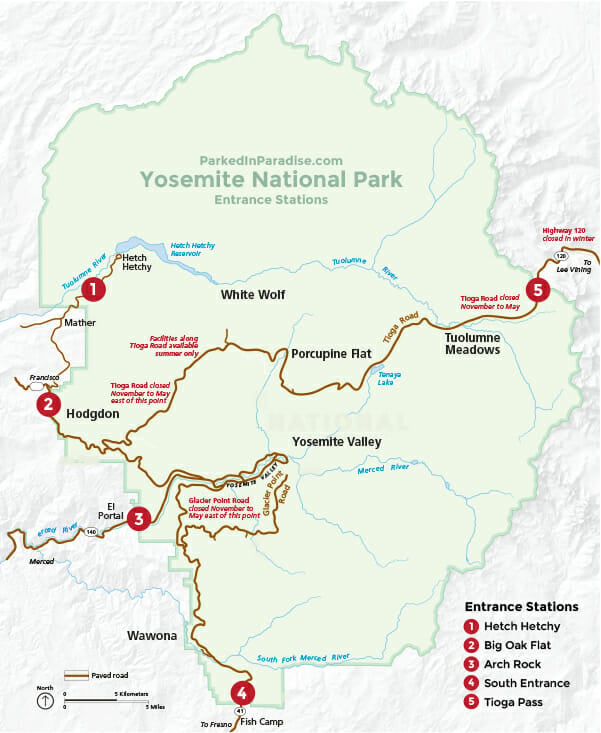 Getting To Yosemite
There are five park entrances to Yosemite National Park:
Hetch Hetchy Entrance (open year-round, limited hours in winter)
Big Oak Flat Entrance (open year-round)
Arch Rock Entrance (open year-round)
South Entrance (open year-round)
Tioga Pass Entrance (closed ~November-May)
1. Hetch Hetchy Entrance (West Side – Northernmost Entrance)
Perhaps the least visited entrance is Hetch Hetchy. It is the north most entrance on the west side of the park. While the entrance is open year round, the hours are limited during the winter to daylight only. There are no visitor centers or campgrounds with full services located here.
Drive highway 120 north past the Big Oak Flat Entrance Station
(Open in maps)
This is a remote entrance. Most visitors use Hetch Hetchy as a starting point for secluded hikes, fishing or backpacking. It's trails have the longest hiking season in the park and are filled with wildflowers and waterfalls.
RV and Trailer Restrictions
There is a max vehicle length of 25 feet on Hetch Hetchy road. There is also a max width (mirror to mirror) of 8 feet. If you have an RV or trailer use the Big Flat Oak or the Arch Rock Entrance instead!
Most Popular Destinations from the Hetch Hetchy Entrance:
2. Big Oak Flat Entrance (West Side)
Big Oak Flat and Arch Rock are the most popular entrances from the west side. You can get here directly from San Francisco which is only about 4 hours away.
Drive highway 120 east (Manteca) to get into Yosemite through the Big Oak Flat Entrance
(Open in maps)
The entrance is open year-round but chains might be required in winter. From Big Oak Flat you're looking at roughly a 45 minute drive into Yosemite Valley. There is a gas station located outside of the park in Groveland, about 25 miles from the entrance.
RV and Trailer Height Restrictions
Big Oak Flat road has a tunnel with a height restriction of 13 feet 8 inches to get into the valley and 10 feet 3 inches to get out.
That means if you bring a vehicle 12 feet tall on the way in, you'll have to exit the valley through either Arch Rock or the South Entrance. There is also a max vehicle length of 45 feet in the tunnel.
Popular Trails To Hike From Big Oak Flat in the White Wolf Area:
3. Arch Rock Entrance (West Side)
The Arch Rock Entrance is easily accessible if you're coming from the west. San Francisco is about 4 hours away from here. Entering through Arch Rock is the fastest way to get to Yosemite Valley from outside the park. It is about a 25 minute drive from point to point.
Take highway 140 east (Merced) to get to the Arch Rock Entrance
(Open in maps)
This entrance is open year-round but chains may be required in winter. The closest gas station is right outside the park in the small town of El Portal.
RV and Trailer Height Restrictions
El Portal road from the arch rock entrance has a tunnel with a height restriction of 12 feet 10 inches and a max vehicle length of 45 feet (single vehicle), 60 feet (combination vehicle), 35 feet (towed vehicle – hitch to bumper).
Most Popular Views Close to the Arch Rock Entrance:

4. South Entrance
The South Entrance to Yosemite National Park is open year-round and will be the closest way in if you're coming from San Diego (8 hours) or Los Angeles (6 hours).
Enter the South Entrance from highway 41 north (Fresno) into Yosemite.
(Open in maps)
From the South Entrance it is approximately a 1 hour drive to Yosemite Valley. You can stop to purchase gas at Fish Camp, right before entering the park.
The main visitor center from this end is Wawona. However, it is only open during the summer months. Throughout the winter, you can take the south entrance right into Yosemite valley and enjoy sights like Inspiration point along the way.
Chains may be required during the winter months depending on weather.
RV and Trailer Height Restrictions
The tunnel into Yosemite Valley from Wawona road has a max height of 10 feet 2 inches to get into the valley and 13 feet 6 inches to get out. There is a max vehicle length of 45 feet.
Most Popular Trails on the South End of Yosemite
Some of the most popular hikes and attractions on the south side of the park are:
5. Tioga Pass Entrance (East Side)
Tioga Pass is the only entrance located on the east side of Yosemite. You'll have easy access to the park from this direction if you're traveling from Reno (5 hours), Las Vegas (6 hours), or Death Valley (4 hours).
To get to the Tioga entrance take US 395 to Lee Vinning (gas station), then take Highway 120 west into Yosemite National Park.
(Open in maps)
The Tioga pass entrance is closed throughout the winter depending on snow conditions (often November-May) and most facilities on the Tioga road are closed in the winter as well.
The sheer size of Yosemite is hard to comprehend until you get there. If you're coming from the east side, it's important to know that the drive from Tioga Pass to Yosemite Valley is about 1hr 45min.
Make sure you leave yourself plenty of gas. The scenery offers breathtaking views, but facilities are far and few between. Cell phone service is spotty or non-existent during the drive.
RV and Trailer Advice
Tioga pass is a steep and winding mountain road. While there are no height restrictions, if you have a large vehicle or you are towing a trailer this is not an entrance to be taken lightly. Especially in bad weather.
Main tunnels within the park are restricted to vehicles under 45 feet and some roads such as Mariposa Grove and Glacier point further restrict these limits to under 25 and 30 feet respectively.
Be sure to use pull outs frequently to avoid overheating the vehicle. Know your towing capacity before you go. This pass ascends as much as 8% in some areas. There is no overnight parking on Tioga road after mid-October until the road re-opens in the spring.
Most Popular Trails on the East Side of Yosemite
There is one visitor center on this side of the park, Tuolumne Meadows. The most popular hikes and sights in this area are:
Entrance Fees
There is an entrance fee to get into Yosemite. For a car, pickup, RV or van the cost is $35 per vehicle for a 7 day pass. An annual pass to Yosemite costs $70 and there are further discounts for seniors, military, and residents with disabilities.
That said, we HIGHLY recommend purchasing an America the Beautiful National Parks Pass. The cost is $80 and gives you one year of entry to every National Park in the US!
This is a fantastic deal and will pay off in just 2-3 visits depending on the park.
Bus Services Into Yosemite
Included in your Yosemite entrance fee is access to the YARTS hikers buses. These buses run from outside the park to the visitor centers and trailheads inside; then back again.
If you don't already have a parks pass, bus tickets range from ~$15-$30 round trip.
You can catch a bus at the main station on Highway 140 year-round. In the summer, buses also run from Highway 120 East, Highway 120 North, and Highway 41 (Fresno). You can reserve and pre-purchase bus tickets here.
Fee-based Tours
There are four bus tours you can take beginning in Yosemite Valley. All of these are fee-based and run seasonally. If you're visiting Yosemite for just a few days, this is a great way to take in many parts of the park without excessive planning.
Valley Floor Tour (2 hours, year-round)
Glacier Point Tour (4 hours to Glacier Point and back)
Grand Tour (8 hours, Yosemite Valley, Glacier Point, Mariposa Grove)
Tuolumne Meadows (8 hours, Tuolumne Meadows and back)
These tours make stops at the most picturesque locations and give you cool facts along the way. They are great for people with limited mobility or those who want to drive through all the sights without the hassle of a car.
Auto Touring Yosemite
If you do choose to bring your own vehicle, one really fun and easy experience to have is listening to an auto tour during the drive. That's especially true if you're coming in through Tioga Pass which is a long route to the valley.
You can purchase an audio tour at the Yosemite bookstores and visitor centers. There are a few different tracks you can listen to depending on the routes you take. The tapes describe the geography and scenery you're looking at while you travel along.
Additional Resources
Yosemite is a big place with that offers something to everyone. It's impossible to cover all of the things to do and places of interest you can experience. If you're serious about getting the most out of your Yosemite visit here there are many books and guides to check out. Happy travels!
The post Best Time To Visit Yosemite National Park appeared first on Parked In Paradise.