Modular camper van designs are becoming so popular these days they're practically standard, as we've seen with the CargoClips modular camper van interior and the PlugVan voice-controlled camping module to name a few. However California-based company Happier Camper has come out with something totally new and innovative that doesn't rely on the typical floor rails or D-rings as most modular layouts do. Instead, they've taken an idea from their retro HC1 camping trailer which uses a grooved floor to which modular cubes can be attached and applied it to a camper van, allowing the possibility to create sleeping and living arrangements for up to five people- think camper van-sized Lego set.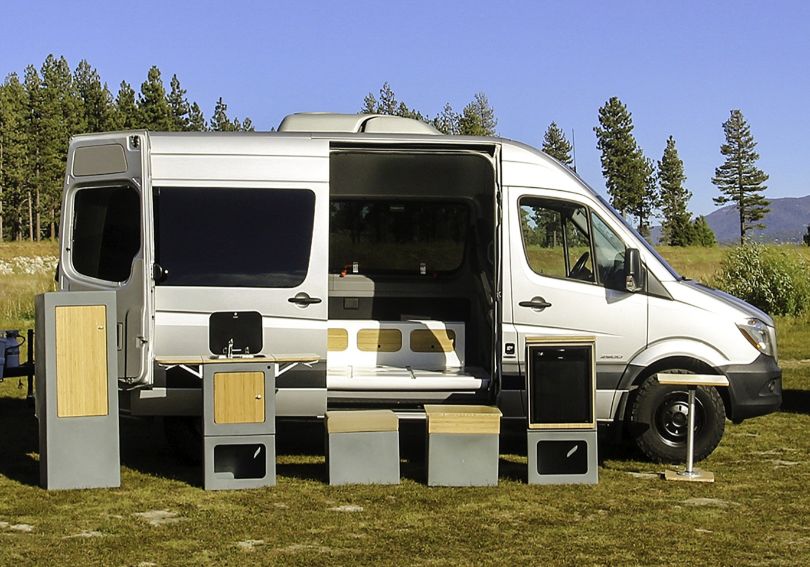 The basis of this ultra-versatile system is Happier Camper's unique floor, which is made of a 1.5" thick honeycomb fiberglass construction that is both light and super strong at the same time. This floor is fitted into a camper van in the form of a 3 x 6 grid of tiles, at least in the case of a Mercedes Sprinter 144 which Happier Camper used as a prototype for their design. The fiberglass floor has grooves embedded in it to which the modules can be fitted simply by pressing them down into place, just like jumbo-sized lego pieces. The floor also comes with frame-mounted D-ring tie-downs for hauling gear, and a front drain which allows the floor to be easily hosed down, making the switch from camper to cargo van a breeze.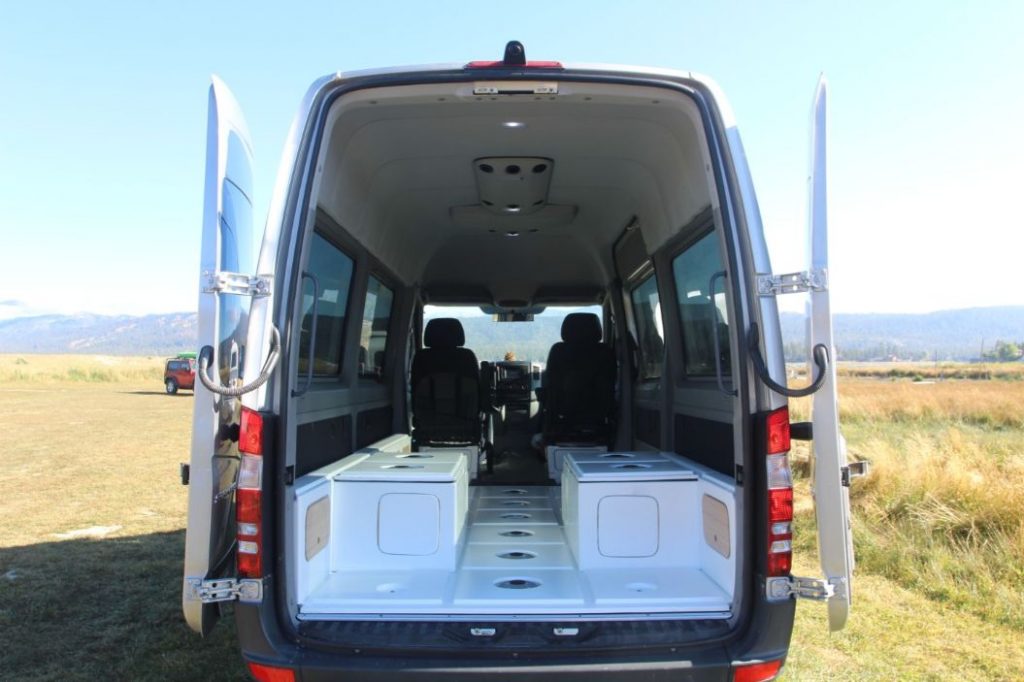 The modules that attach to the inside of the van are cubes constructed of a durable folded plastic which allows them to securely snap together. A variety of different things can then be added to transform the purpose of the cube, such as premium cushions, table-tops, counter-tops, lids and doors, all of which are crafted from a material called Lite-Ply, which is 55% lighter than regular plywood.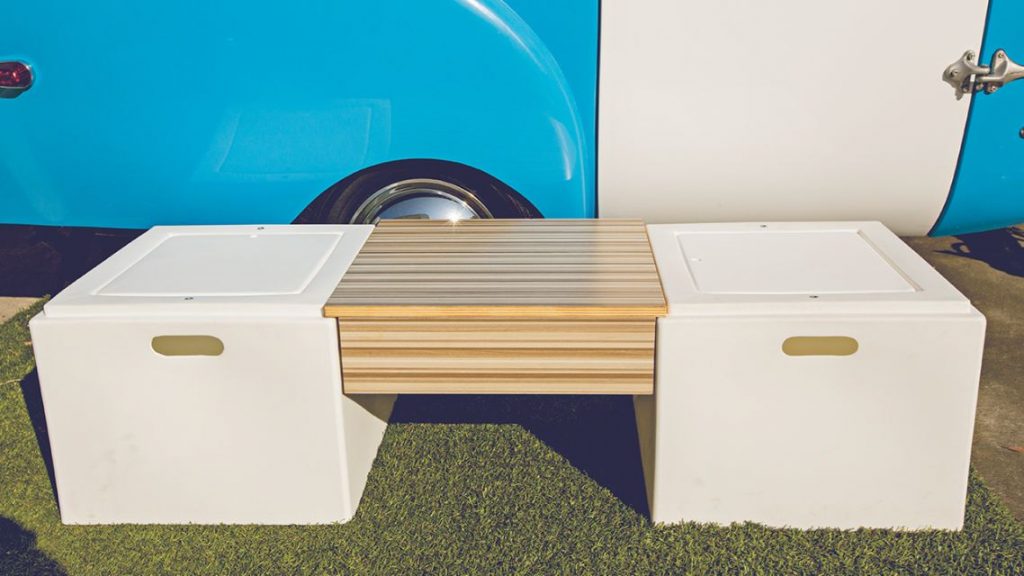 Carpeted floor panels can also be added in place of a rug, and locking hardware can be added to secure the boxes to fiberglass walls. Additionally, the furniture can be used either indoors or out, as all of the components are all made of rugged, durable materials.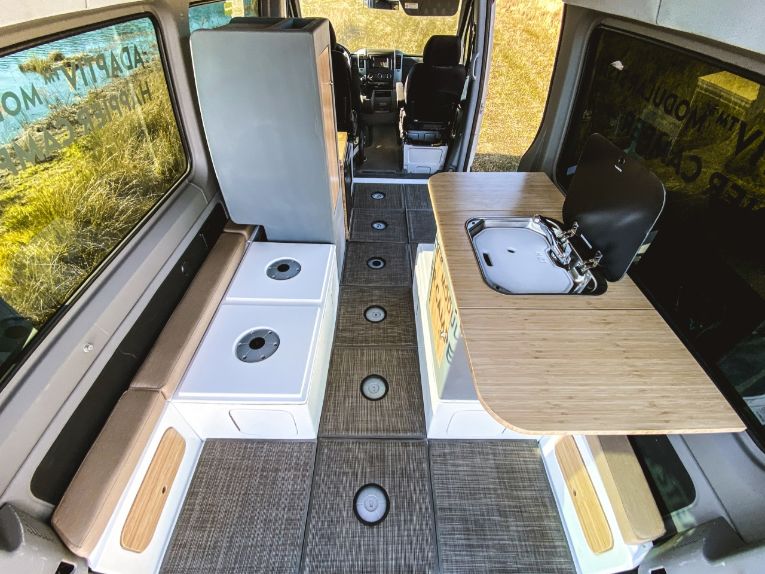 Happier Camper offers a whole range of available components to customize the living space, everything from cushions to benches to wooden countertops to nesting tabletops. You can add in a cool box and kitchenette cube with an electrically-pumped sink to create a kitchen, or go one better with the deluxe kitchen option that has a pull-out fridge and stove as well as the sink.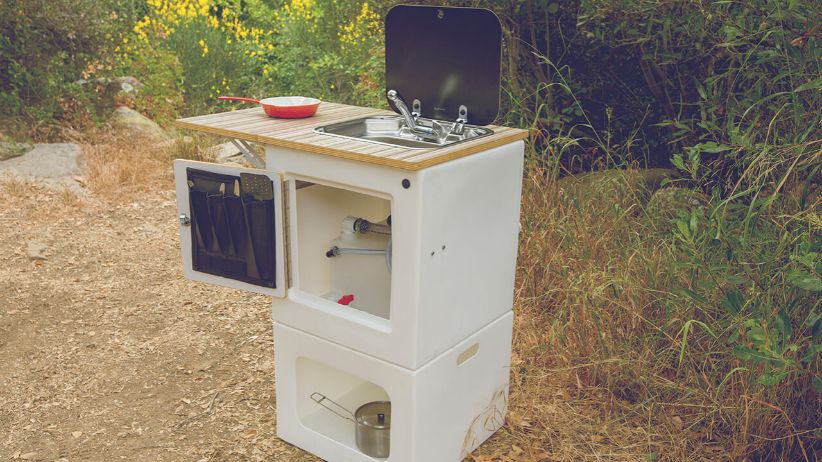 Better yet you can position this kitchen anywhere you want within the van; you could construct a huge cooking space along one side of the van, or move it to the rear if you want to cook with a view out of the back doors. You could add in a toilet cover compartment to stow a portable toilet, a trifold flat cushion to create an extra single bed, build two double beds, or you could go all out and convert the entire van into one giant bed to sleep the whole family.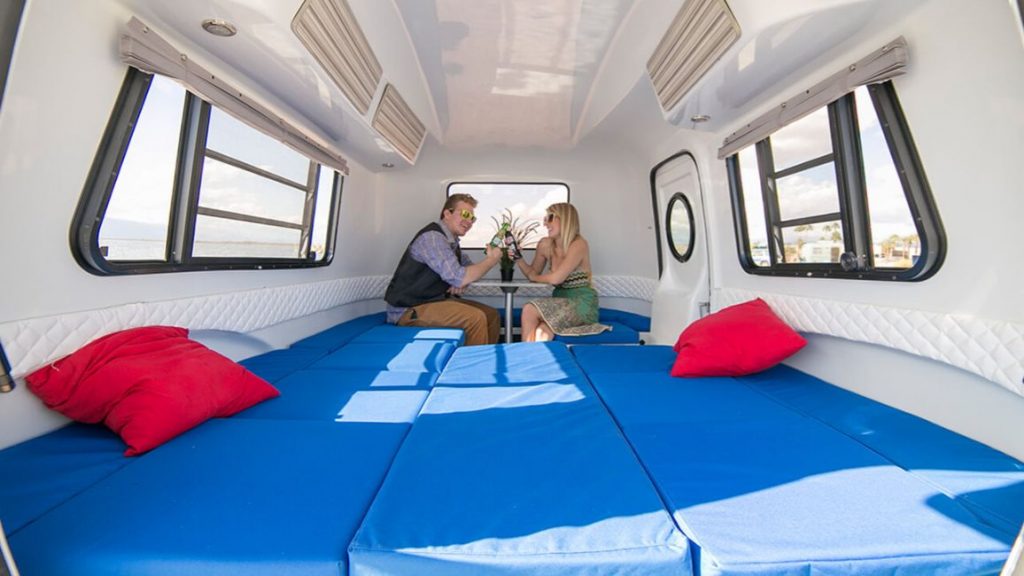 The possibilities seem endless; you could convert the van from a living space into a mobile office, then into a sales space or a mini toy hauler, as easily as lifting the modules out or fitting them back in.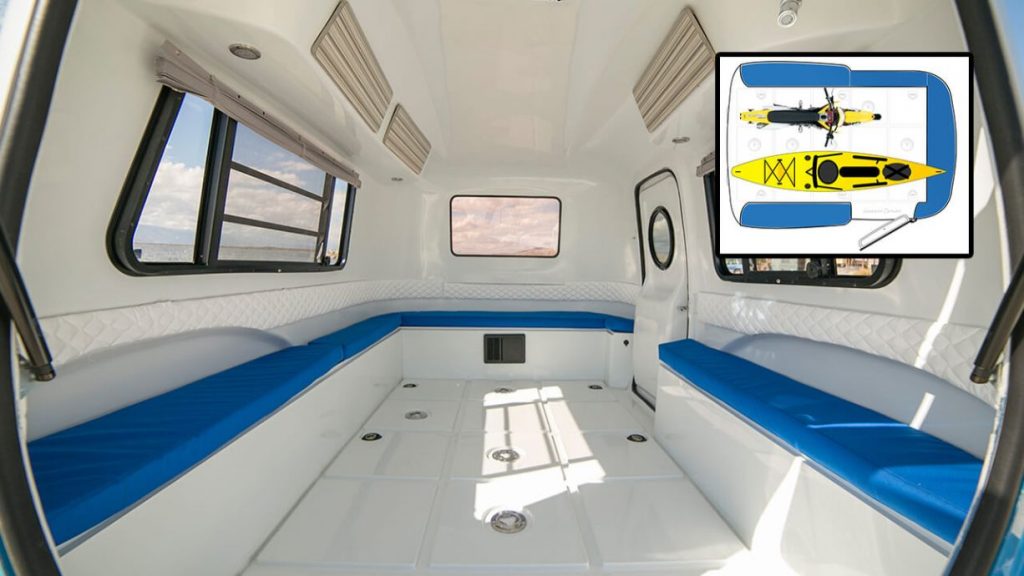 The only slight flaw in this design is that the van is only capable of seating two and it doesn't seem Happier Camper has any plans to add in extra belted seats, so although the camper can sleep a family of five they won't be traveling with you. Additionally, a shower module would've been a great addition in such a sizeable van, although with each of the components being removable the addition of fixed plumbing would make this a difficult feature to add.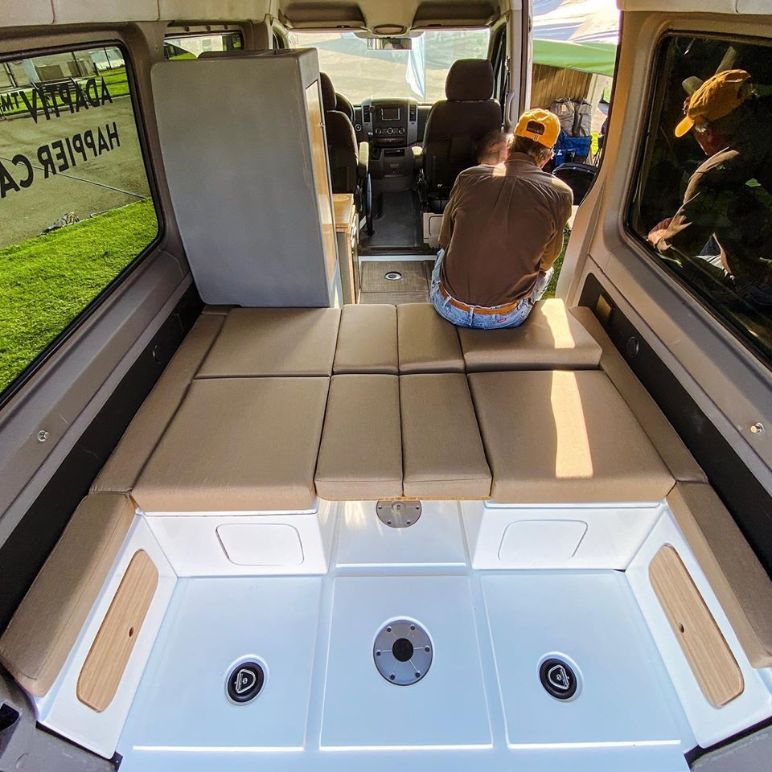 The Adaptive modular system is expected to retail for under $10k, which includes a floor grid, three benches and two wheel arch boxes, making it a very affordable method of converting a van. Happier Camper will also be offering a deluxe package including a toilet, kitchen, fridge, cooler and sleeping and dining arrangements for four, and they have also mentioned they will be branching out into kits for other types of van.
This system is not only one of the most exciting modular van conversion options we've seen this year, but also one of the simplest and most effective designs, making camper van living easy and affordable to just about everyone.
Source: Happier Camper
The post Happier Camper Adapts Lego-Style Modular Kit To Fit Mercedes Sprinter Vans appeared first on Outbound Living.