A glimpse of the future, one of the most exciting campers to be revealed at the 2019 Düsseldorf Caravan Salon was this futuristic, otherworldly Mercedes Sprinter creation by Hymer. Designed with adventurous couples in mind, and drawing inspiration from custom DIY camper conversions, tiny homes and even yachts, the VisionVenture really pushes the boundaries of camper van design with the aim of inspiring the next generation of digital nomads to get out and explore in comfort and style.
At the base of it all, this is no ordinary Sprinter van, as Hymer has reworked the front end and cab area to create an altogether more streamlined and contoured design by adjusting the A pillars, shortening and the hood and pushing the windshield forward. The result is something more reminiscent of an overlander, sitting on chunky all-terrain tires and boasting an LED lightbar and daytime running lights as well as a 4×4 system ready to take on any terrain.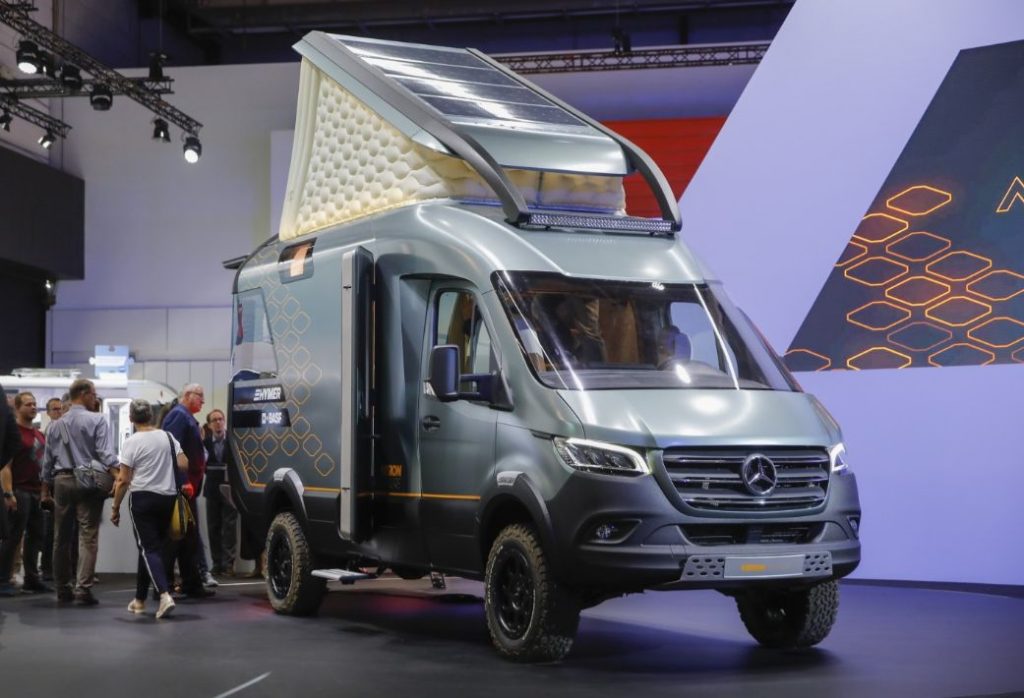 And we do mean any terrain, as the van is sprayed with cutting edge award-winning BASF Chromacool paint, which lowers the exterior temperature by -20ºC and the interior temperature by -4ºC (F), making it perfect for roving desert climates. Even more futuristic perhaps, are the van's 3D-printed fenders and other select components of the bodywork, designed to save both weight and production time. Finally, it also comes equipped with skid plates, bead-lock style wheels and roof-mounted solar panels to enhance off-grid adventures.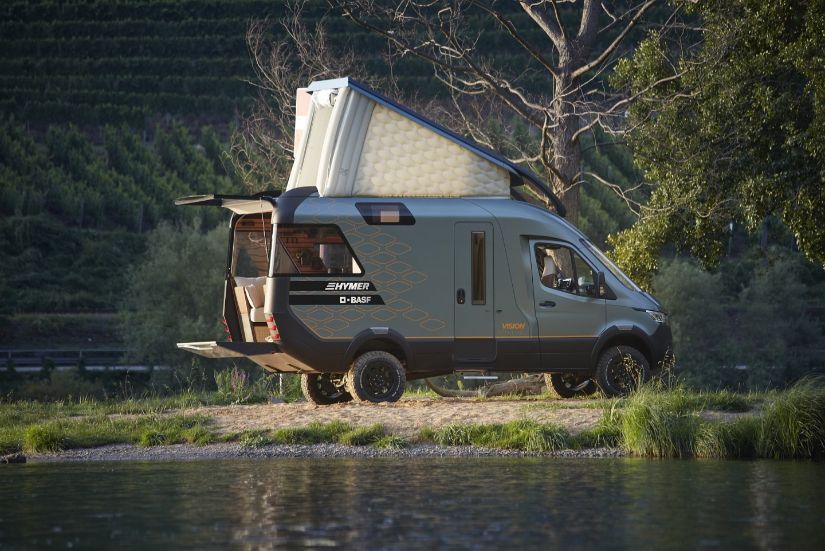 The interior however is a world away from the van's rugged exterior, featuring a tiny-home inspired layout crafted with warm, natural materials like felt, bamboo and leather. A narrow staircase flush with the wall dominates one side of the van, further adding to the feel of a tiny house, covered in leather with wooden lidded storage steps and under-stair drawers. While the staircase does take up space it actually utilizes this space well for storage, with the kitchen unit also integrated into the back of the staircase.
These stairs lead up to a double mezzanine-style bed housed inside the van's pop-up roof, which is supported by pneumatic struts and surrounded by distinctive inflatable baffles for protection. A flat section of the roof serves as a balcony, with a large viewing window overlooking the head of the bed creating the illusion of being in an apartment. The bed sleeps two and the mattress sits on comfortable spring-loaded slats.
Moving back downstairs you'll find the most photogenic rear lounge we think we've ever seen inside a van, with two comfortable sofas facing each other surrounded by panoramic wraparound windows and a clever tailgate design which opens in two parts; the upper part is made of glass for uninterrupted views of your park up, while the lower half folds down to create a wooden deck. As if this wasn't cool enough, Hymer has also added in a slide-out electric grill with prep station for those balmy evening BBQs.
A folding dining table retracts below the passenger-side bench when not in use, and the walls are cladded in matching wood which allows for securing of equipment like tools or BBQ utensils, or even just decorative items like plants and photos. All in all Hymer has succeeded in creating a really comfortable, airy modern space which perfectly frames those Instagram-worthy landscapes.
Immediately next to the lounge is the ultra-modern kitchen block which features a flush cooktop, a sink below a stylish wall-mounted tap, a yacht-style refrigerator drawer and under-counter storage with a removable dish and cutlery storage basket.
One of the smartest design elements of this van is the wet room, featuring a transforming foldable wall allowing the toilet and sink to be totally separated from the shower area, which expands in size to create a stunning rainfall shower. The wet room itself looks more like something you'd find in a penthouse apartment, just a bit narrower, with BASF Veneo slate-covered walls cut razor thin to reduce their weight and complete with a vanity sink unit and toilet. The front wall is a concertina, allowing it to be pulled out and unfolded to create the angular extra room.
With the aim of appealing to the digital nomad, Hymer has included a dedicated office space at the front of the van, created by swiveling the passenger seat and dropping a laptop desk down from the wall. Having a separate workspace inside a van can be a lifesaver for couples, and this one even includes a pinboard, LED lamp and electrical outlets.
So Hymer has created the ultimate modern, high-tech, photogenic camper van- what's the catch? Well much to the dismay of just about everyone, the VisionVenture sadly is just a concept van, although it's been making waves in the industry since its unveiling and contains many features we'd like to see in future van conversions. 
While this particular model may never make it to the production line, Hymer has stated that the concept solutions they've devised will be used in future production vehicles. If this van is a glimpse of what the future of van conversions holds then it's safe to say we're feeling pretty excited.
Source and image credits: Erwin Hymer Group
The post Hymer Unveils Futuristic Tiny House-Style Camper Made For Adventurous Couples appeared first on Outbound Living.