From a company that specializes in building off-road motorhomes, 4×4 buses and Utes designed for transporting passengers to mines in the farthest corners of Australia comes a smaller, less extreme but by no means less capable camper van conversion.
Bus 4×4 is a Brisbane-based company who has set their sights on remodeling the van that most epitomises the vanlife movement in Australia: the Toyota Hiace. They've taken the Commuter model and added in a hefty 4×4 conversion kit borrowed from a Toyota Prado and extended the interior space far beyond what was previously thought possible for such a compact van by adding in a nifty rear tailgate tent.
To begin with Bus 4×4 take a super long wheelbase 2013 Toyota Commuter as their base van, which comes with a 4 cylinder turbo Diesel engine that can deliver 134bhp and a choice of a 4 speed automatic or 5 speed manual gearbox.
Its raised fiberglass roof offers plenty of headroom for campers, and its 105L fuel tank will store enough fuel to get you a fair way across some of Australia's remote, empty regions.
Then Bus 4×4 added in a seriously tasty range of off-roading extras, beginning with the electronic transfer case from a Toyota Prado which offers high and low ranges for greater traction control. They raise the ride height by 110mm (4.3"), add in a limited slip differential with rear diff lock, an independent front end for improved ride and turning circle, and throw on an external conversion kit which includes a manual or electric Dometic awning, bull bar, snorkel and tow bar capable of pulling up to 2,000kg (4,410lbs).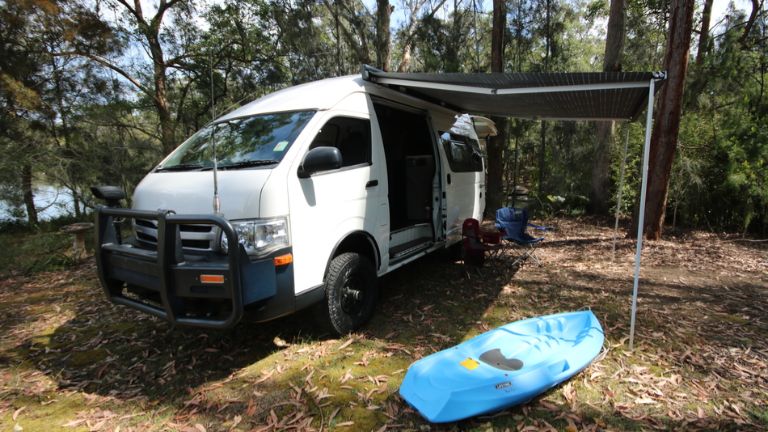 This van was built to cross the harsh outback of Australia, but Bus 4×4 has also taken the time to consider comfort as well as ability.
Building this conversion on a super long wheelbase has given them enough room to play with to fit in a bedroom, front lounge, kitchenette and shower, but this was only possible with the extendable tailgate which allowed them to push the bed to the back to create more living space. The rear tent deploys from inside the tailgate with the help of quick release locks and buckles, and deploys or folds away in just a couple of minutes. The bed then drops out of the rear and two pop-out bedside tables complete the sleeping space.
Ordinarily it would be more common to see vehicles with side extensions, but this clever design works perfectly in such a small van to create a comfortable sized living space and a surprisingly light and modern interior. The front lounge with sofa has a removable table, although it does not fold out to create an extra bed unlike a typical Hiace.
The kitchen is split in two with a double bench top, a two-burner gas or electric stove with aluminium splashback, a steel sink with glass lid, a 110L fridge/freezer, a microwave and storage.
A portable toilet and exterior shower hook up make up the bathroom of sorts, although an optional recessed shower is available too depending on space constraints. The water is fed from a 59L water tank with pump.
This Commuter camper van is also filled with tech and entertainment options like a TV/DVD player, stereo and speakers, LED cabin and interior lights and a roof hatch with 12V fan, all powered by the van's 150W solar panels and house batteries complete with charger and battery management system. The batteries can be monitored by the user too, with an integrated control monitor that also lets them keep an eye on the tank's water levels at the same time.
A few extra options available include camper van windows, all-terrain tyres, a UHF/VHF radio system and cruise control, all of which would add to the comfort and safety of the van during those long drives down dusty outback roads.
The Toyota Hiace Commuter from Bus 4×4 is built to order, and prices start at $115,000 AUS ($77,777 U.S.) for the full exterior conversion and 4×4 equipment, although this doesn't include the interior conversion. Their 4×4 conversion kits alone start out at a rather more affordable $45,000 AUS ($30,434 U.S.).
They do export their vehicles globally, although seeing as they were designed specifically for the tests and trials of the outback it would seem a bit of a shame to take this mighty minivan out of its homeland Australia.
Source and image credits: Bus 4×4
The post Bus 4×4 Turn Australia's Favorite Van Into An Extendable Outback Vehicle appeared first on Outbound Living.