Back in March, you might remember seeing Volkswagen's update to their beloved Multivan, bringing the Transporter into the 21st century with an all-electric powertrain and digital cockpit. Well, now the California is the latest to receive a facelift in Volkswagen's crusade to update their entire line of Transporters, with an improved living space and a fully modernized cab.
Earlier this month Volkswagen released a set of concept images for the updated California 6.1, teasing us with its refined styling and fully digitized dashboard, the first of its kind to receive the digital update. It was unveiled at the recent Bauma 2019 show, although its official world premiere won't be until August 31st at the Caravan-Salon show in Düsseldorf.
The concept images show a sharper exterior styling, with H7 LED headlights and matching LED rear lights along with a bigger grille and new look alloy wheels, while the nose has received only a slight alteration in its shape.
The most significant upgrades however have taken place under the hood, where a 2.0L four-cylinder turbodiesel engine will sit, delivering 196bhp to the van's two front wheels. Most notably however is the shift from a hydraulically assisted power steering system to an electro-mechanical one. This will open up the possibility of a whole range of driver assistance systems, such as lane assist, park assist, trailer assist and side-wind compensation. There will also be the option to upgrade to 4MOTION all-wheel drive or a DSG dual-clutch gearbox.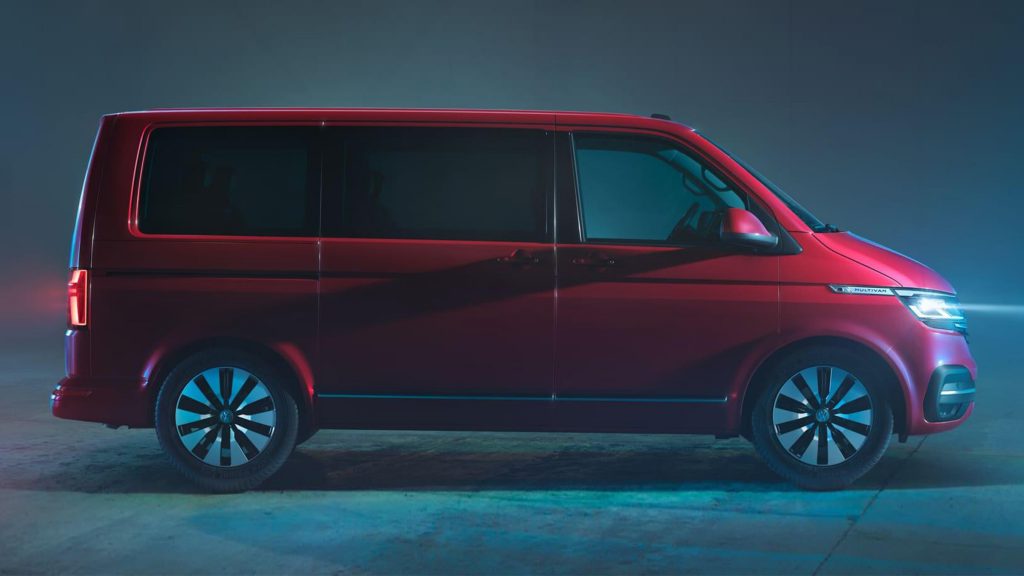 So what's new inside the van? Well, the California 6.1 will receive the same Digital Cockpit update as its little brother the Multivan, featuring clear, high contrast graphics and a full digital display, with the option to keep the more original analog instrument cluster of course.
The updated infotainment system will also come with an integrated eSIM to allow the van to connect to online services, such as internet radio and "Volkswagen We" services as well as an emergency automatic eCall system.
Volkswagen's 8" Discover Media and 9.2" Discover Pro systems have also been redesigned with a full glass overlay included, and 230V power and extra lockable storage have both been added to the cab. There's even the ability to increase the van's load length by an extra 40cm by adjusting the seats.
So far we have yet to glean any details from Volkswagen on the improvements they've made to the California's living space; all we have to go on is the below concept sketch, but it's anyone's guess what the handful of hyper-realistic walnuts are doing on the table. Aside from those the van seems to feature a typical Transporter rock n roll-style bed and compact kitchenette with sink, 2 burners and a fridge along one side.
So what's the catch? Well as with many of Volkswagen's vehicles the California 6.1 will not be available to purchase in the U.S., much to the disappointment of surfers and campers everywhere. Most of the details are being kept under wraps for now until the Düsseldorf caravan show starting August 30th, as is any idea of a price, so no doubt it will be unveiled after much eager anticipation from the dedicated world of Volkswagen lovers in just a few weeks' time.
Source and image credits: Volkswagen
The post Volkswagen Teases California 6.1 Facelift Edition appeared first on Outbound Living.