We're halfway through 2019 and so far this has been a year of many firsts: the first fully smartphone-controlled camping trailer, the first all-electric VW camper, and the first electric camper set to break a world speed record. Now, as tech companies seem set to haul us straight into the future faster than we can keep up with, we are seeing the premiere of the world's first EAV: the Electric Adventure Vehicle.
Think of electric vehicles and no doubt you will also be thinking about all of the gripes that come with them: the lack of range, the constant recharging, the lack of off-road capabilities. Well, start-up company Rivian is set to address all of these problems, by creating a 4-wheel drive adventure ready-vehicle that can sleep two people and store all of their gear, while providing a whole range of cutting edge technology to make the trail driving experience even more fun.
The RT1 electric truck was unveiled at last month's Overland Expo West, bursting onto the overlanding scene and challenging the boundaries and perceptions of America's best loved vehicle, the pick-up truck. It boasted an as-yet unbeatable 400 mile range, with 14,000Nm of grounded torque provided by the truck's 4 electric motors, topping the power out at 562kWh (750bhp) with a highly impressive 0-60mph in just 3 seconds- enough to rival most supercars.
But what you really want on the trails isn't speed, it's power, and this truck is bursting with it- 180kWh to be precise, with downgraded options of 135kWh and 105kWh battery packs available. Its 2.1T frame is capable of towing up to 11,000lbs (5,000kg) or carrying a 1,764lbs (800kg) payload, which will admittedly reduce its range, but with a quad drive system and a wading depth of up to 3ft this truck is looking like it could be the ultimate ecological off-road companion.
The RT1's four electric motors are stored below the wheels to create a low center of gravity for stability, and also more storage space in the cab.
Incredibly, this truck is also capable of "Level 3" self-driving on the road using a system of cameras, lidar, radar, ultrasonic and GPS, and an advanced algorithm actually learns your driving style to optimize battery charge and performance.
Outwardly, the Rivian RT1 still very much resembles a classic truck, apart from its oblong "stadium-shaped" headlights which give it a somewhat unusual face. The long bar between them is a large daytime running light which doubles as a charge indicator, turning green when the batteries are full.
The inside of the truck is crafted from sustainably sourced wood, using a range of colors and textures "inspired by nature", with premium utilitarian materials made for rugged daily use. It features a swish digital dashboard for simplified navigation and onboard entertainment with an otherwise minimal and modern interior.
However, the amount of storage it contains cements this truck firmly as a camper, as it features a 350L "gear tunnel", a 330L front trunk (as electric vehicles don't need engines), plus storage space for a full sized spare tire beneath the bed and additional lockable gear storage.
A flexible modular crossbar system is attached to the truck's exterior for fitting rooftop tents or carrying even more gear like kayaks or surfboards. There are 110V outlets fitted in the bed of the truck for outdoor charging, and even a handy air compressor for blowing up flat tires or bike wheels.
The entire truck bed is security protected, not only by the gear straps which are linked into the truck's digital architecture that will alert the owner should they be moved, but also by a built-in CCTV camera that is permanently pointed at the bed.
An optional slide-out kitchen can be fitted above the rear wheel and contains a sink hooked up to a 19L water tank, as well as a handy induction cooktop that runs off the truck's own battery system, and a small countertop for meal prep space. Rivian says that cooking on the stove and using the truck's built-in lighting system will only deplete the truck's batteries by 11% over an entire week, providing a clean, environmentally-friendly method of cooking in the outback and allowing for an extended period of living off the grid.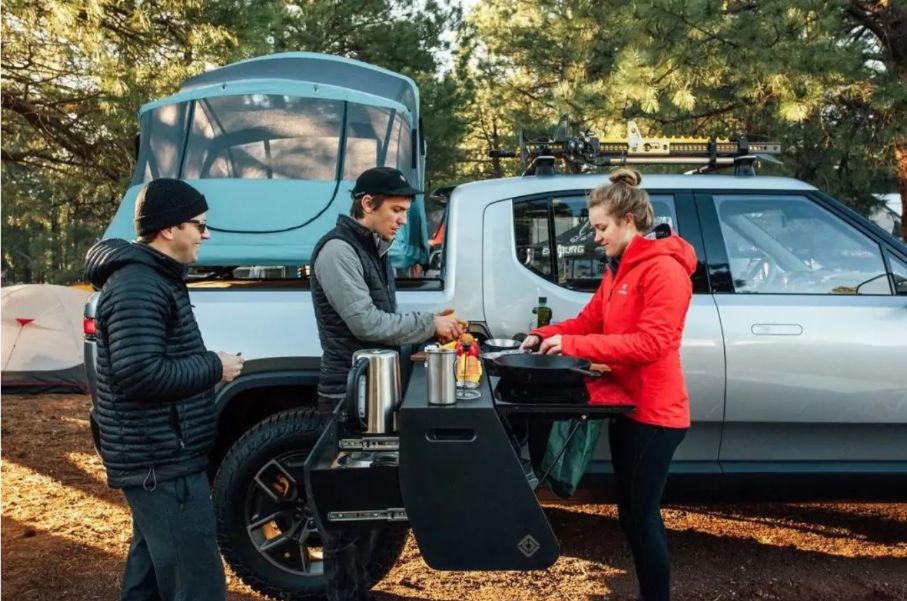 Everything about the Rivian RT1 seems ideal for the environmentally-conscious adventurer who wants to explore the wilds without polluting the very thing he or she loves most, however what is not so ideal about this truck is the price. Taking into account the vast amounts of new technology and ten years in the design phase, the RT1 is set to retail at $69,000 for the basic model, a figure that skyrockets up to $90,000 for the 400 mile range model, which fortunately is subject to a substantial Federal Tax rebate for the purchase of a zero emissions vehicle.
So despite being a very desirable truck it will not be available to your average Joe just yet as it hovers in the supercar price range, however production is set to begin in 2020, and in years to come as we move toward electric non-polluting vehicles the prices are sure to drop to a much more reasonable range. Until then, the Rivian RT1 sits firmly and proudly as the truck of the future.
Source and image credits: Rivian
The post Meet The Rivian RT1: The World's First Electric Adventure Vehicle appeared first on Outbound Living.