Back in 2017 Volkswagen revealed their state-of-the-art new concept van: the ID Buzz. It promised to be a family car, a gateway into affordable electric vehicles, and a showcase of new technology. Now, after much anticipation, Volkswagen has announced that it will be going into production in 2022.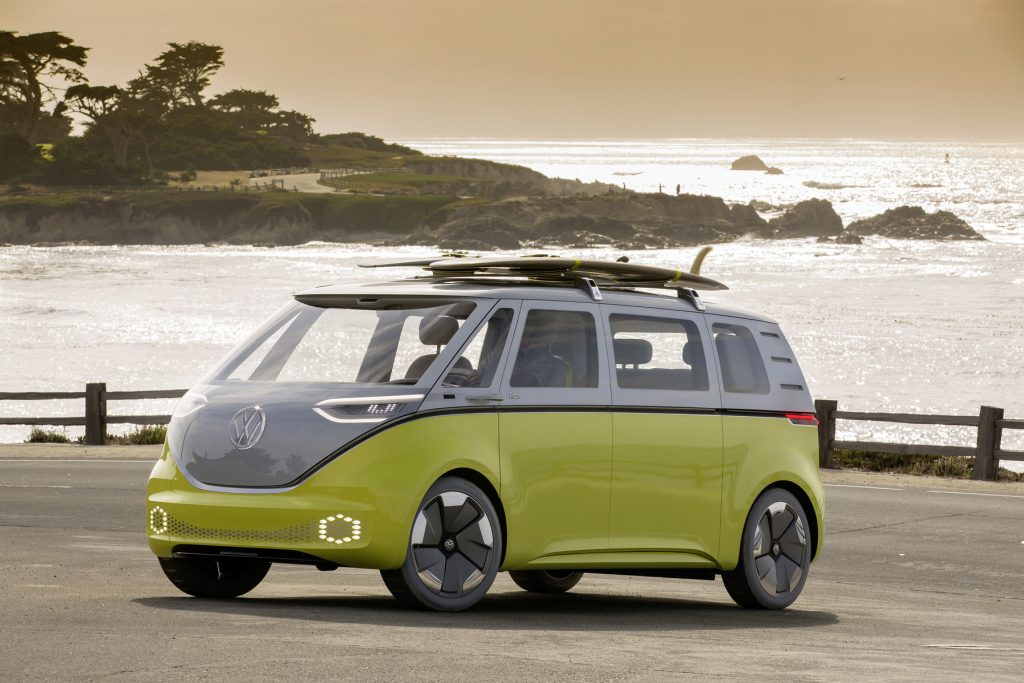 It would be impossible to talk about this latest and greatest Volkswagen camper van without first mentioning its predecessors. The iconic Type 2 was first produced in 1949, and rose to cultural symbol status in the 1960's when it was adopted by the hippie movement. Since then the Type 2 and its various successors -the T4, the T5, the T6- have continued to be a favorite amongst surfers, families and free-spirited travelers. It has been reimagined time and time again as the Microbus, the Bulli, and most recently the all-electric T6.1, but the ID Buzz seems set to make a big impact on the world of Volkswagen camper vans.
With a clear although futuristic resemblance to the original Type 2 in its stylings, and with a throwback to the original Type 1 the Volkswagen Beetle with its front boot for storage, Volkswagen is attempting not only to revive a cultural classic, but to breathe new life into it and make electric vehicles accessible to all, not just those with money.
The ID Buzz microbus will be fully electric and fully autonomous, capable of self-driving so the driver can enjoy spending time with their family as they cruise to their destination. That is if Volkswagen can get their autonomous driving system past legalization.
The van will be built on Volkswagen's MEC architecture (Modular Electric Drive), with a slightly extended wheelbase that creates space for batteries in the center while maintaining a flat and level floor space above the low, flat electric drivetrain. Electric motors will power each individual axle, and the van will be capable of fast charging to 80% in just 30 minutes at a 150kWh station.
Not that it will need charging very often, because the top-spec all wheel drive ID Buzz will have an astonishing estimated range of 373 miles (600km), topping every other electric van currently available on the market.
Its 111kWh battery pack makes this enormous driving range possible, and this combined with its automatic gearbox and powerful drivetrain will create some serious horsepower- 369bhp to be precise. The ID Buzz will reportedly be able to reach a top speed of 99mph, with a 0-60mph of just 5 seconds. Big talk, but Volkswagen seem confident they can deliver.
A cheaper, rear wheel drive version will be available too, fitted with a smaller 83kWh battery capable of delivering 269bhp with an approximately 200 mile range.
Either way the ID Buzz won't be lacking in power, and it certainly won't be lacking in style either with its retro two-tone paint, chunky 22" wheels and large panoramic roof window. Volkswagen is proud to showcase their variable space concept, meaning their van is totally modular as well as being able to seat six, with the seatbelts doubling as load-securing straps.
The technological side, however, is where things get fun.
Most obvious is the steering wheel, which is not actually shaped like a wheel at all, as it is designed to retract into the dashboard when the center is pressed to activate self-driving mode. It comes with an LED touchpad control, but in case that wasn't enough, there will also be a slidable center console with a built-in tablet.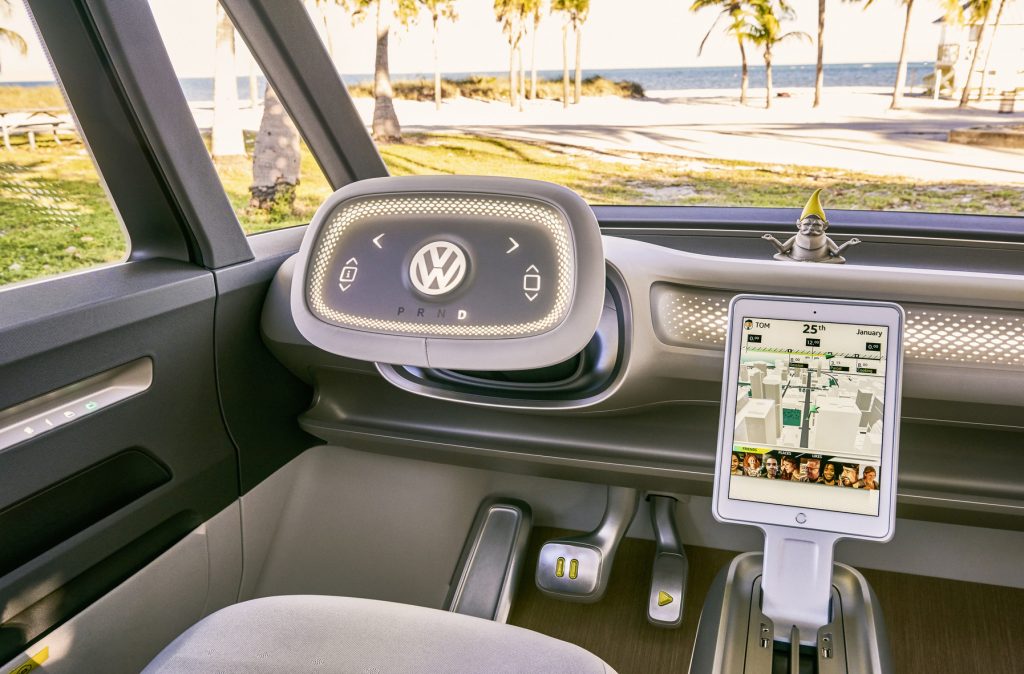 One of the coolest features Volkswagen has promised is their AR head-up display, which projects augmented reality directions straight onto the road in front of you as you drive, like a space-age SatNav. This technology will complement the van's video screen rear view mirror, HD displays and haptic feedback.
The ID Buzz will also give the owner a personalized greeting when entering the vehicle, and its electrically opening doors and tailgate, as well as electric swivel seats with retractable armrests, indicate that every inch of this van has been modernized in one way or another.
Perhaps the quirkiest feature of the van, however, is its electric LED "eyes" headlights, which give turn signals by "looking" left or right, as well as signaling at pedestrians or cyclists to warn them. We're not sure yet if this technology looks fun or just a bit creepy, but it certainly gives the ID Buzz a unique edge.
With its light-up VW badge sitting proudly upfront, a bright, chirpy paint color scheme and decorative front grille the ID Buzz looks positively alien, but represents the Volkswagen camper van of the not too distant future. Since a working prototype was created in 2017 this has been one of the most talked about and eagerly anticipated vans in recent years, and is expected to retail for around £50,000 ($63,351) upon its release in three years' time.
Source and image credits: Volkswagen
The post Volkswagen Announces All-Electric ID Buzz Camper Will Go Into Production appeared first on Outbound Living.