Forget caravans, camping trailers are the new way to add sleeping space to your van or RV, and this month's RVX show was full of them. The Trail Wagon by Chinook stood out in particular, a camping trailer designed to haul gear and vehicles up to the size of a Smart Car, and sleep an extra one or two people at night in a comfortable queen-sized bed, while being completely app-controlled.
Chinook Motor Coach was a huge name in the RV industry until 2005 when it closed down, but since then it has been bought out by entrepreneur Phil Rizzio and relaunched, these days focussing on luxury Mercedes Sprinter Class B vans.
To look at it, you could hardly tell the Trail Wagon wasn't built in a Mercedes factory, as its sleek paint job, frameless tinted windows and G-Load tires help it to match seamlessly with the van towing it.
The Trail Wagon is crafted from a fully bonded aluminum construction, covered in an aluminum skin bonded with structural adhesive. It sits on a 7,000lb axle and comes with electric rear stabilizing jacks, an electric tongue jack, hinged hood storage and a wireless camera system with interior and exterior cameras.
Dual entry steps and an industry first electric remote-controlled rear ramp door allow entry into the trailer, with LED lighting over the side and rear entrances. The ramp doubles as an outdoor deck, or provides access to the trailer's garage with the aid of an electric remote-controlled winch, capable of hauling up to 4,500lb on board. Once inside, your car, quad bike or petrol-powered gadget of choice can be secured using a track tie-down system and four 6,000lb D-rings embedded in the floor.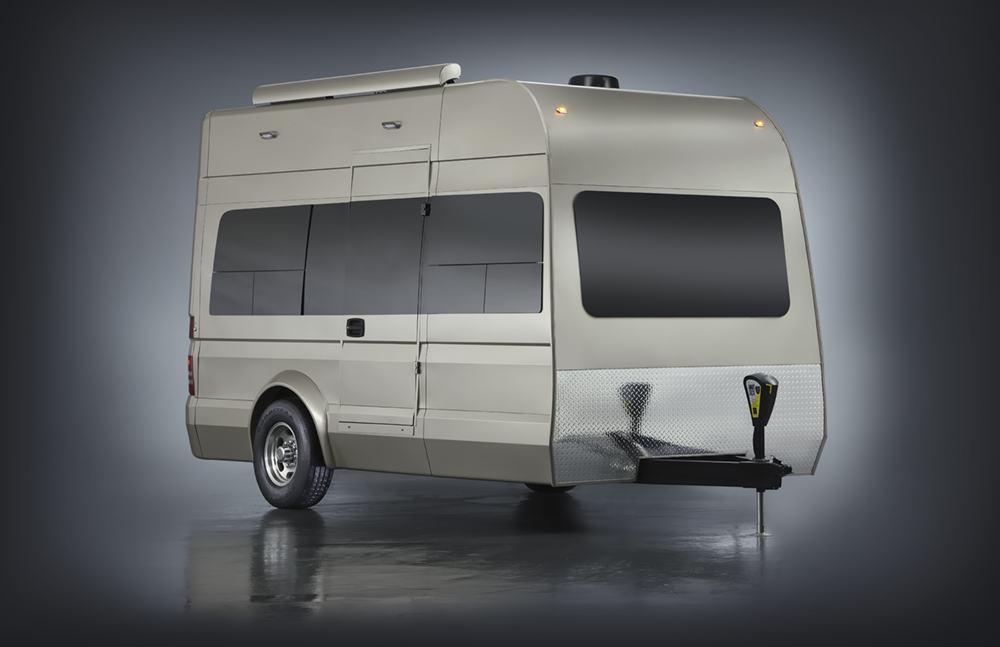 The interior of the Trail Wagon looks a bit clinical with metal checkerboard wall coverings and PVC Matt Square textured flooring, making it appear distinctly more garage-like than homely, however with EPS foam insulation in the walls and roof there's no denying this trailer is built for camping.
A queen-size bed is dropped down via an electric remote and converts into sofa seating during the day, with window shades and dimmable LED lighting for the nighttime; overhead storage compartments provide space for clothes or other belongings.
Solar prep for two 110W solar panels is included, although the panels are not, which can be used to charge four 6V 110amp house batteries, giving the user a whopping 440amps of power. As if that wasn't enough, the trailer can be connected to the van's main electric via a detachable 30amp power cord, and it comes equipped with remote battery posts for auxiliary jump starting.
Most every function in this high-tech trailer can be controlled via a smartphone app, or the built-in multiplex ASA in-command system with 7" display. However, the optional extras are where things get juicy. An entertainment package can be thrown in, with a Jensen Slimline stereo and 40W soundbar, a pop-up LCD TV, 50A inverter, solid surface countertop and a wifi and OTA onboard kit with 4G LTE just to name a few.
Your other options include an ARB air compressor, 8ft legless awning, a 15,000 BTU A/C with heat pump, app-controlled lighting, a 3 cu ft. refrigerator, 30-gallon onboard fuel tank, or a 6 drawer built-in toolbox, meaning the trailer can be customized to your needs exactly.
There's no doubt the Trail Wagon is one of the sleekest, most stylish cargo hauling options we've seen this year, with cutting edge remote app-controlled technology and space for an extra two campers making it wonderfully versatile.
Chinook is retailing these beauties for around $38,000 depending on your options, a fairly reasonable price for that all-important added sleeping and storage space. For a company that is now decades old, Chinook has come out with a camping accessory at the very forefront of new technology.
Source and image credits: Chinook RV
The post Stylish Car-Hauling Camping Trailer Is Fully Controlled Via Smartphone App appeared first on Outbound Living.