How did we install our windows?
When we started the conversion of our VW Crafter van, it was clear to us, that we need to install some windows as the advantages are obvious – ventilation and being able to enjoy the view.
Step 1
The planning process was to determine the place and size of the windows. Finally, we decided to install the windows in the front/side part of the van. More specifically, on the sliding door and the opposite site, where the kitchen and living room space is located. In regards to the size, we found that Seitz Dometic S4 Windows (450x900mm) are the perfect fit.
Step 2
Step 2 was to get started. First, we built a wooden frame, which is necessary to replace the lacking wall thickness of build-in windows. Our wooden frame is made of square-shaped timber and served two functions. First, it is adjusted to the frame of the windows, and second it served as stencil. The majority of vans have bars in this part of the body, which need to be removed. We used our self-made wooden as stencil and cut out the bars by using an angle grinder.
Step 3
Step 3 required precise work, a steady hand, and again our self-made wooden frame. We marked the place and size of the windows on the inside of the van and made sure that the markings are in the exact same position on the outside. After that, we used a metal drill to drill the corners so that these provide guidance for the jigsaw, which we used to cut the hole for the windows.
Step 4
Step 4 was the most important step for having long-lasting and sealed windows. After treating the surface with alcohol or brake cleaner, it is absolutely necessary to treat ALL cut edges with rust-proofing primer and subsequently sealing them with 2-components clear coat.
After the sealing was dried properly (at least 24 hours), the surface needed to be cleaned again and the wooden frame was glued to the body by using Sikaflex 252i. Additionally, we used screw clamps to hold frame in place for the next couple of hours.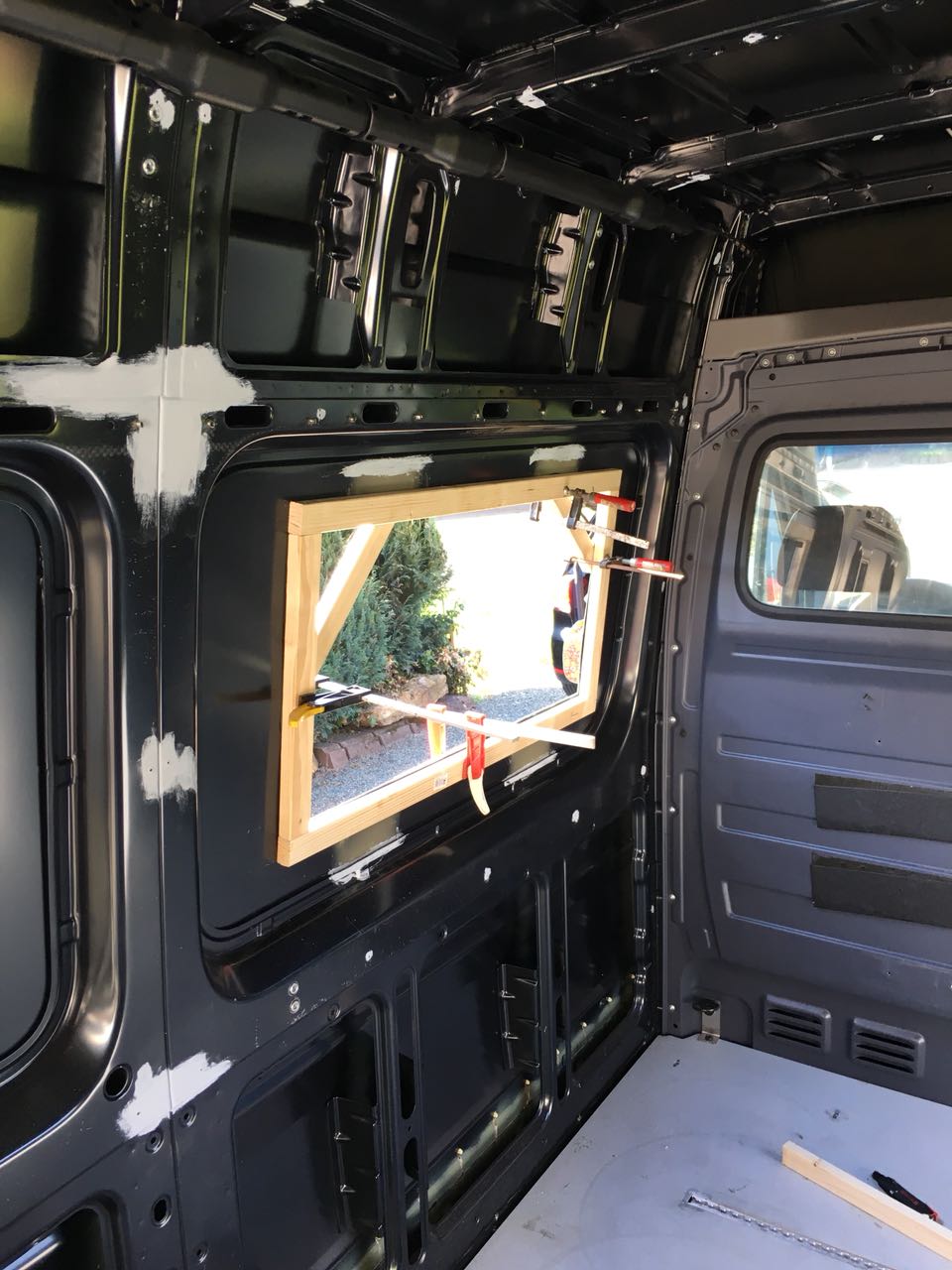 Moreover, we used Dekaseal (an elastic sealant) on the outside of the body to seal the windows before connecting it with the inner frame.
Finally, we screwed both, the inner and outer window frame together.
And last but not least, lean back and enjoy the view 🙂
This article was written by Adrian and Chantal from @little.van.family.
The post How to Install a Side Window in a Cargo Van appeared first on Outbound Living.