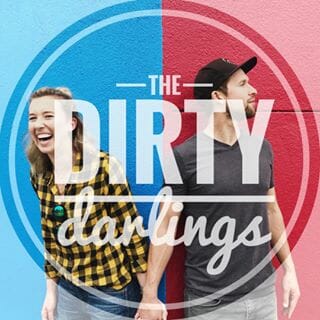 The Dirty Darlings
Matt and Megan left their home in San Fransisco with the goal of seeing the whole US in their 2006 Mercedes Sprinter van. So far they've been to 18 states and are documenting their travels on TheDirtyDarlings.com where they give tips and tricks on photography and living in a van. We caught up with them to get the low-down on van life advice, working on the road and layout suggestions.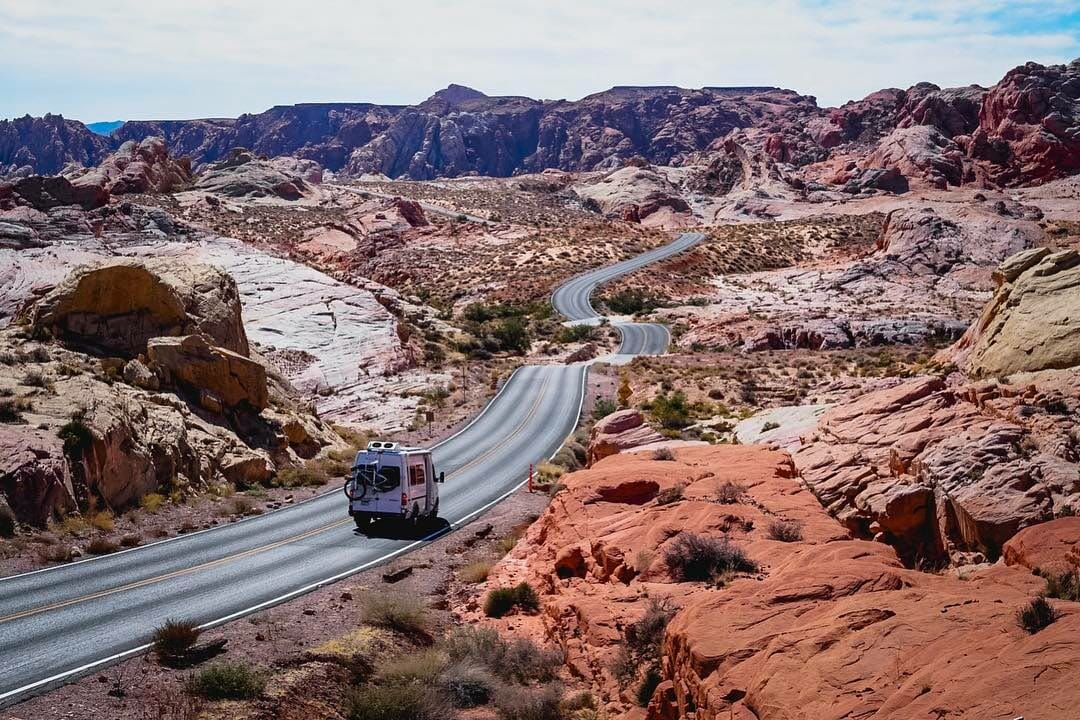 Interview With The Dirty Darlings
If you could change one thing about the layout or design of your van what would it be?
I'm going to give you more than you asked for here…there are 3 big things that I would change about our design.
Larger & higher bed platform – our bed is somewhere between a very short twin and a full which allows for extra storage in cabinets that line the bed on one side. I would give up this storage space for a larger bed that spread the full width of the van. I'd also raise the bed platform another 6-8ish inches to allow space underneath to store our bikes.
More dynamic seating/table space – This may be a slight case of 'the grass is always greener' but I really like the designs that have more of a L shaped bench that feels like a more variable or comfortable table setup. While very practical, I am always wishing out little 'nook' seating was a little bigger or more comfortable for lounging.
Toilet layout – I am happy we have a toilet in the van and don't want to give that up (we have a portable Thetford Porta Potti Curve). I would design the layout differently to allow this to take up less 'empty' space. Our setup gives the toilet it's own little 'room' which is a great design if you're pairing it with a shower or a wet-room (but we aren't). I've seen some really unique designs where the toilet is basically hidden as a pull out drawer or under a bench seat which takes up less overall space or allows for multi-purpose use of the space.
You both work on the road – what is your internet setup like? Do you use cell signal boosters or special plans?
We spent 3 months on the road hot spotting off our phones to realize that this wasn't going to be a long term solution. We both had 'unlimited' Verizon data plans which does not actually mean unlimited (eye roll). Matt did a bunch of research into other options and we decided on a mobile hotspot from Calyx and a weBoost cell booster. Calyx has a really interesting story as a non-profit organization that I'll let you look up for yourself but the bottom line was that we could pay an annual 'membership' fee to get truly unlimited data with no strings attached. Well I guess the only string is that it runs on the sprint network and is therefore reliant on Sprint service. This has worked really well for us – we're able to use this hotspot in most places and subsidize with the cell booster and our Verizon phone plans when needed.

What is something you expected to be difficult that turned out to be a non-issue?
Living out of such a small space. This is honestly the easiest part. Sure it gets a little tight sometimes with two people moving around but I have a deep appreciation for the simplicity of what we live with. We still do goodwill drop-offs when we find things in the van that aren't serving a purpose anymore. Matt will tell you that I still have too many clothes, but if you were to compare this to what I owned before you would be amazed.
How has vanlife changed your diet? Do you continue to cook the same foods you would in a house?
This actually didn't change that much. The biggest limitation is around not having an oven and the biggest deterrent to making a more complicated meal is not wanting to do extra dishes in our tiny ass sink but overall our diet and cooking are very similar to how we ate before. We keep it pretty simple and eat a lot of meat + veggies – anything that can be cooked in one cast iron skillet is perfect. We will typically buy food for about 3-4 days at a time. There's generally a freshness meter on the things we like to buy and eat as well as limited fridge space. We'll get a little more creative with meals and grocery runs if we're planning to get out in the wilderness for longer periods of time.

What is your favorite recipe or snack on the road?
Almond butter. Sometimes I wish I could have an amazon drone just drop off a new shipment to the van every other day because that is literally how fast we can go through one jar. Snacks include almond butter, apples, celery, bananas, almonds & nuts, beef jerky, smoothies. Our favorite go-to dinner is a meat + veggie one pot wonder. Meat could be sausage, ground beef, chicken thigh. Veggies could include whatever is freshest of the following: broccoli, cauliflower, asparagus, sweet potato, peppers, mushrooms, zucchini, onion, spinach.
What is the most frustrating or disappointing part of living in a van?
Endless decision making and logistics that just don't feel rewarding. No one is out there cheering for you just because you found a place to sleep for the night. The logistics of full time travel can feel like a full time job in itself and it rarely feels as productive or rewarding as you want it to. It's the price we pay to live like we do and we chose that struggle. This definitely changes depending on if we're traveling in a familiar or a new place and I've found that new places can definitely be a little more draining (but fun!).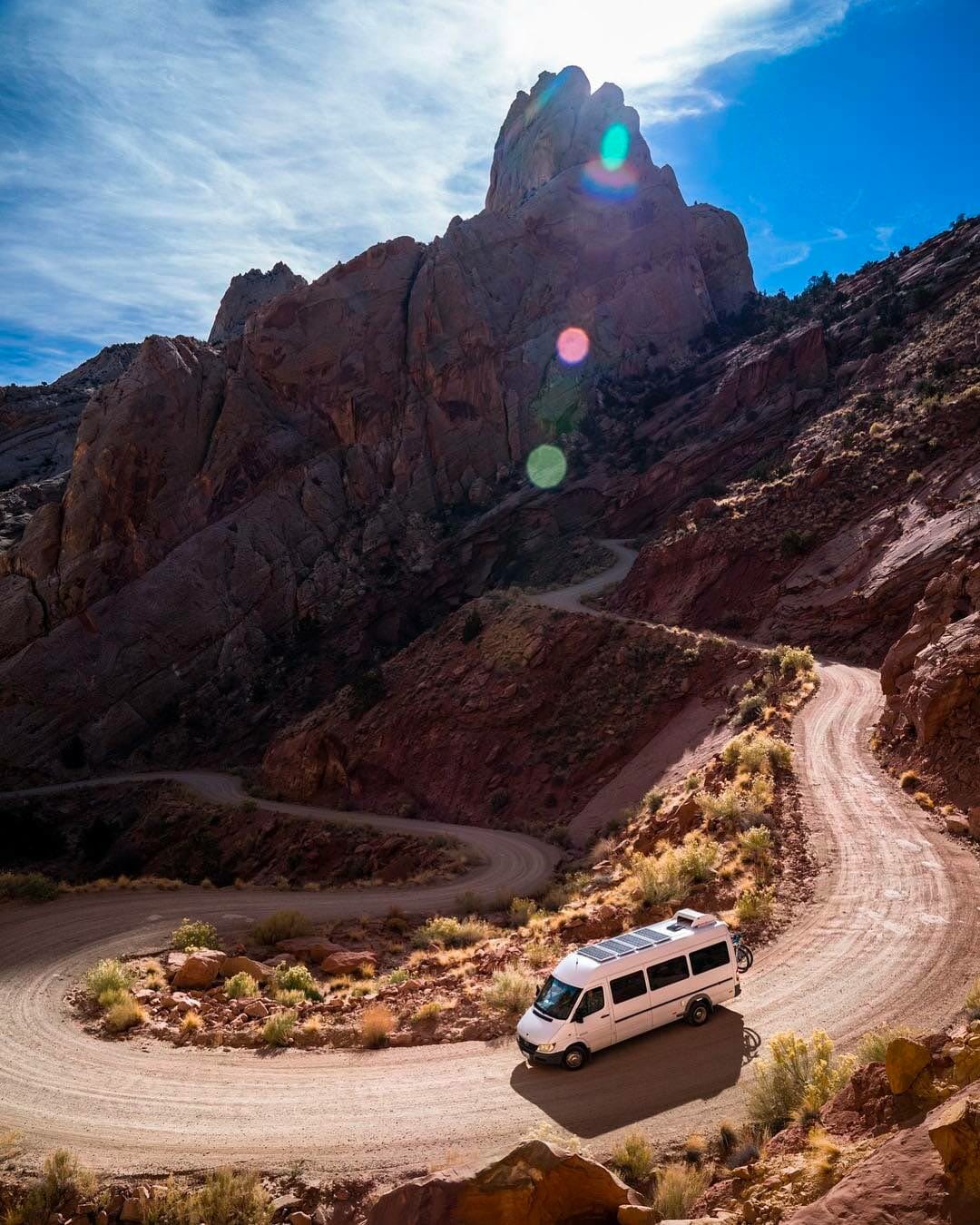 How long do you plan to continue the vanlife? Is that longer or shorter than you expected at first?
As long as it still feels right. Our original plan was 6 months, before we even left that changed to a year. After about 3 months on the road we realized that we didn't think that a year was going to be enough either. We freed ourselves of the requirement to put a time limit on it and hope to continue doing this as long as we want to. We have frequent 'check-ins' with each other to make sure we're still having fun and it's not something we plan to do forever.
Mountain, beach, dessert or city?
Ooooh a tricky one. One of the things that I love about this mobile lifestyle is that it gives us an opportunity to live in all four. Mountains always feel like home, the beach feels like vacation and the dessert just feels like a wild place where I am free and anything is possible. I enjoy traveling through cities for good food, a change of pace and easy access to some of things that you just can't get out in the country. My ideal city is midsize, probably a college town and has a higher level of 'walkability' than most.

If you were to move into a house or larger space at some point, what is the first thing you would purchase?
I would be so excited to have easy access to an oven and washer and dryer again. The first thing I would purchase would be a coffee maker so that I could have my own bottomless cup of coffee every morning. Or a king size bed. One of the things that actually scares me about the idea of settling down somewhere after this is how easy it could be to just fill space in a house again. After living with so little and seeing the value in simplicity, I want to be very intentional about how to continue that mindset even if I am in a larger space. I asked Matt this question and he said lawn mower… I'm still laughing out loud. His love for chopping wood and mowing lawns will always crack me up.
What is one piece of advice you would give someone thinking about living in a van?
Think about why you really want to live in a van. Is there an underlying purpose that will truly serve you and your bigger goals in life? If yes, just go for it! Try it out and see where it takes you. If you're just trying to 'run away' from some other problem and you think moving into a van will solve all your problems, I'm here to tell you that it will absolutely not. It will likely create new ones, and maybe allow you to let go of a few others but at the end of the day life is life and it will always have it's struggles.
You get to choose which struggles you live with. If living out of a van (or other mobile vehicle) allows you to accomplish travel or other goals that you think will make you happier – than go for it. Just make sure you set realistic expectations. And lastly, go test drive as many different vans as you can before purchasing – don't rely on instagram and wide angle photos to make your decision for you.
About The Van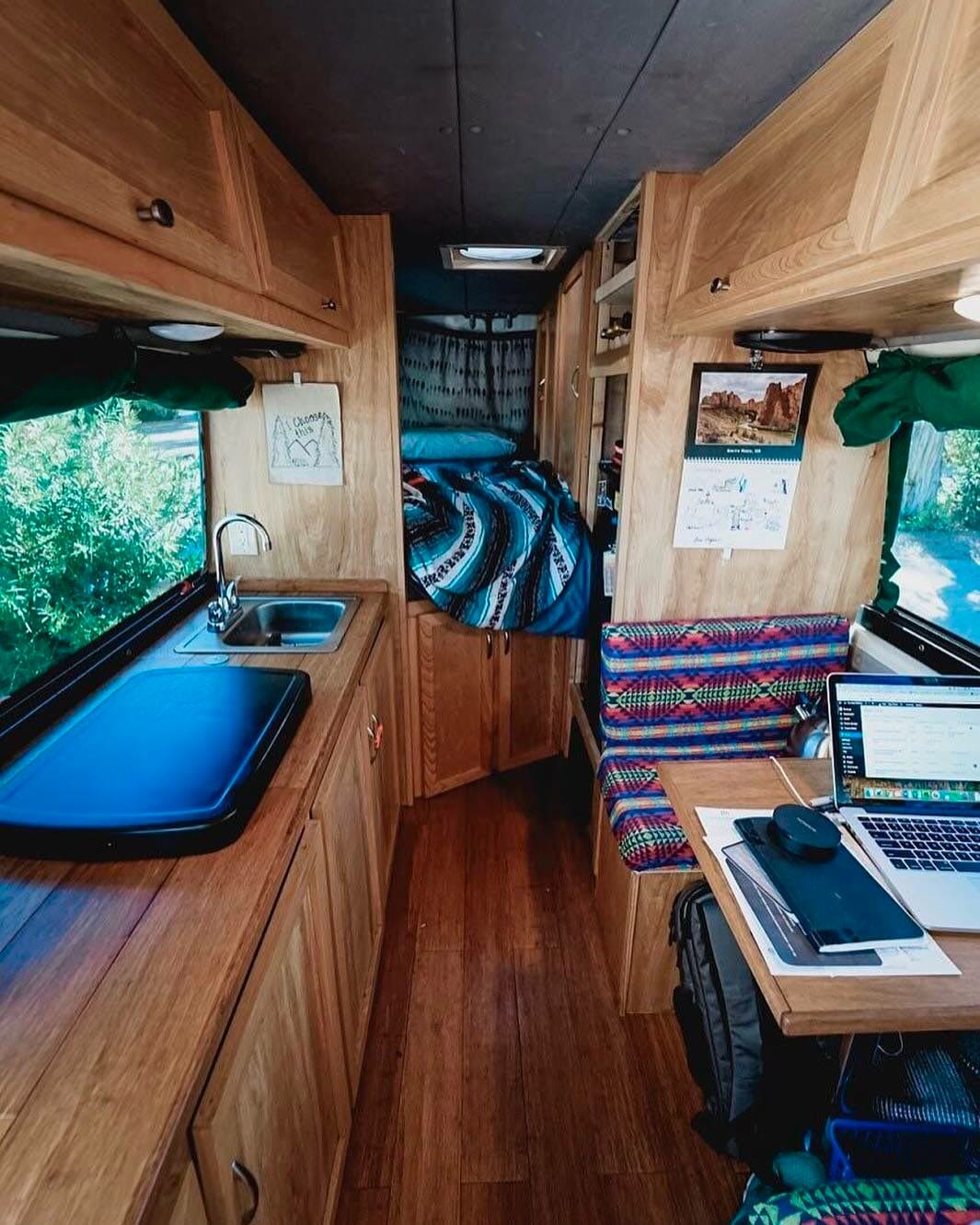 What van are you currently living in?
2006 Sprinter 3500 (170 WB) named Vanna White with about 100,000 miles on her when purchased.
How did you find your van?
Craigslist
Approximately how much did it cost to purchase?
About $30k fully converted. Matt chose to buy a van that was already converted because his first priority was wanting to get on the road. He felt that if he had to spend the time and energy on a full van conversion it would just never happen.
The post Van Life Blog: Interview With The Dirty Darlings appeared first on Parked In Paradise.